This won't be long because I don't want to depress you any more than this game must have. The Yankees offense almost made it through a third consecutive game without an extra-base hit, after 33 games in a row with an extra-base hit to start the season. Alex Rodriguez ended that drought with a solo home run in the ninth inning, but otherwise the offense continued to sleepwalk. After Jacoby Ellsbury led-off the game with a single, Brett Gardner bunted him over to second base. The Yankees would go on to strand him and wouldn't have a man reach second base again until the sixth inning. Erasmo Ramirez tossed five shutout innings for the Rays… and his ERA is still 6.66 on the season.
The offense would've had to do much better than that to keep them in this one as the Yankees fell behind 4-0 in the second inning, after starter Chase Whitley left with an elbow injury. With a sizable early deficit and the bullpen tasked with going more than seven innings, nobody would've blamed you for flipping over to the basketball games or getting some sleep yourself.
Top WPA Play: Rene Rivera's three-run home run on the first pitch Esmil Rogers threw (+.218). Clicks remote.
Key Moment: James Loney's single in the second inning (+.100). Loney's single off Whitley was key not only because it gave the Rays an early 1-0 lead, but it also came with two outs in the inning meaning the entire could've been avoided if the Yankees could get him out.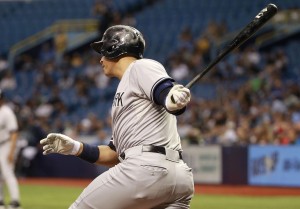 Trend to Watch: A-Rod hit another home run, it was his ninth of the season and 663rd of his career. Watching him and Mark Teixeira turn back the clocks on their careers has really been something so far this season and it should be interesting to see how they do the rest of the way after hot starts.
Up Next: the Yankees are in Kansas City and not just for the barbecue, they also have a series with the Royals. Fans will most likely not be turning away from this game early as Michael Pineda (5-0, 2.73 ERA, 3.47 DRA) takes the mound for the Yankees fresh off of his 16-strikeout performance against the Orioles. The Royals will have a tall right-hander of their own on the mound in Chris Young (2-0, 0.78 ERA, 3.40 DRA).
(Photos by Kim Klement/USA Today Sports Images)