Jacoby Ellsbury has played the role of "prototypical leadoff hitter" to a tee so far this season.
The 31-year-old outfielder has gotten on base at a gaudy .419 clip, he's been a menace on the basepaths swiping 12 bags, and his 27 runs scored are tied for 4th in the major leagues. These are the things that Ellsbury is paid handsomely to do and he's undoubtedly getting the job done.
One could nitpick and say that the runs scored are fairly circumstantial and his stolen base efficiency isn't ideal, but in the greater scheme of things it's hard to complain about Ellsbury who has already accumulated 1.3 WAR and has a 134 wRC+ to his name.
While his work to date may be unassailable, his outlook for the season certainly isn't. For one, he isn't driving the ball. Ellsbury's breakout season in 2011 probably inflated expectations surrounding his power to unreasonable levels, but he did hit 16 home runs last year.
This season he has only recorded one round-tripper and his ISO of .051 is less than half of Dee Gordon's. Ellsbury only has four fly balls that have resulted in hits this season and has posted a pitiful -29 wRC+ when putting the ball in the air.
Although Ellsbury's walk rate is a healthy 9.0%, the vast majority of his offensive value is coming from singles, which is a bit of a scary proposition. The .405 BABIP is an obvious red flag, and the underlying numbers behind it are even more problematic.
Of Ellsbury's 43 singles this year, 21 of them have come on the ground. He is hitting his share of line drives, but that level of reliance on ground-ball hits is worrying. Even though a player with his speed might be expected to beat out a few hits on grounders, that doesn't come close to accounting for the numbers.
The chart below show's Ellsbury's history batting average on grounders compared to the MLB average over the course of his career.
| Year | Jacoby Ellsbury's BA on Ground Balls | League Average BA on Ground Balls |
| --- | --- | --- |
| 2007 | 0.321 | 0.239 |
| 2008 | 0.264 | 0.237 |
| 2009 | 0.265 | 0.232 |
| 2010 | 0.147 | 0.234 |
| 2011 | 0.236 | 0.231 |
| 2012 | 0.254 | 0.234 |
| 2013 | 0.247 | 0.232 |
| 2014 | 0.232 | 0.239 |
| 2015 | 0.389 | 0.231 |
Ellsbury's wheels have allowed him to often beat league averages in ground-ball hitting, but the disparity this year is extreme and can only really be explained by luck.
What makes the situation more interesting is the fact he's pulling the vast majority of his ground balls, making them easier to defend with shifts, or at least heavy shading to the right side of the infield.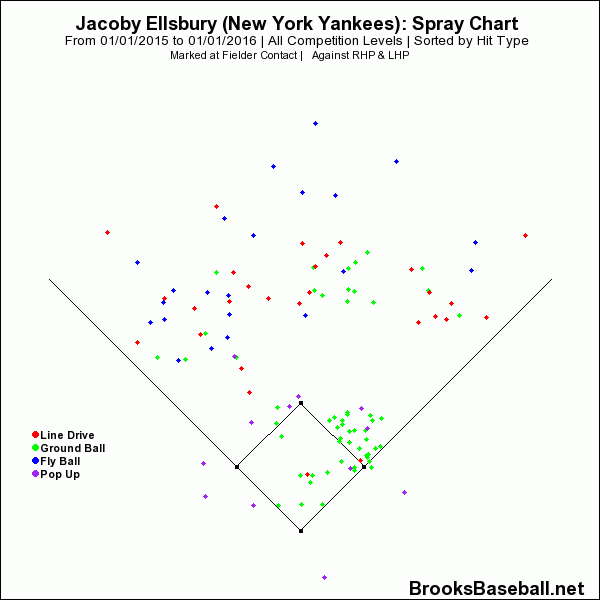 For a frame of reference here's the spray chart of his partner in crime, Brett Gardner: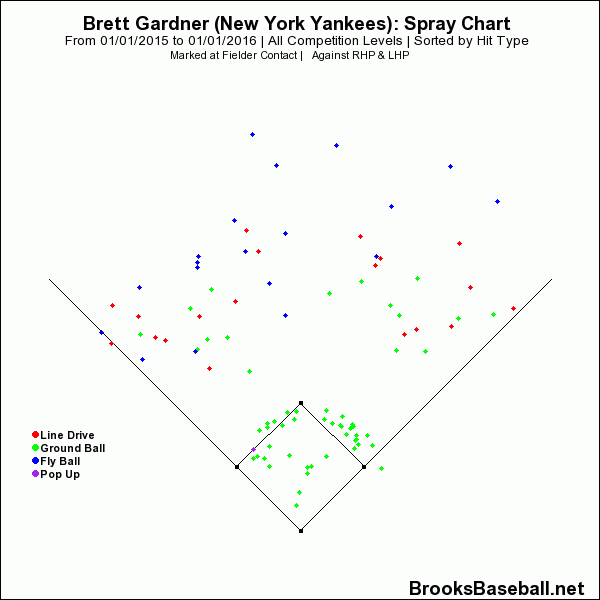 Garner keeps defenses honest by using more of the field when he puts the ball on the grounder and is therefore pretty much shift-proof. Even with Ellsbury's superior speed one would assume Gardner would be squeaking more balls into the outfield.
Ellsbury has been outstanding so far this season, but if he continues with his current approach there could be some lean days ahead. The veteran is relying far too much on yanking balls to right field on the ground, and at the end of the day that's no way to enjoy sustainable offensive success.