Looking back on the New York Yankees opening series against the Toronto Blue Jays, one of the things that stands out is the number of thoughtless mistakes made by the Bronx Bombers. The team looked shaky in the field at times and made boneheaded plays on the base paths as well.
It is not altogether surprising for a team to look rusty out of the gate, and this is no time for reactionary assumptions about what to expect going forward. Although the Yankees are an old team, they have some excellent athletes and project to be above-average runners and defenders this year. There is absolutely no reason to panic.
Instead, I thought it might be interesting to go through the Yankees' base running mistakes against the Blue Jays and see where they went wrong. During the series they made four base-running outs based on possibly questionable judgment calls. We'll begin with the most forgivable and work our way up to the most head-scratching.
#1: Jacoby Ellsbury gets caught stealing second base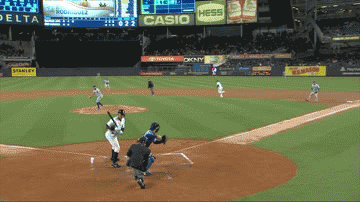 Scenario: Yankees down 4-0 in the bottom of the third inning with a runner on first base and two outs.
Presumed Rationale: Ellsbury is very good at stealing bases. He is pretty justified in thinking he's going to be successful on any given attempt. Getting into scoring position with two outs is a good idea. Even if he was unsuccessful Alex Rodriguez would start the next inning without the burden of an 0-2 count.
Reasoning Errors: One could argue that there really wasn't anything wrong with this play, Ellsbury simply got beat by a perfect throw and tag. The one issue with this stolen base attempt is that the Yankees were down by four runs when it was attempted. Ellsbury was probably better off seeing if Rodriguez could cut the lead in half with one swing of the bat.
#2: Didi Gregorius makes too wide a turn after hitting an RBI single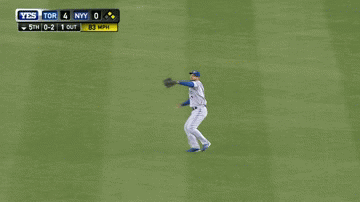 Scenario: Yankees down 4-0 in the bottom of the fifth inning with a runner scoring on the play and one out.
Presumed Rationale: Gregorius thought Blue Jays outfielder Kevin Pillar would throw to home plate allowing him to get into scoring position.
Reasoning Errors: On this play Gregorius needs to be aware that the ball is likely to get cut off. The single was softly hit meaning there was no real chance for a play at the plate to begin with, and the Jays had enough of a lead that they didn't need to force a play at home.
#3: Jacoby Ellsbury gets picked off first base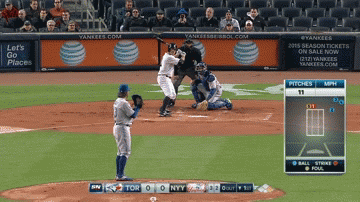 Scenario: Yankees tied 0-0 in the bottom of the first inning with no outs and a runner on first.
Presumed Rationale: Once again, it's hard to fault Ellsbury for thinking stolen base most of the time. R.A. Dickey is hard to run on, so the Yankees outfielder tried to time a perfect jump.
Reasoning Errors: This play was altogether too aggressive. Dickey was seriously struggling to throw strikes at this point. He'd walked Ellsbury and hadn't put a ball in the zone yet to Gardner. His pitch count was already at 11 and the Yankees still hadn't recorded an out. This was no time to push the envelope and instead Dickey changed the complexion of the inning and possibly the game.
#4: Didi Gregorius gets caught stealing third base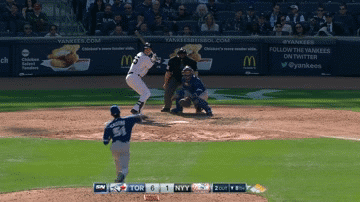 Scenario: Yankees down 6-1 in the bottom of the eighth with men on first and second and two outs.
Presumed Rationale: Honestly, only Mr. Gregorius can answer that question.
Reasoning Errors: There are so many things wrong with this play. Firstly, Gregorius has never stolen third base at the major league level and he's trying to run on the guy who led the league in runners caught stealing last year. He's also committing the cardinal sin of making the last out at third base. Most importantly, he's erasing two base runners when his team is down five runs late in a game. This play didn't cost the Yankees the game, but in a closer contest it would have been devastating.
Perhaps the most baffling part of this play is just how certain Gregorius is that he was safe.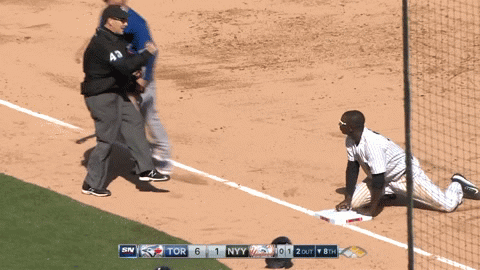 Ultimately, base running mistakes like the ones above are unlikely to make or break the 2015 Yankees, but considering the team's relatively small margin for error they certainly can't afford them.