Since September 1st, Jacoby Ellsbury has the fifth-highest OPS in Major League Baseball.
Upon reading this, one could certainly be forgiven for thinking I had stumbled across a page listing statistics from 2011 and am here regurgitating an outdated factoid. However, I have done extensive research (made sure I am referencing a page that says 2017 at the top) and found that the Yankees' center fielder is, in fact, one of baseball's most productive hitters this very September (2017!). To make matters even more strange, Ellsbury has accumulated his 1.168 OPS this month without hitting a single home run. The 34-year-old outfielder has ridden 13 walks, 7 doubles, and 2 triples to become one of the most valuable players in baseball during a crucial stretch for the Yankees.
What has spurred this renaissance? Is the old Jacoby Ellsbury back? Can we expect more of this production? The answer to these questions is, as is often the case: "it's complicated, a little but not really, and umm not really sure but here are some numbers."
In 2011, the year in which Jacoby Ellsbury was an all-star and finished second in AL MVP voting, he tallied 32 home runs. That is twice as many home runs as Ellsbury has hit in any season since or before, as he has logged fewer than 10 dingers in nine of his eleven Major League seasons. Throughout 2011, according to Baseball Reference, 12 percent of Ellsbury's fly balls were home runs. In all of his years with the Yankees, that percentage has been well below league average (at 6.5 or below), while he is hitting 5.7 percent of his fly balls for home runs this year. Ellsbury's average exit velocity is also nearly 2 mph below the MLB mean. These numbers are not meant to belittle Ellsbury's talents, but rather to point out that he may not be the ideal candidate for the so-called "fly ball revolution." So while most of the league is swinging up, looking for more home runs and, as a result, striking out more, Jacoby Ellsbury is doing things a little differently.
Ellsbury has always hit for a fairly high line-drive percentage, averaging around 22 percent liners on balls he has put in play. This year, that number is up to 27 percent, which has allowed him to regain one of his biggest strengths in the batter's box. Though Ellsbury is not an extreme outlier in his line drive rate (he is in the top 27th percentile in 2017), he has found success in this way before. Here is a spray chart depicting the different types of contact Ellsbury made during his all-star campaign in 2011: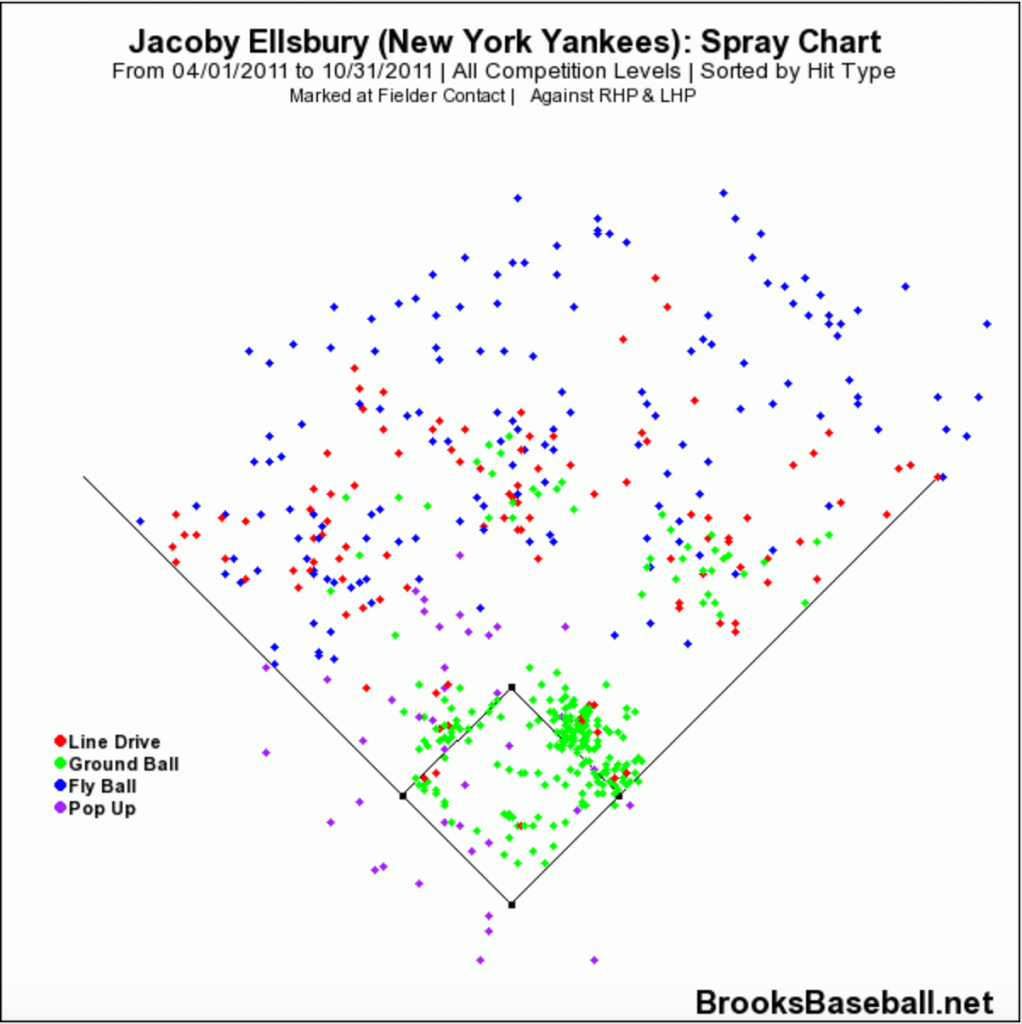 With the red dots, we see Ellsbury spraying line drives to all fields. The results of that contact looked like this: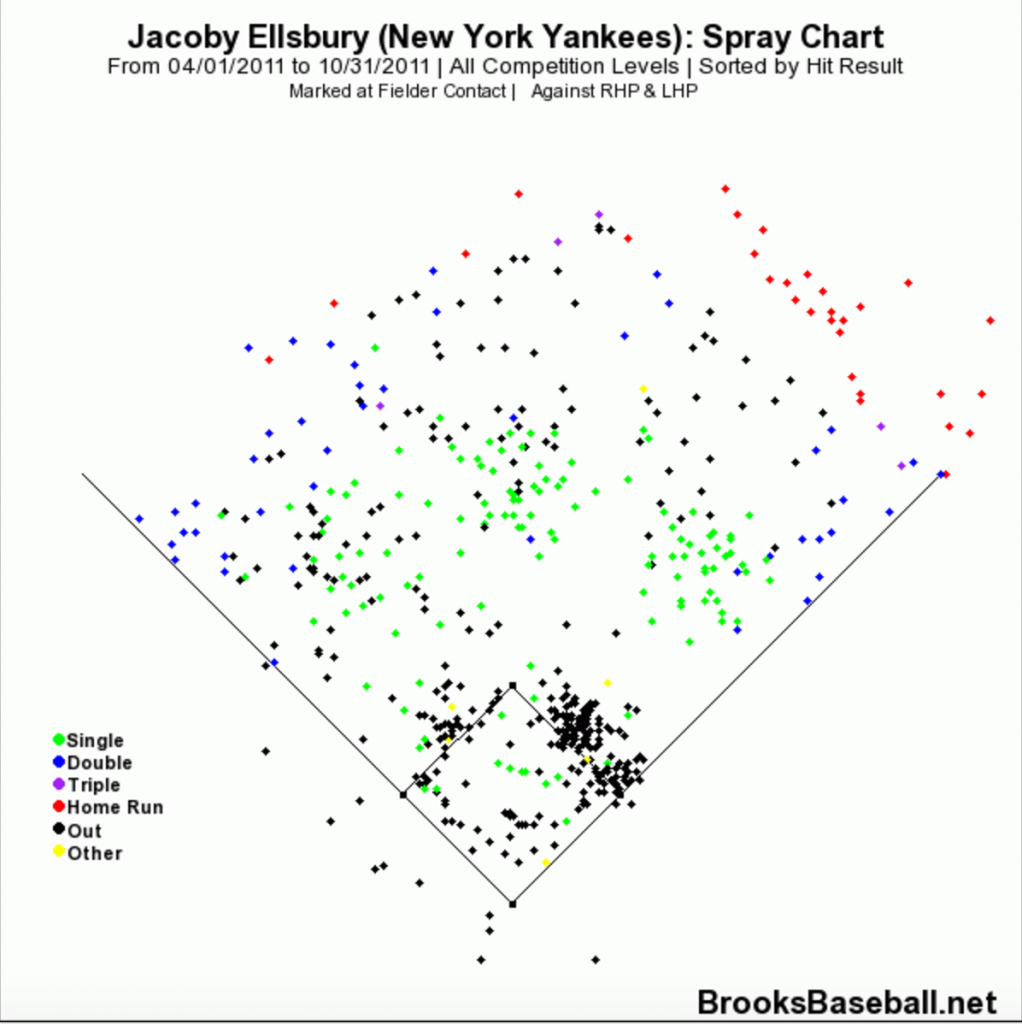 In this picture, we can forget about those red dots over the right-field wall (those homers ain't comin' back anytime soon, baby), and focus on the plethora of blue spots down both the right and left-field lines. These line-drive doubles are exactly where Ellsbury has found success this September. This month, he has hit three doubles down the left-field line and four down the right-field line, five of which registered as liners according to Baseball Savant. The Yankees' center fielder, like many other young New York transplants, has foregone the popular trend of lifting fly balls and opted for the more vintage style of hitting the ball on the nose.
But hitting it on a line is not the only factor contributing to Ellsbury's high OPS, as his 13 walks this month are tied (with someone named Mike Trout) for the 11th-most in the league. This stretch has helped propel Ellsbury to reach the highest walk percentage (10.6) and lowest strikeout-to-walk ratio (1.43) of his career.  Walking more, while bucking yet another trend, is helping Ellsbury get on base at a clip he has not seen in recent years.
But why the recent walk spike? One possible answer can be found in Ellsbury's whiff percentage by month (broken down by pitch categories):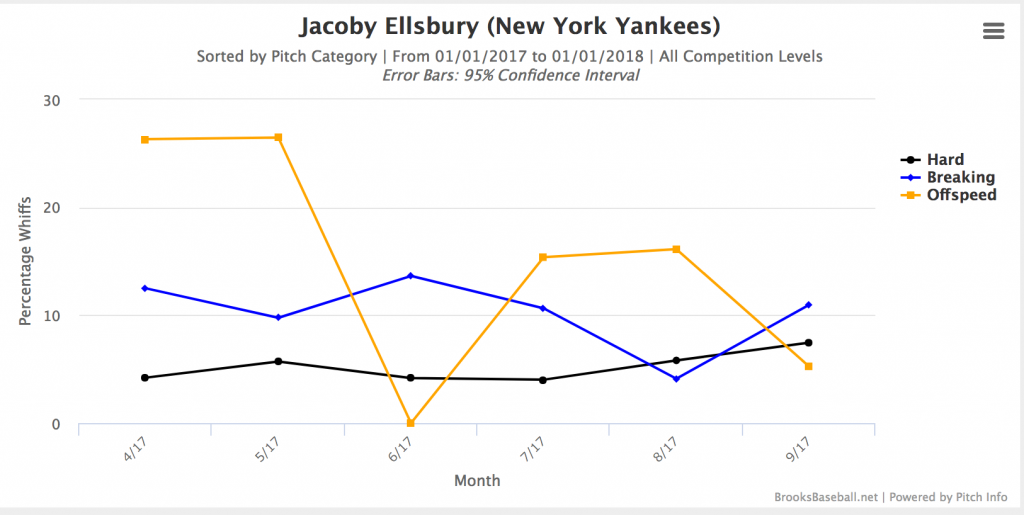 By following the yellow line, we see that Ellsbury is swinging and missing at offspeed stuff at a far lower rate than he did earlier in the season. There is some noise here, as that dip in June is due to him only seeing six such pitches in limited playing time, but Ellsbury has in fact faced as many or more offspeed pitches (38 of them) in September as any other month. Somehow, Ellsbury has gone from around a 20 percent whiff rate on offspeed pitches over four months, all the way down to 5 percent in September, while also swinging at fewer offspeed offerings. Whether he has changed his approach, is seeing the ball better, or has simply faced inferior changeups this month is difficult to say, but it is certainly a factor to look out for as the month winds down.
By regaining some of the line-drive magic that made up part of his early-career success, Ellsbury has carved out a niche for himself late in the 2017 season and is producing right when the Yankees need him most. He is laying off the pitches that can hurt him, bucking the fly ball trend that is of little use to him, and getting on base whatever way he can.
Whether or not this success will continue is, of course, a different beast entirely. As BP's Russell Carlton has pointed out, the skill of hitting line drives is difficult to repeat, and, admittedly, those that Ellsbury is hitting could merely be the result of him finally squaring up the ball better than he has in recent years. But for now, all Yankees fans need to do is sit back and enjoy as their center fielder unplugs from the fly ball craze, and jams out to the classic vinyl sounds of some smooth line drives.
Photo Credit: Wendell Cruz / USA TODAY Sports