What a difference a day makes. On Wednesday night, Yankee fans were watching the ninth inning through their fingers. On Thursday night, they watched in awe as Masahiro Tanaka pitched a complete game shutout and bested Chris Sale in a battle of the aces. And for once, a game actually lived up to its hype.
Sale entered Thursday's game with a minuscule 0.91 ERA and 0.97 DRA in 29 2/3 innings with a league-leading 42 strikeouts. Tanaka, on the other hand, had a rough start to his 2017 and thanks to a couple of clunkers early on, his ERA was a bloated 6.00 coming into Thursday's matchup. His DRA was a more Tanaka-like 3.06.
And after the game was done, Tanaka was high-fiving his teammates on the Fenway Park infield while Sale was saddled with his second loss of the year.
Neither pitcher seemed affected by the fact that their start was pushed back a day.  Tanaka's performance was quick and efficient. He didn't overpower batters like Sale did. Sale finished with 10 strikeouts—his fourth game in a row with at least 10 strikeouts. Tanaka only struck out three batters. Instead, he got the Red Sox hitters to make contact and kept them off balance. He induced a bunch of groundouts, some pop outs, a double play and only allowed three hits. He also didn't walk a batter.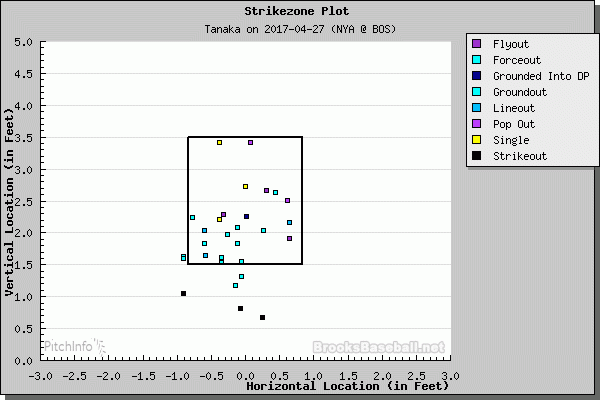 Austin Romine, who called the game for Tanaka, said afterward that all of Tanaka's pitches were working, but singled out his two-seamer which Romine described as, "running in on lefty batters."
Tanaka also acknowledged that his pitches were all working on Thursday night. And he also admitted to reporters that he wanted to come out and "beat the odds" since everyone was talking about Sale "having the upper hand" in the matchup.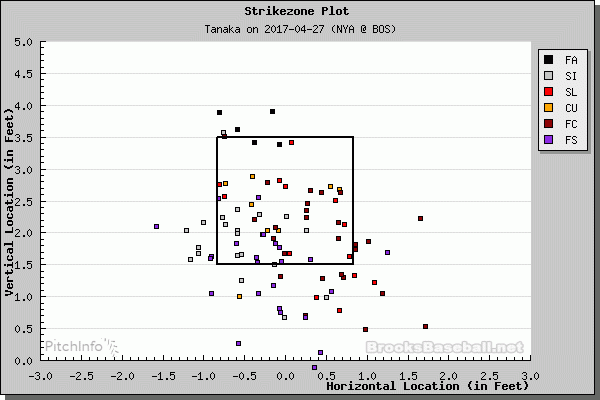 Tanaka's fastball velocity also got higher as the game went on. And as you can see, he did a great job of mixing his pitches which helped to keep the Red Sox batters off balance.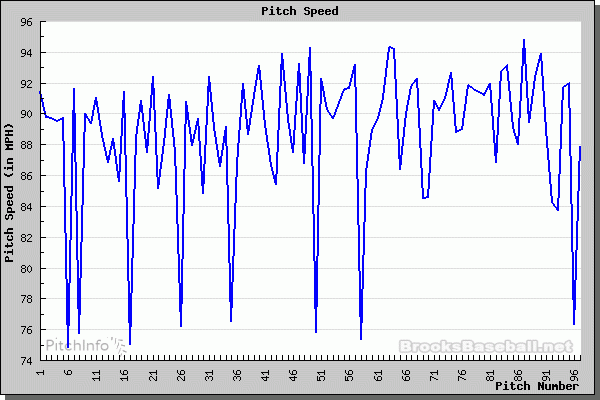 Tanaka also ended up pitching the first "Maddux" of the 2017 season. In case you don't know, the term "Maddux" was invented by Jason Lukehart who was a big Greg Maddux fan and when a pitcher throws a Maddux, it's a complete game shutout with no more than 99 pitches. Greg Maddux happened to pitch 13 of those types of games in his career.
On Thursday night, Tanaka threw 97 pitches in his complete game shutout.
Lead photo: Winslow Townson / USA Today Sports