If you are like me, you were pacing during Wednesday night's bottom of the ninth at Fenway Park because let's be honest, the Yankees have been the victims of some devastating walk-off losses in that ballpark. Just last September, we sat through that dreadful Dellin Betances outing which was capped off by a walk-off, three-run homer by Hanley Ramirez. And as we watched Aroldis Chapman through our fingers, we envisioned a similar fate for the Yankees on Wednesday.
So what the heck happened to Chapman?
First, he threw 33 pitches which are the most he's thrown in an outing thus far this season. His previous high 22 was on April 14 against St. Louis.
He also hasn't thrown that many this year. Prior to Wednesday's game, Chapman appeared on Saturday in Pittsburgh and before that, he pitched against the White Sox on April 17 so maybe we can attribute rust to his not-so-crisp outing.
Chapman is also a feel pitcher and the weather wasn't great for that on Wednesday. It was misty, it was foggy and as Erik Boland of Newsday kept tweeting, it was moist. Those aren't exactly great conditions for anyone to play in but for someone like Chapman, it can be a disaster. We saw what happened to him during the World Series when he was with the Cubs.
On Wednesday, his control was a bit of an issue:
He threw 33 pitches and amazingly, 21 of them were strikes. When watching the game live, it seemed as if he threw nothing but balls to Red Sox batters.
Another cause for concern could be Chapman's velocity. Again, it might have been because of the conditions at Fenway and because of the fact that he hasn't pitched a lot of late but it strange to see him hit the 100 mph mark only once in 33 pitches.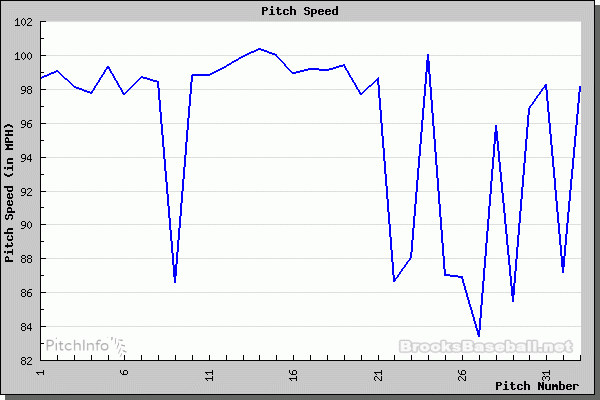 His fastball velocity also seems to dip once he passes 25 pitches and since his previous high was 22, we hadn't seen that before Wednesday. It's probably something for Joe Girardi to keep in mind for next time.
Chapman was able to get his act together after bringing the tying run to the plate by striking out Jackie Bradley Jr. on an 86.4 mph changeup that was high in the zone and getting Josh Rutledge to swing through a 97.8 mph four-seamer to end the game.
And exhale…
Photo: George M. Cooper / USA Today Sports