The problems that have plagued Michael Pineda seemingly for his entire tenure with the Yankees reared their ugly head again on Wednesday night in Tropicana Field: surrendering the long ball (he gave up 27 last season) and giving up hits with two outs (batters hit .325 against him with two outs last year).
The first longball Pineda watched sail over the outfield wall in 2017 was courtesy of Rays leadoff batter Corey Dickerson. Pineda started the at-bat off with a fastball that Dickerson swung at and missed, he then threw a slider down and in that Dickerson laid off of and when Pineda came right back with a fastball, Dickerson deposited into left center field.
Luckily for the Yankees and Pineda, it would be the only run given up in the first inning. Unfortunately, the second inning happened but instead of rehashing all the gory details of Wednesday's bottom of the second, we're going to look at the pitches upon which Pineda gave up those two-out singles.
The first run-scoring single was hit by right Derek Norris. Pineda threw him a mix of two-seam and four-seam fastballs with a slider and on the fifth pitch, a 94.3 mph two-seamer, Norris connected for a single to right field.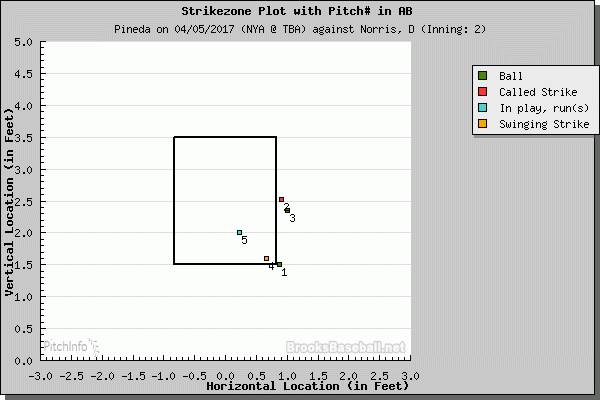 Next up was lefty Dickerson, who singled on the third pitch he saw from Pineda (There was a pitchout in the at bat as well). Again, Pineda threw a two-seamer (94.4 mph) in the zone and it was smacked to right for a single.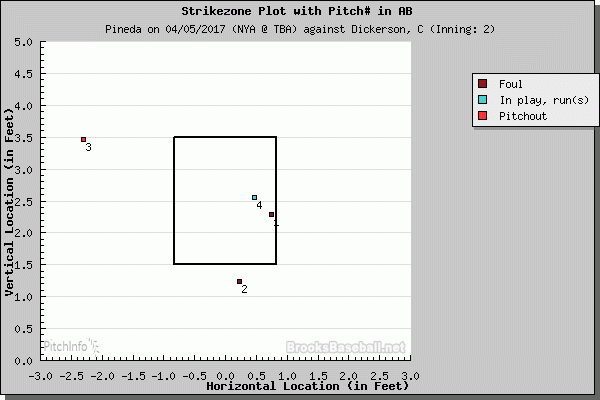 Finally, we have lefty Kevin Kiermeier. Pineda threw him a first-pitch slider that was called for a strike. Pineda then threw him a 94.1 mph four-seam fastball, a little up, but in the zone and Kiermeier hit it to right for a single. Luckily for Pineda, Dickerson only made it to third and didn't score.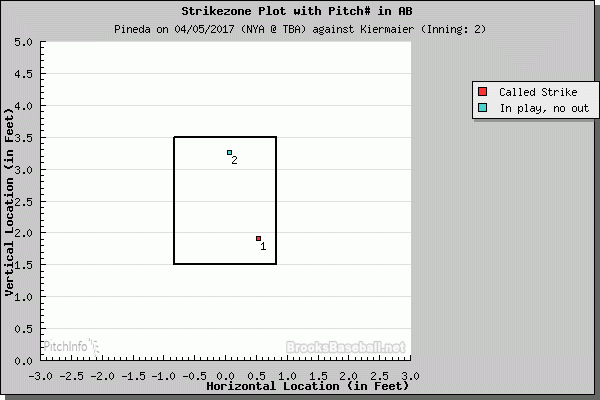 The inning would mercifully end when Kiermeier was called out trying to steal second base.
Do you see the pattern? As I wrote in this space last month, Pineda gets into trouble when he throws the ball in the zone because batters know what's coming. He was working on a changeup during spring training but we didn't see enough it last night—he only threw three—and he was, once again, victimized by his fastball. Pineda also doesn't have the kind of velocity that will blow batters away. He'll sometimes touch 94 mph but when he pitches into the zone at 94 and with little movement, batters are all over him like they were last night.
Pineda was taken out of the game in the fourth inning after throwing 71 pitches and his final line was four runs on eight hits with six strikeouts. He did not walk a batter. This was his 11th start without a win dating back to August 2016.
The Yankees are still waiting for Pineda to show some consistency. Joe Girardi said after the game, "We expect Michael to have a big year, pitch really well and get deep into games. Because at times, Michael can be dominant. We'd like to see a consistency there that allows him to really be one of the top starters."
If Wednesday night's start was any indication, the Yankees will be waiting a long time.
Photo: Kim Klement/USATSI; Numbers and images courtesy of Brooks Baseball