Welcome back to another season of Yankees baseball and welcome to BP Bronx's new About Last Night series in which we will examine anything from a single at-bat or a big inning to an entire pitching performance depending on what we feel is the big story from the night before.
The Yankees won their first game of the season on Tuesday night thanks to a strong performance from starter CC Sabathia and to the big bats of Ronald Torreyes and Chase Headley. *Record scratch* Ronald Torreyes? Yes. The 5'8″ utility infielder, who was only in the lineup because of Didi Gregorius's injury, put the Yankees on the board in the third inning with his first home run of the season—and the second of his career. And it wasn't a cheap shot, it landed 10 rows above Tropicana Field's left field wall.
According to Brooks Baseball, Tampa's starter Jake Odorizzi threw Torreyes an 86.7 mph cutter, and he jumped on it and took the pitch deep.
It's good to see Torreyes make the most of his opportunity and reward the Yankees with his performance on Tuesday night. The 24-year-old batted .258/.305/.374 in 72 games with the Yankees in 2016 and isn't exactly known for his power stroke.
Torreyes' partner on the left side of the infield also had a big night.
As we all remember, Chase Headley's 2016 season started off rough. It was so bad that it took Headley 12 games to collect just five hits and he didn't log his first extra-base hit until May 12 when he hit a two-run home run against Kansas City Royals' starter Ian Kennedy. This season, it took only two games for both things to happen for Headley.
Headley's approach in 2017 is to get as many hits as he can and by any means possible. In short, he's doing everything he can to exploit defensive shifts. On Opening Day, he beat Tampa's shift three times, and in one particular at-bat against Rays' starter Chris Archer, while batting from the left side, Headley laid down a successful bunt which scooted down the third base line.
On Tuesday night, Headley showed off his power hitting skills by launching a home run off Odorizzi, in the sixth inning. Odorizzi threw an 89.9 mph two-seamer that Headley, again, batting from the left side, deposited into deep center field at the Trop.
After the game, Headley told reporters, "It feels a heck of a lot better than it did for a month and a half last year. We have a long way to go, but a couple of hits early on kind of takes the pressure off."
Torreyes also spoke with reporters after the game and said, "I feel happy having this group. They give me so much support and the feeling is mutual." It was evidence just how much the group supports the player they call "Toe." Even Gregorius tweeted his congratulations to his teammate after the game,
Thanks to Torreyes and Headley's performances last night, this is what it looks like when you go to yankees.com: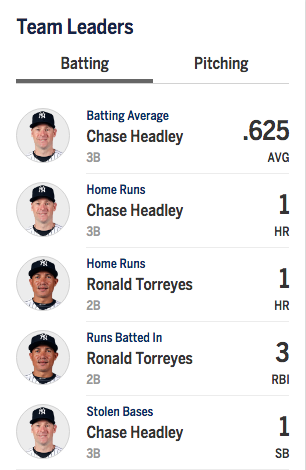 So can we expect Ronald Torreyes to hit 402 feet home runs and Chase Headley to hit at a .625 clip all season? Of course not, but it was fun to watch them go to work on Tuesday night and help lead the Yankees to their first win of the season.
Photo: Kim Klement / USATSI