Part of what makes baseball so interesting is that the sport allows for completely inexplicable things to happen all the time.
Hockey, football and basketball are played in more restrictive and uniform spaces. You're less likely to see a hockey player do something you've ever seen before because there are only so many ways to fill a space that with the exact same dimensions in every city. Having a clock is also limits what's possible because there simply isn't time for miraculous comebacks, and it also imposes a certain rhythm on the games.
With its massive and irregular ballparks and complete disregard for the fourth dimension, baseball invites bizarre and unpredictable happenings. A ball might collide off an outfielder's head and over the wall in one ballpark, but in another, it remains in play and is forgotten by history. There is no such thing a ninth-inning lead that cannot be erased, even in an era where relievers throw smoke condensed into a solid sphere.
This is one of the fundamentally charming things about baseball, and in 2016 Yankees rookie Luis Cessa did his part to ruin it. Normally, first-year pitchers add to the air of unpredictability that surrounds the game because they are unknowns of sorts and there tends to be a lot of variability in their performance.
A pitcher seeing his first big-league action can thrive off hitters' lack of familiarity with him and blow them away, or he can be utterly clobbered and exposed as a fraud. Last year, Cessa refused to be either of those things. Ever.
The 24-year-old made nine starts for the Yankees in 2016 and every single one of them was virtually identical. He never threw less than five innings or more than six. In eight of those starts, he gave up five or six hits and between two and four runs. Other than his first start, (6 IP, 0 ER, 1 BB, 5 K) every other outing can accurately be described as "meh".
Last season 198 pitchers made at least nine starts like Cessa did. His worst Game Score (44) was the highest in baseball. In other words, if you start even a handful of games you'll probably get shelled once, but the worst the young Yankees starter did was slightly below average.
On the flip side, Cessa's best Game Score of the year was 70 and 164 pitchers managed a start better. The difference between the two (26) was the fourth-lowest among the initial group of 198.
These numbers give the impression that Cessa is an immensely boring pitcher, which he isn't. The young right-hander throws hard and has an interesting slider that looks like this: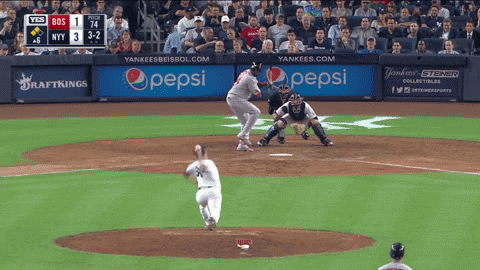 He may look more like an innings-eater than a potential star, but he's held his own at the highest level and has been a part of major trades involving Yoenis Cespedes and Justin Wilson. He also wears the number 85 for some reason, which is bizarre enough to disqualify him from unofficial Steve Trachsel award for the most boring pitcher in baseball.
Next year it's hard to know what Cessa's role with the Yankees will be, but it's probably fair to say his days of sucking the enjoyment out of baseball are over. At some point, he's going to have a truly awesome or truly awful start.
If there's one thing we can predict about Cessa's future it's that he can't stay predictable for long. In baseball, no one can.
Photo: Kim Klement / USA Today Sports