In most of the ways a pitcher can be great, Dellin Betances was in 2016.
Despite having put together absolutely ridiculous seasons in 2014 and 2015 he set personal bests in K%, K-BB%, ground ball percentage, infield fly percentage and fastball velocity. In most cases, that makes for a career season, but that's not how the big right-hander's campaign will likely be remembered.
Instead, it's likely that his 3.08 ERA will suggest that things weren't quite right. Normally a 3.08 ERA is not particularly notable for a reliever. It's above-average but not truly spectacular, and ERA is far from the best metric to evaluate bullpen arms.
Betances's case is a little different because he posted a 1.45 ERA in 174 innings between 2014 and 2015. We shouldn't necessarily judge relievers on the number of runs they give up, but when they start giving up more than twice as many runs it seems fair to take notice.
The list of statistics he set career highs in above suggests that his peripherals not only not the problem, they were absolutely outstanding. Where things got problematic were on balls in play. After allowing a .248 BABIP the previous two years his BABIP surged up to .353 in 2016.
That number moved without a significant jump in line-drive rate, the aforementioned spike in pop-ups and an exit velocity chart that doesn't look particularly alarming.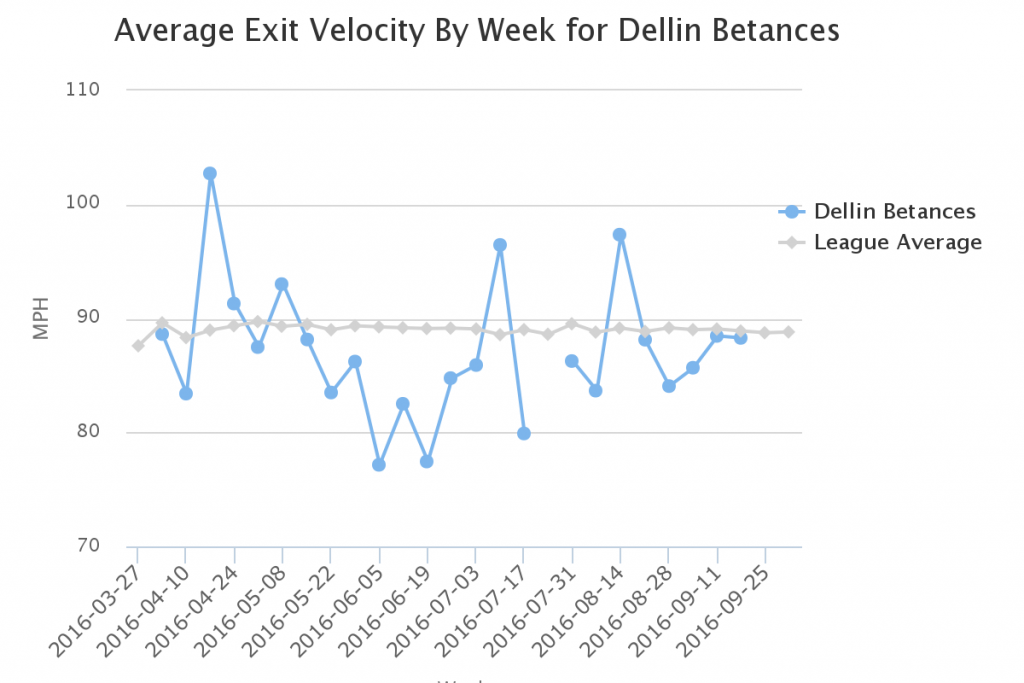 What did happen is that Betances got very little luck with his shifts. When his defence warped itself specifically for the purpose of turning more balls in play into outs, the result was a .397 BABIP.
Since the shift was conceived pitchers have been skeptical of them because it's usually easier to see the hits they concede than the ones they steal, but in this case, the 28-year-old may have a legitimate gripe.
At 63 balls in play, the sample size is small, but large enough to severely change the shape of a reliever's season. Random variation the easiest answer, and it may well be the correct one. On the other hand, the kind of pitcher Betances is invites other explanations as well.
Because the right-hander is so dominating it's possible that hitters are willing to try beating the shift as opposed to beating the pitcher. When your chances aren't good to begin with it's more tempting to go for the "easy" hit with an opposite-field bunt or squibber as opposed to hoping to drive something hard through the shift. It would be interesting if the opponent's base confidence level against Betances fundamentally changed their approach.
Unfortunately, the numbers don't support this notion. When the shift was on hitters actually went to the opposite field less frequently (23.8% of the time) than they did in other instances (31.6%). His soft contact rate was also lower with the shift on (23.8%) than otherwise (29.0%) suggesting opponents were gripping it and ripping it rather than poking it where the fielders weren't. The only piece of contrary evidence is that the three bunt attempts against Betances came with the shift on, which is very little to go on.
Ultimately, based on last season the Yankees anti-shift club should probably include its closer as well as its manager. However, in both cases, the stance is based on luck and personal experience rather than anything wrong with the concept itself.
Photo: Kevin Sousa/USA Today Sports