In baseball, there are two general ways to evaluate a player: on-field scouting versus analytics. Although these two methods of gauging talent can be painted as conflicting arts, they're more often used in tandem to get a more well-rounded assessment. Still, everyone has their preferences, and frequently, I lean toward the numbers side. Maybe this is due to ease of access or because my background doesn't exactly foster a scouting approach (a Peter Kozma-esque performance in high school baseball doesn't exactly bolster my confidence in swing mechanics), but most of my writing revolves around sabermetrics. Still, every now and then, I, like many others, venture onto the other side of the spectrum, and it's virtually impossible not to in the case of Aaron Hicks.
Hicks, a potential five-tool player who evaluators once considered an elite prospect, had a disastrous start to his career as a Yankee. He hit .087 in April (a -35 wRC+!) and combined to slash .199/.262/.312 in May, June, and July. Not only was the speed which netted Hicks 13 steals in just 97 games last season completely gone (zero steals before August), but the 26-year old's defense had slipped and his bat was practically a non-factor. The former Minnesota Twin had deservedly earned the 'Hate Vessel' tag from Yankees fans, and "We want Judge!" chants erupted from the crowd each time Hicks stepped to the plate.
But everything changed in August. Hicks, despite some lost at bats to the fan favorite and top prospect Aaron Judge, has hit .307/.342/480 over his past 29 games. All three of his 2016 steals have been swiped this month, and Hicks has also hit four of his seven home runs during this period. After an average wRC+ of 39 up to this past month, Hicks has hit his way to a 121 wRC+ in the dog days of August. How has this sudden change in performance happened? It's not hard to see the adjustments Hicks has made, even if you have an eye as blind to scouting as I do.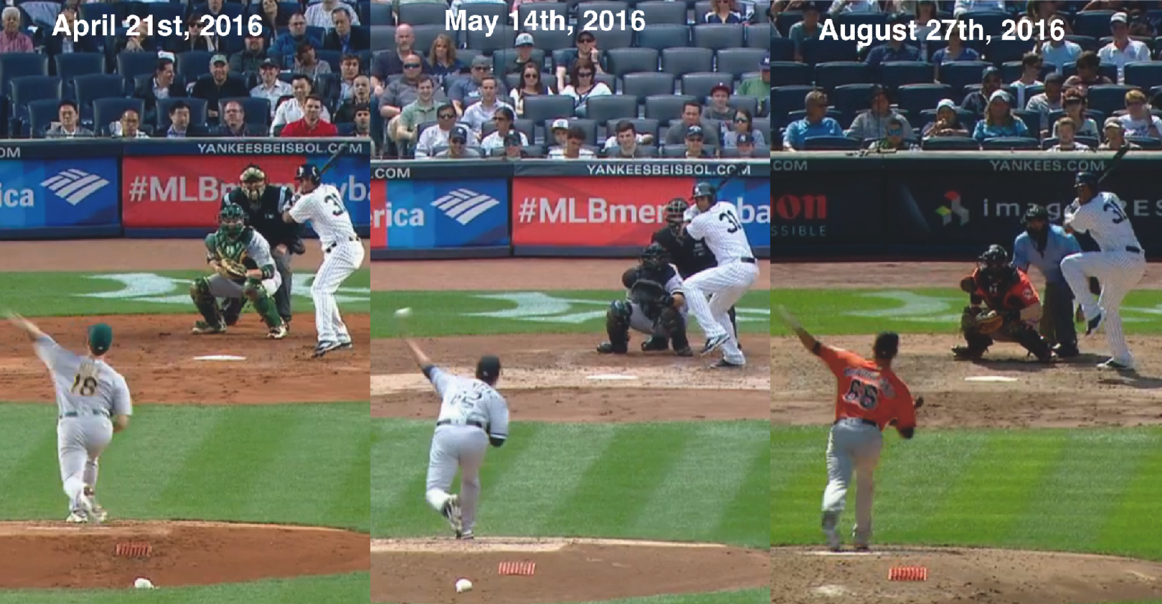 The change is clear as day: the leg kick. You don't need me to explain this picture. Aaron Hicks didn't have a leg kick to start this season, but it gradually made its way into his swing throughout the year. Now, in his best month, Hicks has his highest kick yet, and it appears to be more than a coincidence.
Although Hicks hasn't specifically commented on the mechanical change this season, it became an interesting subject of discussion while he was in the midst of a successful 2015 campaign. According to Brandon Warne of Twins Daily, Hicks was joking around in the 2014-2015 offseason, mimicking swings of notable players, when he first stumbled upon the leg kick.
"I started to like it," Hicks told Warne. "From then on it was kind of a point where I was just like, you know what, I'm going to try this. We were just having fun in offseason hitting, and it just kind of led to me being comfortable with it and taking solid swings."
Hicks continued to tinker with it in Spring Training, quickly becoming comfortable with the new part of his swing. Hicks felt the kick helped to "generate my timing mechanism so I need to have my hands ready," while also making him a more aggressive hitter. Not only did the kick turn into an integral part of his breakout season, but it sounds like it may have catalyzed his surprising performance in the first place.
With that in mind, the sudden disappearance of the leg kick to begin this season is very odd. It doesn't make sense for him to no longer incorporate what previously proved to be a key part of his success, and it's unsurprising news that removing the leg kick has caused his 2016 season to nosedive.
Luckily, if August is any indication, bringing the leg kick back could turn around what looked like a lost season for Hicks. Over the past 30 days, Hicks has been hitting more line drives and making hard contact much more consistently. His performance has, as mentioned before, rapidly improved, and Hicks has turned in one of his best months since last July.
You may have noticed everything doesn't completely add up, though. Sure, a lack of a leg kick explains a disastrous April, but he began to bring the adjustment back in mid-May. In a perfect world, Hicks' performance turnaround should have correlated with the return of a leg kick. Realistically though, these types of mechanical tweaks can take months for a hitter to become comfortable with, and it took some time for Hicks to, once again, grow accustomed to a leg kick. The adjustment period meant some ugly swings in the first half, but it's paid off lately.
Maybe Hicks won't continue to play this well throughout September, but the leg kick provides a concrete answer to his sudden success, while also giving hope that the performance is sustainable. Although Hicks has had a difficult start to his tenure in pinstripes, there's still a chance he turns into a well-rounded outfielder… one talented and productive enough to start in New York next season.
Source: Kim Klement-USA TODAY Sports