In the midst of all the rightly-deserved, and well-earned hoopla surrounding rookie Gary Sanchez in August, another young Yankees' player had a good month: Starlin Castro. And while the world stopped what they were doing and watched Sanchez at bats in awe, Castro quietly batted .313/.333/.571 with eight home runs during the month of August and played a big part in the team going 17-11. Castro had 35 hits overall for the month and hit five doubles.
When Castro came over to the Yankees in Dec. 2015, general manager Brian Cashman said he liked how Castro looked at second base and added, "I like that he's athletic, I like his age. Between the youth, the flexibility, the right-handed bat, he's got a history of hitting left-handers. Clearly that's an area that we needed to better improve our balance in the lineup. It kind of checks off a lot of the boxes here."
Castro batted .265 with 52 runs, 23 doubles, 11 home runs and 69 RBIs in 151 games in 2015. Right now, he's hitting .266/.299/.425 with TAv of .255. Castro has already eclipsed both his home run total and doubles total from last year and will soon pass his RBI total (69 in 2015).
If you've paid attention all season, you'll know that the one thing about Castro's game that can be frustrating to watch is his penchant for swinging at pitches low and out of the zone—usually outside. An opposing pitcher could throw pitches in the left handed batter's box and Castro would still flail away at them. Until August, that is.
Here are Castro's swing rates overall for August: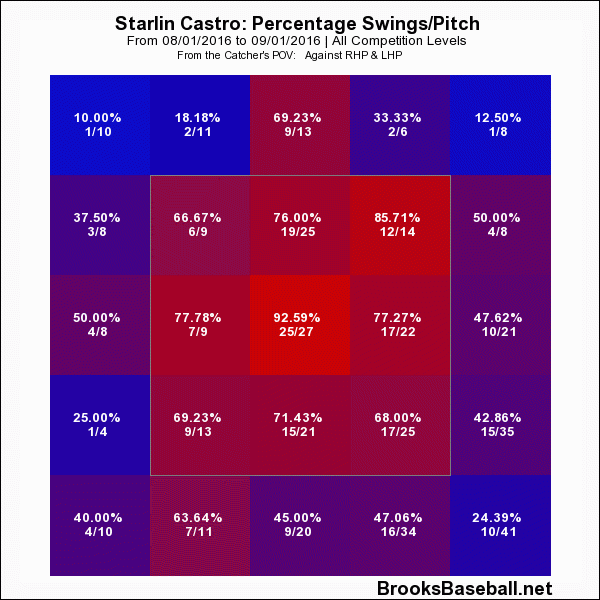 Castro still swings a lot and that probably won't change, but you'll see in the next graphic how things have changed.
April through July: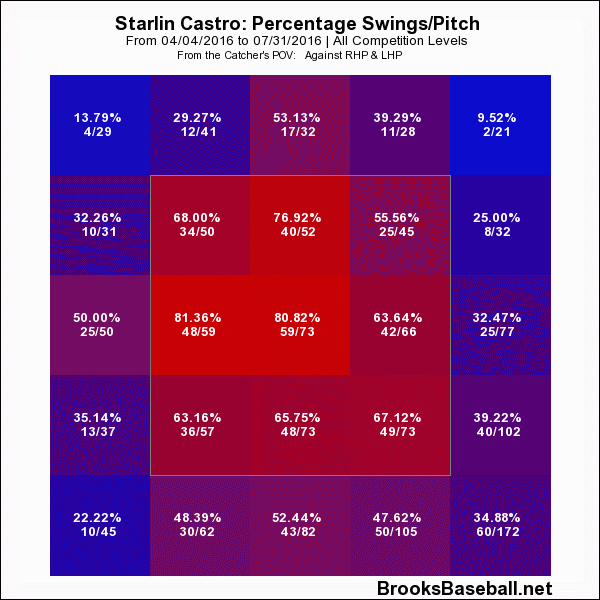 While the difference isn't night and day, it's a good illustration of how Castro has altered his approach at the plate. He still swings at those pitches out of the zone from time to time, but they haven't been as frequent an occurrence in August. He has also increased his swings at pitches up in the zone (middle and up) which seems to be allowing him to hit for more power.
Next we'll look at how Castro swings against right handers throwing breaking pitches since it seems to be his Achilles heel.
Here's August: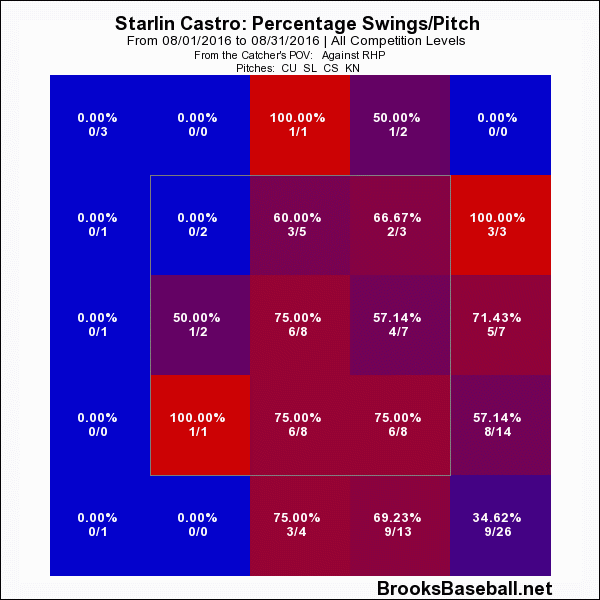 Here's April through July: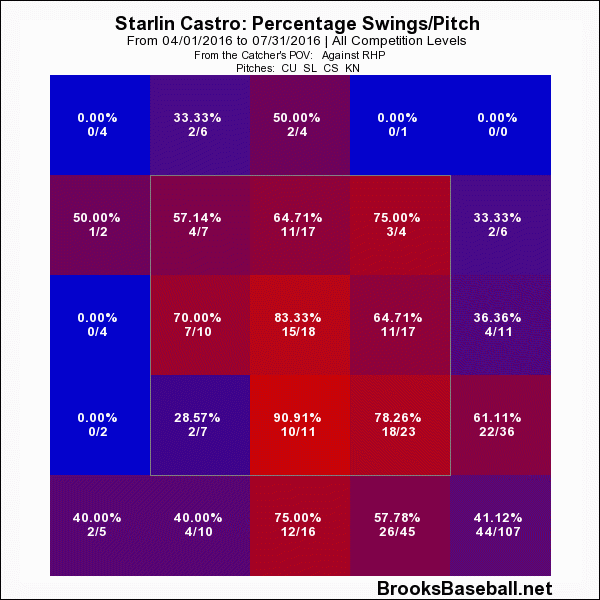 Castro is laying off pitches on the inside and lower part of the plate while increasing his swings higher in the zone. He's still going after some of the outside pitches, but again, you can see the difference in the approach.
On Wednesday night, Castro hit his career high (thus far) 19th home run of the season in the sixth inning of the game against Kansas City's starter Ian Kennedy. Notice the swing. He stayed with the pitch, a 93.9 mph fastball, that seemed to run outside a bit but then run back over the plate, made solid contact and pulled the Yankees to within one run.
If Castro is finally starting to recognize pitches better and is laying off pitches he would usually go after, it will be a big key to his success down the stretch in September, possibly October, and definitely next season and beyond.
The Yankees are right smack in the middle of the playoff race right now and Castro has a played a large role in their resurgence. In the past 10 days, they have faced three teams who are also in the same hunt for a Wild Card slot and have taken all three series (Seattle, Baltimore and now Kansas City). They are doing what they need to do in order to stay alive and if he can remain steady at the plate, Castro just might be able to help the Yankees pull of a miracle in September.