Masahiro Tanaka warmed up a sellout crowd in the frigid Bronx for a short while, but 47,000-plus ultimately left the ballpark with their arms outstretched and their heaviest insults directed toward the day's umpiring crew.
Tanaka lasted 5 2/3 innings, allowing two runs on four hits and striking out four, but he was once again out-dueled by Astros lefthander Dallas Keuchel, who ended New York's 2015 season last October in the wild card game. Keuchel's seven frames of two-run ball carried Houston to a 5-3 victory.
Much like that game, the air in the Bronx was as frozen as the Yankees offense. Starlin Castro looked good, doubling home two runs in his first Yankees at-bat and adding some solid play at second base, but the offense as a whole managed just four hits.
Aside from Tanaka and Castro, Chasen Shreve also looked to be repaired after his wobbly walk to the finish line last year. He threw 1 1/3 near-perfect innings with two strikeouts. Those few bright spots were overshadowed by an eighth-inning controversy that turned the game.
The Play: Betances's error in the eighth (-.207 WPA)
With one out and a runner on in the top of the eighth, Dellin Betances threw a slow Carlos Correa roller over Mark Teixeira's head into right field, allowing Houston to take the lead for good.
What followed was a lengthy on-field appeal from manager Joe Girardi, who argued that Correa was in the baseline at the time of the play. Correa clearly ran inside the first base line, as most players are taught to do. This cut off Betances from Teixeira, and he was forced to try a touch throw over Correa, which ended miserably.
​
Not many pitchers in the big leagues have the wherewithal to know they should intentionally peg a player in the back, but that's exactly what Betances should have done in this situation. Girardi said so, Mark Teixeira said so and heck, even crew chief Dana DeMuth said so: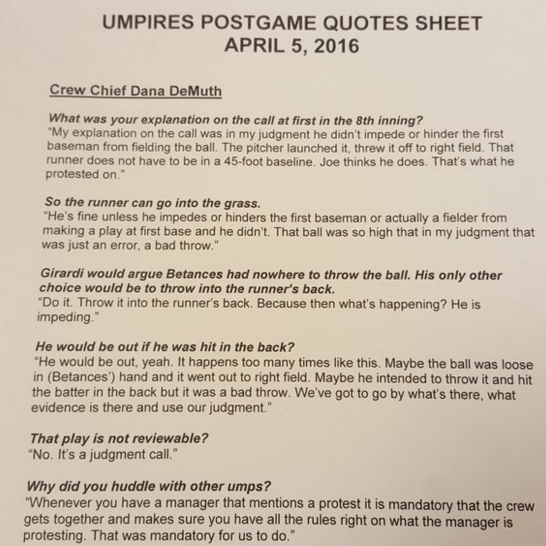 Betances said he will be trying to hit the runner in the back in future scenarios, not out of malice but out of necessity.
"Next time, that's what I'll try to do," he said. "If that's what's going to have to happen, to make them call him out, then that's what I have to do."
The Yankees played the rest of the game under protest, and crumbled after the play. Correa stole second, Betances walked Rasmus, and Luis Valbuena singled both runners in to break the game open.
Top Performers
Yankees: Starlin Castro (1/3, 2B, 2 RBI, 4 Assists)
Astros: Dallas Keuchel (7 IP, 2 ER, 3 H, 4 BB, 4 K)
The Quote(s)
"I've never read a rule book. I don't know anything about rules." - Alex Rodriguez
"Do it. Throw it into the runner's back. Because then what's happening? He is impeding." – Crew chief Dana DeMuth
Notes
– The Yankees have now lost five straight on Opening Day.
– Houston was 3-for-3 in stolen base attempts against Brian McCann.
– Johnny Barbato made his major league debut and he looked good, tossing 1 1/3 immaculate innings with three strikeouts. He hit 95-96 with his fastball, and missed bats with his slider.
– Didi Gregorius hit the Yankees' first home run of the season.
– Dellin Betances's new intro song is "All the Way Up (ft. French Montana)" by Fat Joe and Remy Ma. Aaron Hicks has chosen Jay Z's "Public Service Announcement" as his at-bat music.
– Correa took Tanaka deep on a well-thrown 86 mph splitter in the seventh.  All game, Tanaka hid his fastball from the phenom:
At-bat 1
Called strike – Sinker at 90
Ball – Split at 86
Swinging strike – Slider at 83
Foul – Sinker at 91
Strike three swinging – Split at 84
At-bat 2
Ball – Sinker at 90
RBI groundout – Split at 84
At-bat 3
Swinging strike – Sinker at 90
Home Run – Split at 86
The Highlight: Alex Rodriguez steals second
​
Next Up
The Yankees will host Houston on Wednesday night at 7:05 p.m. ET. Michael Pineda goes against righty Collin McHugh. That should mean Brett Gardner makes his debut in the starting lineup.
Lead photo: Anthony Gruppuso / USA Today Sports