With the exception of Brendan Ryan's two shutout innings on the mound, there was absolutely nothing positive to take from the Yankees' blowout loss to the Astros on Tuesday.
Ivan Nova started for the Yankees, and Houston shelled him to the tune of seven runs, seven hits, and four walks over four innings.
"It was not a good game today," said Ivan Nova. "It was bad that I have two bad starts in a row and I can't help the team to win games, especially this late in the season. We are fighting for a spot in the playoffs, and pitching a game like this, it doesn't help the team and doesn't help myself."
Nova's inability to pitch well in a pressure spot the past two weeks has to be cause for concern, especially with C.C. Sabathia's injury. It doesn't appear that the Yankees will move to a six-man rotation any longer, meaning no extra time in between Nova starts.
In Tuesday's loss, Nova was hit hard when he left a fair number of pitches about a foot above the bottom of the strike zone.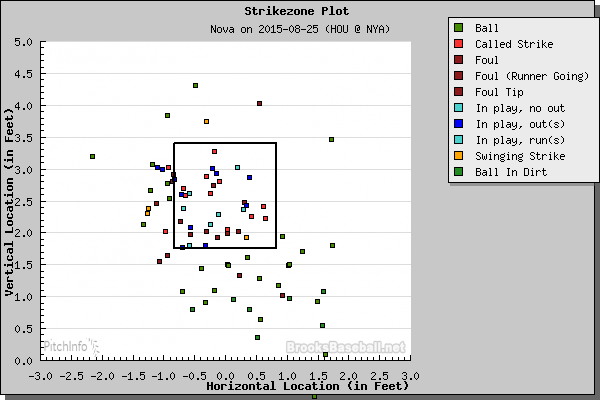 For a ground-ball pitcher, of course, the goal is to keep pitches down.
"We were trying to throw those sinkers in to the righties, and he just kept missing over the plate," said catcher John Ryan Murphy. "That's a good combination for hitting, and a bad combination for pitching."
There's the goal – down and in. There's just one problem – that might not be such a great goal.
A glance at Ivan Nova's zone profile entering Tuesday aligns perfectly with everything said above. Lots of pitches down in the zone, with the lower left quadrant favored.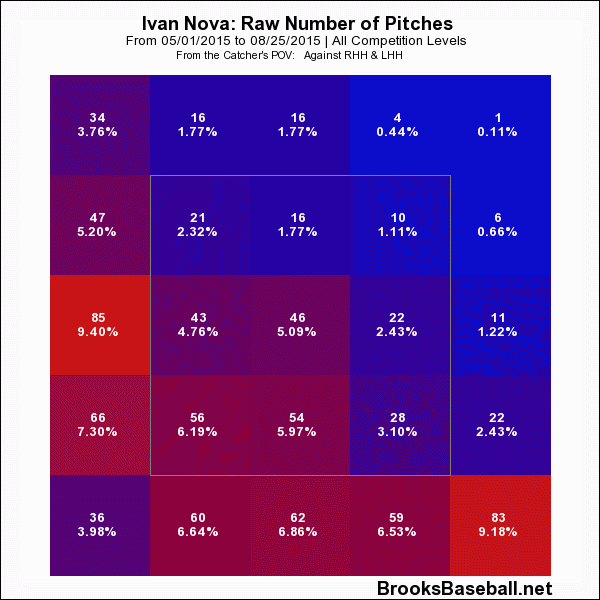 Through his 11 starts, this has been the gameplan for Ivan Nova. When he doesn't execute said gameplan, clunkers like this happen. So what happens when he does execute? The results aren't so great.
On pitches down and in to righties this season, Nova has actually fared poorly: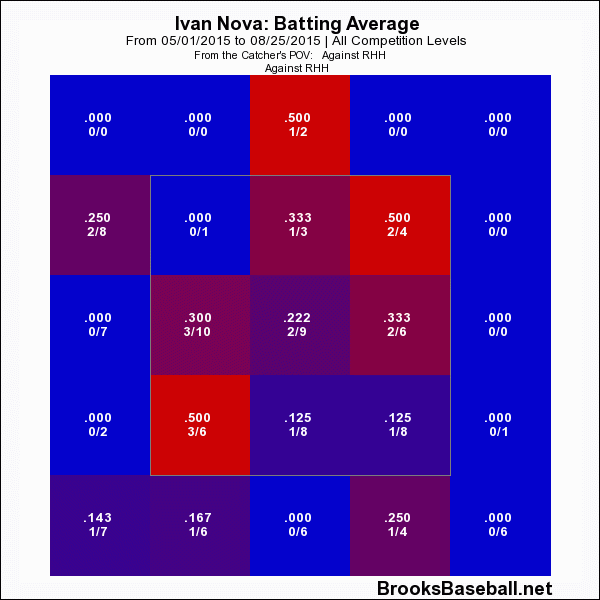 As you will notice, going down and away has been effective, while staying on the inside part of the zone has been dangerous.
Not only is Nova's go-to spot a potential landmine, his luck has been pretty good so far this season. He carries a career BABIP of .306, and hitters have had just a .270 average on balls in play against him entering the week. It may be that we are now seeing the real Ivan Nova.
His ERA has risen from 3.10 to 4.5o in August, coinciding with a red hot month from the Blue Jays, who have passed New York in the AL East. In order for the Yankees to get to October, they'll need Nova to keep the ball down in the strike zone more consistently, and maybe even start moving to the outside corner. Of course, when he can't control where he throws the ball, all of that goes out the window.
"I didn't have good command today," said Nova. "I tried to fight it, but I definitely didn't have a good game."
That can't continue to happen.
(Photo: Andy Marlin-USA Today Sports)