Based on all available information it would appear that Dellin Betances is a lucky man. He's young, he's immensely talented and he's excelling in his chosen field. Presumably he has his health to boot. People who have never met him are interested in owning his likeness and this pleases him greatly.
To be frank, Mr. Betances is not a very good friend of mine. As much as it hurts to admit that, I think it's important for you to know this is the case. It is entirely possible that Dellin has very little luck in love, friendships, and backgammon–things we all agree are far more important than baseball. However, he has yet to confide in me about these issues.
As a result, I have no choice to stand by my earlier assumption that he is in fact a lucky man. There are a fair number of people who would be interested in some kind of "Freaky Friday" arrangement with the big right-hander.
Within the context of baseball, there is also some evidence to suggest that Lady Luck has been kind to him. In his MLB career Betances has a BABIP against of .247–a very low number that likely indicates he's had more balls find gloves than one would expect. The whole "BABIP is all luck" argument is shallow, lazy and often largely inaccurate, but in cases with bigger swings from the norm there is something to it.
Additionally, Betances has enjoyed a HR/FB rate of only 7.0 percent despite the fact he pitches approximately half his games at Yankee Stadium. Once again, this should not be described as purely a luck-driven happenstance, but it's not exclusively due to his skill either.
What we keep coming back to is that Betances is a pretty fortunate guy in every way that we're aware of. That is why I found it very interesting to find there is one way in which he's been wildly unlucky in his relatively brief career: inducing double play balls.
Initially this doesn't seem especially surprising. Betances is a strikeout pitcher, not some sinkerballer. Additionally, he is very good at keeping runners off the bases in the first place.
Even so he allows base runners occasionally and he's run a 45.7 percent ground ball rate in his career to date and yet he's only induced one double play this season.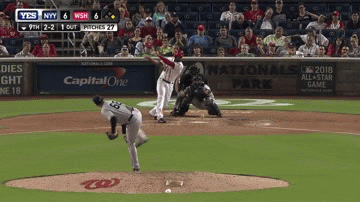 On this play Betances appears to indulge in some awkward fist pumping and/or wringing out his hand for some reason. He's so unpracticed at celebrating double plays it's difficult to tell. It was only the second time this had happened in his career.
That career has included 89 times this fairly mundane event could have taken place. Keeping in mind that the MLB double play rate is about 11 percent he's definitely a few short. One explanation is that he's pitched differently with men on base in 2015, and that's true, but in a hilariously different way than you'd expect.
When men are on base this season Betances has not only gotten more ground balls, but also more pulled balls meaning that opposing hitters are hitting grounders exactly to the places the defense is likely to shade them.
| Situation | Ground Ball Percentage | Pull Percentage |
| --- | --- | --- |
| Bases Empty | 42.1% | 36.8% |
| Men on Base | 54.0% | 50.0% |
The numbers here are from a small sample and don't hold up over the course of Betances's career, they have literally no predictive value. But looking back it's hard to believe they've only resulted in a single double play this year.
Ultimately, this is far more statistical tidbit than meaningful discovery. Far more. It's not even close really. But what it does show is that not everything can go right, even for the luckiest among us. Even Dellin Betances is just a man.
(Photo: Charles LeClaire-USA Today Sports)