CHICAGO — With one out and the bases loaded in the fourth inning of the Yankees August 2 game against the White Sox, Didi Gregorius dug into the left-hand batter's box against Jeff Samardzija. New York led 1-0 already, but certainly craved some insurance against the tough Chicago right-hander.
On a 2-1 count, Samardzija delivered a 94-mph fastball more or less right down the middle of the plate. Gregorius stayed back, kept his hands in and punched the ball the other way to left field for a two-run single (his second hit of the day) in what would end up a five-run inning in a 12-3 Yankees win.
Gregorius' big hit represented exhibit A of the apparent change in approach that has the shortstop hitting .359/.388/.449 since the All-Star break (after hitting just .238/.293/.326 before it). In recent weeks, Gregorius has gone the other way better than ever before.
| | | | |
| --- | --- | --- | --- |
| | Oppo%* | Batting average | OPS |
| 2013 | 26.8 | .252 | .704 |
| 2014 | 24.3 | .226 | .653 |
| First-half 2015 | 25.2 | .238 | .619 |
| Second-half 2015 | 36.6 | .359 | .837 |
*via Fangraphs
After hitting to the opposite field roughly as often in the first half as he had in previous seasons (and seeing very little improvement), Gregorius is using the whole field during his recent hot streak.
"I'm better going the other way," Gregorius said after that game against the White Sox. "I try to stay close on everything. I've always hit the ball to left-center and left field, so for me, it's way easier."
Perhaps not coincidentally, Gregorius has struck out less often lately as well, K'ing on only 12.6% of his plate appearances since the break after going down on strikes 15.4% of the time in the first half and 17.4% of the time last season.
What underlies these improvements? The most inviting explanations involve soft factors.
It's possible Gregorius' slow start (.206/.261/.238 in April) resulted from the pressure of replacing Derek Jeter. Perhaps Gregorius tried to do too much, swinging big and looking to pull instead of making contact and slapping the ball the other way. Maybe that pressure also contributed to his defensive struggles in the early-going, when he committed eight errors in the season's first 50 games, including several high-leverage blunders and even some mental mistakes that ultimately didn't go down as errors. If that's the case, then it follows that time has helped the 25-year-old settle into his role — Gregorius said he has recently improved at "going day-by-day," which is a timeless cliché but also a reasonable approach for coping with pressure.
Second baseman Stephen Drew said he has observed a change in his double-play partner's mental state. "He's just feeling more relaxed," Drew said of Gregorius. "Earlier on he had a tough road coming in taking the shoes of the captain, and everyone's on him.
"He's got great talent. He's played a heck of a shortstop. Earlier on it was here-and-there, but he's picked it up, and it's been fun to watch. Now his hitting's getting involved too. I saw that in Arizona when I was there."
Gregorius has improved his batting average and OPS every month this season, with his wRC+ climbing steadily from 38 in April to 122 so far in August.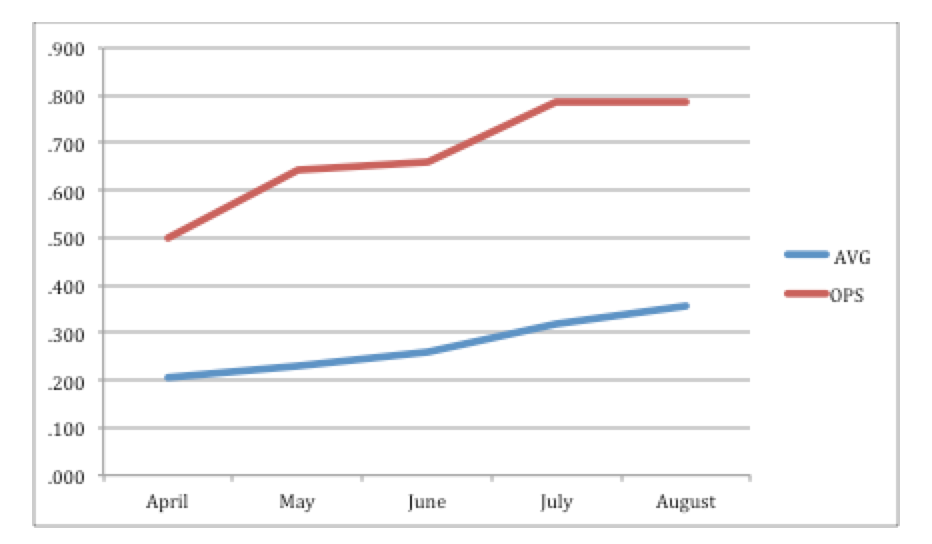 Some portion of the improvement is likely the shortstop's natural progression as a young player. This is the theory offered by Yankees manager Joe Girardi, who said Gregorius' recent improvement is a result of "just maturing, playing every day, getting consistent reps against left-handers and right-handers and just getting comfortable with the work that he's done to try to improve."
When asked if he knew of any specific adjustments Gregorius had made, Girardi offered this: "Your approach is always changing as you're learning. I think it's just playing every day and mechanically becoming more sound as he gets more advanced up here and understanding what people are trying to do to him."
Of course, some of Gregorius' hot streak can be explained away as statistical noise. His sky-high .397 post-break BABIP (albeit with a jump in line drive rate from 20.7 percent in the first half to 27.5 percent in the second half) means he's benefiting from balls finding holes.
Every player has hot and cold streaks throughout the season, and the fact that Gregorius' big slump happened to come at the beginning of the year doesn't necessarily make it more meaningful.
Most likely, these factors work together to explain Gregorius' performance. In all likelihood, the shortstop is neither as bad as he appeared early in the season nor as good as he has been lately.
In fact, looking at 2015 as a whole, Gregorius has performed right in line with expectations at the plate. Most pre-season projection systems saw Gregorius improving offensively from his somewhat-disappointing 2014 campaign, with Fangraphs' Steamer forecasting his wRC+ at 83 and 88, respectively, up slightly from 76 in Arizona last year. His actual wRC+ stands at 85, a bit ahead of last season and right in line with projections.
But thanks to steady playing time and rangy defense at shortstop, Gregorius' WAR — 1.6 on Fangraphs, 2.0 on Baseball-Reference, 1.3 WARP on Baseball Prospectus — has already matched preseason projections with six weeks left to play.
With each strong performance — such as Tuesday's three-hit evening that saw Gregorius display a mature approach at the plate and spray the ball to all fields — the shortstop's future looks more and more promising.
Yankee fans should hope a combination of settling into the New York spotlight and organically maturing as a player allow Gregorius to maintain his high-contact, hit-to-all-fields approach and prove his recent hot streak more a harbinger than an aberration.
(Photo: Andy Marlin-USA Today Sports)