Hello everyone! I'm Nick Stellini, BP Bronx's newest contributor. Some of you may know me from Beyond the Box Score and Pinstripe Alley at SB Nation. I'll be writing here in addition to my old stomping grounds. You can follow my banal thoughts and analysis, as well as the occasional prospect news Tweet when I'm in Trenton, at @StelliniTweets. I'll be talking mostly prospects here at BP, with the occasional thought about the big club. 
As you probably know, Aaron Judge is about ten types of awesome. Rated as BP's 49th best prospect entering the season, Judge brings a mix of power, plate discipline and plus defense in right field (largely due to his cannon arm) stuffed into a 6-foot 7-inch frame. Andrew Mearns wrote recently about his ludicrous power. Give that a read, it's good stuff. It'll make you want Judge in the Bronx that much more.
Here's the thing about Judge, though. For the last month or so, nearly every time I've seen Judge (I've been to almost every Trenton Thunder home game since May) he's whiffed badly on a breaking ball or change and struck out. Strikeouts will always be part of Judge's game because of how naturally big his strike zone is and that's fine. He makes up for it with some good plate discipline, but breaking balls and changeups seem to be his kryptonite. Unfortunately, most of the pitch identification data from the minors is either not available publicly or not present at every ballpark, especially in the lower levels. Because of that, I can't provide exact figures on Judge's proclivity to swing and miss on these pitches. What I can do, however, is look at big leaguers who do this quite often. Using the Pitch F/X search function at Baseball Savant, I pulled a set of data entailing every single swinging strikeout on a curveball, slider or changeup in 2015. My flawed eye test when watching Judge says that the pitches he's missing on are over the outer part of the plate, but again I have no way of confirming this so we'll look at the broad picture. The full results can be found here.
Perched atop the list with 41 such whiffs is one Giancarlo Stanton. Judge has been somewhat unfairly compared to Stanton due to their massive sizes and big power. Judge will probably never put up the dazzling home run totals that Stanton does because (1) it's Giancarlo Stanton we're talking about and (2) Judge's approach is focused on line drives and accidentally walloping the everloving hell out of a home run every now and then. However, they seem to be similar in this regard. Here's where the pitches Stanton has seen have gone.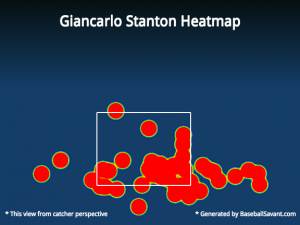 By and large, they've been outside and/or down and away. That's where I've seen the pitches to Judge go as well, so we may have something here. For kicks, here's Tim Lincecum getting Stanton on such a pitch.
A lot of strikeouts won't destroy a big league career, if Kris Bryant and Joey Gallo are anything to go by. I don't expect Judge's Stanton-esque problem with the outside secondary pitch to be an achilles heel that derails everything, but it could be the difference between him being a good hitter and a great one. Judge walked at a 17.5 percent clip in 285 plate appearances in Tampa last year. This year at Trenton, he only walked in 8.6 percent of his 280 plate appearances. That was offset by a staggering jump in ISO from .159 to .232, of course, but that steep a drop in walk rate is cause for concern. The issue with these pitches can make Judge a maddeningly frustrating hitter to watch at times. Then he'll go and do something like this.
Suddenly you find yourself back on the Aaron Judge Hype Train with a first class ticket. Such is life, such are prospects. They'll always do something very weird unless you're dealing with a Carlos Correa-type, and that Aaron Judge is not. He's a very nice prospect and will very likely be a pretty dang good baseball player. However I also wouldn't be shocked if these kind of strikeouts limit him in a noticeable way.
(Photo: Kim Klemment-USA Today Sports)