Right now Masahiro Tanaka is struggling. That statement seems fair coming off two straight starts with 11 earned runs conceded in 10 innings pitched. If we take it back it a bit further he's posted a 4.35 ERA and a 4.78 FIP since returning from the disabled list.
These numbers are undoubtedly bad and for a pitcher of Tanaka's talents they are difficult to comprehend. One's first instinct is to assume that he was rushed back and that he may not have been physically ready to rejoin the team.
Without inside information it is impossible to completely dispel this notion, but he was excellent in his first starts back and he's actually throwing harder than he was earlier in April. The pieces don't seem to fit.
Perhaps there is absolutely nothing wrong with Tanaka and he will round into form magnificently in the starts to come. This scenario is not only possible but probable. However, it is not certain.
What we do know is that opposing hitters are crushing the ball off Tanaka at this particular moment. The right-hander himself believes the issue is mechanical, but it's hard to believe that his control wouldn't go with his mechanics. In the month of June Tanaka has a miniscule 3.1% walk rate and a typical 24.8% strikeout rate.
As a result, his xFIP is a more-than-solid 2.82. Once again, it's possible that this is the beginning and end of the issue. The xFIP suggests his underlying performance has been solid and the rest is an anomaly. However, Yankees fans familiar with CC Sabathia and newcomer Nathan Eovaldi should know that peripherals don't always match results.
Right now the reality of the situation is that opposing hitters are crushing the ball off Tanaka. Thanks to Baseball Savant we can see what this looks like visually with a chart measuring the location of the balls hit off Tanaka this month and their exit velocities.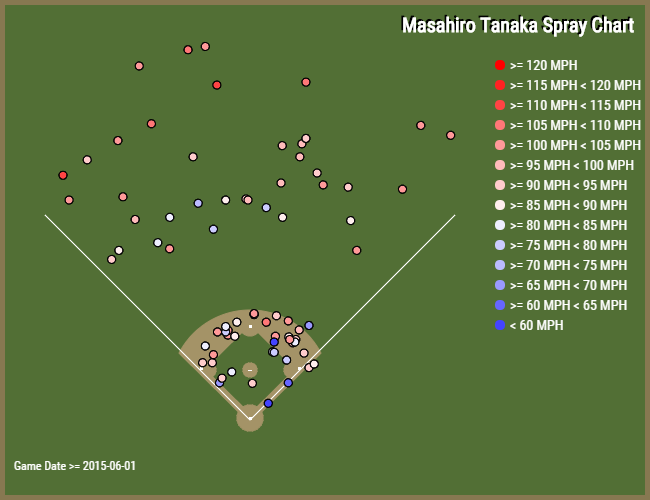 Not only are there a lot of long fly balls here, but the ground balls that have been fielded on the infield have a little juice to them.
It's hard to know what we're looking at here as exit velocity is a relatively new metric, but it's hard to say that when opponents are hitting you like this that you are pitching well, regardless of your dominance of the strike zone.
Although xFIP is undoubtedly a good metric for pitcher evaluation over time this is where it can fall flat. Since the creation of DIPS Theory it has been tempting to dismiss contact management as a skill for pitchers, but some are better than others, especially for shorter stretches.
Has Tanaka pitched poorly enough to warrant six home runs against in his last two starts? Probably not, there is probably some luck at play, but he's undoubtedly doing something seriously wrong.
The question is whether his current slump is indicative of something that will lead to further slumping, and the answer isn't yet clear. His release point has been slightly different since he returned from the DL, which may well be the mechanical issue he believes that he's fighting through, but it's unlikely that's the whole story.
Because it doesn't show up in the peripherals it's very hard to find the root of Tanaka's recent issues, but that doesn't mean they don't exist today even if they wind up not continuing. For now, Tanaka is getting smacked around like a human pinata while Yankees fans can be comforted that his underlying numbers predict a return to form, they should be uncomfortable that they can do nothing to explain his current predicament.
(Photo: Thomas Shea-USA Today Sports)