As I touched on in the recap for Monday's game, Brian McCann hits Rays starter Jake Odorizzi quite well and that continued Tuesday in the Yankees 4-2 victory over Tampa Bay in the Bronx. With the Yankees already leading 1-0 in the first inning, McCann drove in another run with a double. With a 2-1 lead in the fifth inning, McCann hit another double off Odorizzi, this time driving in two runs with two outs. Those runs proved to be crucial as the Yankees turned the game over to their bullpen and locked away another close game, only this time it wasn't the usual suspects in Dellin Betances and Andrew Miller. It was right-handed pitchers Esmil Rogers and Chris Martin who combined for 3 and 2/3 scoreless innings while allowing just two hits and a walk.
Martin picked up his first career save as he struck out Asdrubal Cabrera to end the game.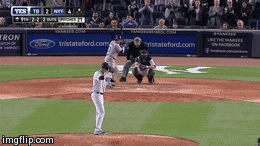 Top WPA Play: McCann's two-run double (.166)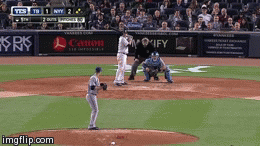 Key Moment: Chase Whitley escapes a bases-loaded jam in the second inning.
The Yankees bullpen has been as good as advertised so far this season and because of that the rotation just needs to keep the team in games like this. Whitley didn't provide the Yankees with a quality start as he only went five innings, but he settled down and only allowed one earned run. The Yankees only scored four runs on the night, but when the bullpen is going this well it takes some pressure off both the lineup and the rotation and makes a short lead feel safe. The bullpen even showed they can lock down a game without Betances and Miller (or even Justin Wilson and David Carpenter).
Up Next: The Yankees have a day game Wednesday at 1:05 with the Rays in the Bronx. Michael Pineda (3-0, 3.86) is starting for the Yankees against Rays left-handed pitcher Drew Smyly (0-0, 3.86), who's making his second start of the season. The Yankees head into the contest with a 7-1 record in their last eight games and a 5-0 record against Tampa Bay.
Photo Credit: Brad Penner/USA Today Sports Images