With the 4-1 victory over the Rays Monday night, the Yankees are 12-8 on the season, in sole possession of first place in the American League East, 4-0 against Tampa Bay, and 6-1 over the last week. The Rays came to the Bronx on a five-game winning streak, but the Yankees snapped the streak with their winning formula of getting the lead in the middle of the game and turning it over the to lights out bullpen.
The Yankees broke the 1-1 tie in the sixth when Brian McCann hit a pitch at the knees way out to the second deck in right field off reliever Brandon Gomes.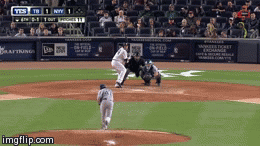 Carlos Beltran followed with a double to center and after a pitching change Stephen Drew drove him in with a two-out double.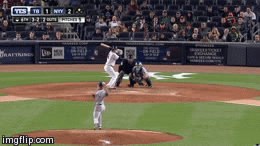 The Yankees would score again later to make it 4-1, but any small lead would be safe with this bullpen protecting it. On Sunday, five relievers combined for 4 and 2/3 hitless innings and four relievers added 3 and 1/3 innings of one-hit ball Monday. Andrew Miller became the first pitcher in franchise history to record eight saves in his first 20 games with the Yankees. Dellin Betances' streak of five straight games with no hits allowed and at least two strikeouts is the longest streak by a Yankees pitcher in the last 100 years, according to Katie Sharp on Twitter.
Up Next: The Yankees will face the Rays again and the scheduled starters are Jake Odorizzi and Chase Whitley. The last time New York faced Odorizzi, it was a pitching duel with Masahiro Tanaka, one that the Yankees would go on to win by getting to him in the middle innings and Tanaka shutting down the Tampa Bay offense. Tonight we'll see if Odorizzi makes any kind of adjustment to his game plan. We should expect him to be extra careful with McCann this time around after he broke the game open with a triple against Odorizzi last time. McCann is 8-for-13 against him with two home runs.
Photo credit: Noah K. Murray/USA Today Sports Images