Yesterday, the Yankees officially brought Brett Gardner back for the 2019 season. How quickly this came together made it quite clear that the team and Gardner both wanted to reunite, even though from the outside, it seemed more likely than not that the Yankees would decline Gardner's 2019 option and allow him to test free agency. To no one's surprise, the option was not picked up. To many people's surprise (at least I was caught off guard), a new deal was consummated before Gardner could test the waters.
With Gardner back in the mix, the Yankees have a bunch of outfielders on the roster, but only so much playing time to go around. Obviously, Aaron Judge, Giancarlo Stanton, and Aaron Hicks are going to play as much as possible. Whether or not Stanton is essentially a full-time designated hitter again is a separate question. He seemed to get better in left field as 2018 went on, but maybe the team is still reluctant to play him there. Let's not forget about Jacoby Ellsbury and Clint Frazier, though I'm sure we'd rather forget the former. Throw in the potential to sign a free agent like Bryce Harper, and things get really crowded. It may seem like there is an excess of outfielders, but unless the Yankees are extremely fortunate, at least one of these guys will get hurt next season. That means the 35-year-old Gardner is going to play to some extent. The question is: what's his ideal usage?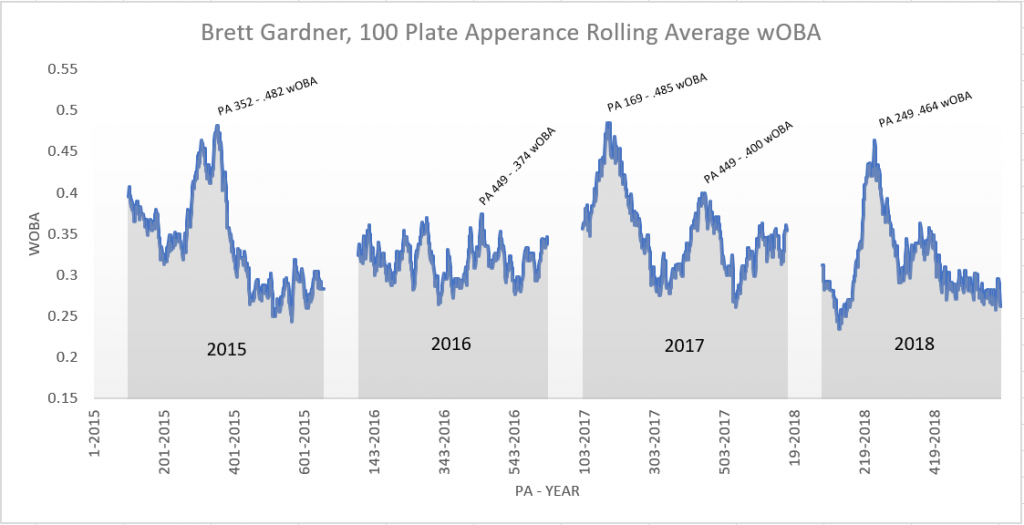 Year after year, it seems like Gardner gets off to a torrid start offensively and wears down by the dog days of summer. The data above pretty much confirms that notion (with 2016 being an exception).  In 2015, Gardner peaked at plate appearance number 352. 2017 was a bit of a roller coaster; he topped off early at his 169th trip, cooled down for another 150 or so plate appearances, and plateaued again at 449. In 2018, he topped out at plate appearance number 249 and was pretty much all downhill thereafter.
Gardner is a max-effort player every single time he's involved on the field. So it should be no wonder that his offensive output slows down as the year goes on, especially as he's entered his mid-thirties. To maximize his production in 2019, he probably shouldn't go to bat much more than 400 times, if possible. The days of 600-plus plate appearances are over.
Toward the very end of this season, I think we got the hint that the Yankees recognize that it's time to curtail Gardner's playing time. With Andrew McCutchen on the roster and Aaron Judge finally healthy, the outfield was full and Gardner was basically in a platoon with McCutchen. Considering Gardner's struggles against southpaws and his well documented late season swoons, a similar plan would make sense in 2019.
Of course, the best laid plans are just that — plans. There's always a chance that Gardner will be thrust into the thick of things should the dreaded injury bug strike. Still, the offseason is barely a few days old, so the team's outfield intentions are still somewhat unknown. And, given the lineup construction after Judge returned, it seems reasonable to expect that the Yankees are aiming to limit Gardner's time even if there are injuries. At this point of his career, he's an excellent part-time player, and that should be the role he plays in 2019 no matter what happens around him.
Photo Credit: Richard Mackson-USA TODAY Sports