Last week's return to game action got the second half off to a strong start, though there's plenty of work still to be done. That's why to start the week, the front office meant business…
Let's make a deal
With Chad Green out for the season and Jonathan Holder on the disabled list for the short-term, the virtual Yankees' bullpen needs help. The team's bullpen stalwarts have been Aroldis Chapman (1.63 ERA), Tommy Kahnle (2.04 ERA), and David Robertson (2.06 ERA). Those three make a great trio, but the underbelly has struggled and is more vulnerable without Green especially. Dellin Betances (5.31 ERA) has not matched his real universe self, and Adam Warren and Chasen Shreve have been solid (both have 3.43 ERAs) but certainly not high leverage pitchers. Gio Gallegos and Cody Carroll currently sit in the bullpen as the up-and-down guys, though as you'll find in a moment, Carroll didn't actually get a chance to pitch after his call-up last week.
To bolster the bullpen, the parallel universe Yankees added Brad Hand. In return, the Padres received Brandon Drury and minor leaguer Jeff Hendrix. Not only will hand help this year, but he's under contract for the next two seasons and figures to be a staple in relief.
More moves could be on the horizon, of course. Though Holder will be back soon, another reliever can't hurt. Perhaps a starter trade will happen, although the rotation has actually been pretty good in OOTP, unlike real life.
As always, can't wait to leave the Trop
Games at the Trop are dreadful. It feels like the Yankees always play terribly there and the horn is super annoying. At least in OOTP, you don't hear any horn. The poor play…well, wait and see:
Sonny Gray was really good in the series opener and lowered his ERA to 3.48 after seven innings of three-run ball. With the way he and Severino are pitching, there isn't too much pressure to add another starter in this world. Meanwhile, on the hill for Tampa Bay was Chris Archer, who only lasted five frames. He allowed four runs, one of which came on an Aaron Judge solo blast (his 29th). Up 4-3 after Gray exited, Tommy Kahnle and Aroldis Chapman nailed it down for the win. No poor play at the Trop…yet.
In game two, the Yankees received another excellent starting pitching performance, this time from Jordan Montgomery. The lefty threw six shutout innings but unfortunately was matched zero for zero by Anthony Banda, who tossed seven blank frames. In the seventh, the Rays took the lead for good, as Gio Gallegos coughed up three runs. Chaz Roe and Alex Colome sealed the deal with easy eighth and ninth innings to even the series at one apiece.
After the game, Gallegos was optioned and Domingo German was recalled.
In the rubber game, Luis Severino was brilliant and threw a complete game. The problem? The offense was shut out for the second day in a row, and the Yankees lost 1-0. Jacob Faria, Chaz Roe, and Alex Colome stymied the Yankees bats. Given that there are no injuries on the position player side, not scoring in two straight games is pretty hard to fathom. At least Tampa Bay is still stuck in third place as the series came to a close.
A five-game series vs. Kansas City
Thanks to a rainout earlier this season, the Yankees and Royals are squaring up for five games to end the week. In an odd OOTP scheduling quirk, the teams played a doubleheader on Thursday at Yankee Stadium, with the Yankees playing as the road team in game one to make up for the rain out in KC.
The road game in the Bronx did not go well to start the day. Masahiro Tanaka couldn't escape the fifth inning and exited at a 5-2 deficit. The bullpen didn't help either: Adam Warren, Brad Hand (in his debut), and Domingo German all allowed a run each, and the Yankees eventually fell 8-4.
The second game of the doubleheader couldn't have gotten off to a worse start. CC Sabathia exited after one batter because of shoulder soreness. With an already tired bullpen in game one, it would take a lot to get through this one. Fortunately, Dellin Betances and Adam Warren combined for four and two-thirds of shutout ball. Meanwhile, Giancarlo Stanton contributed two homers and Greg Bird chipped in a couple of RBI to give the Bombers a 4-0 lead. Tommy Kahnle allowed two runs and David Robertson gave up another to make it close, but Aroldis Chapman stopped the bleeding to get the Yankees the win.
After the game, the CC Sabathia was placed on the ten-day disabled list and Luis Cessa was recalled. Cody Carroll was also summoned and Domingo German was sent back to Scranton. Both Cessa and Caroll are up to help the tired bullpen, though Cessa could take Sabathia's next turn in the rotation. It doesn't appear that Sabathia's shoulder woes are too serious.
In the third game, Sonny Gray followed up on a strong outing from earlier in the week. This time, he went seven strong and allowed only one run. The offense did just enough, thanks to Gleyber Torres, who had two RBI singles to put the Yanks on top, 2-1. Torres is up to .345/.406/.575 as a rookie! Finally, Aroldis Chapman notched another save.
Saturday's game appeared to be a laugher in the making. Jordan Montgomery was great, allowing three runs to cross through seven frames while the offense tallied eight runs. With a five-run cushion, Cody Carroll made his MLB debut, but it didn't fare well. Lucas Duda took him deep for a three-run blast to cut the lead to two. Fortunately, David Robertson held it down for the save in order to give Aroldis Chapman a rest.
Could the Yanks take four of five to finish the week on a high note? With Luis Severino on the mound, the Yankees did just that. He was excellent, striking out ten Royals in seven innings while allowing one run. However, it was the offense that stole the show – particularly Giancarlo Stanton. His 33rd home run of the year was also the 300th of his career, a two-run shot against Justin Grimm. Only Matt Olson, with 38, has more home runs than Stanton in all of baseball. Stanton wasn't alone in the home run barrage, as Aaron Judge, Didi Gregorius, Greg Bird, and Brett Gardner all went yard. The final: 10-1.
One trade to note as the deadline approaches
The Rays and Cardinals linked up for a swap: Nathan Eovaldi for Jose Martinez. The Cards are just a game and a half behind the Cubs as of the end of the week for the NL Central division lead, and Eovaldi helps bolster their rotation, as both Carlos Martinez and Miles Mikolas are out for the year. Martinez is a DH type and was negating much of his offensive production in the field.
Will the Yankees make another trade? Though the deadline is Tuesday, you won't find out what they do until this series is updated a week from now. In all likelihood, another reliever will be pursued given Green and Holder's health (though Holder is set to return from the disabled list on Monday). Maybe a starting pitcher too, even though Sabathia isn't seriously hurt. Because Severino and Gray have pitched so well, alongside a mostly good Masahiro Tanaka, there isn't too much concern about the staff.
—
Real Universe Yankees: 67-37 (second place, five and a half games behind Boston)
Alternate Universe Yankees: 61-44 (first place, six games ahead of Boston)
And here's a snapshot of all things alternate universe Yankees: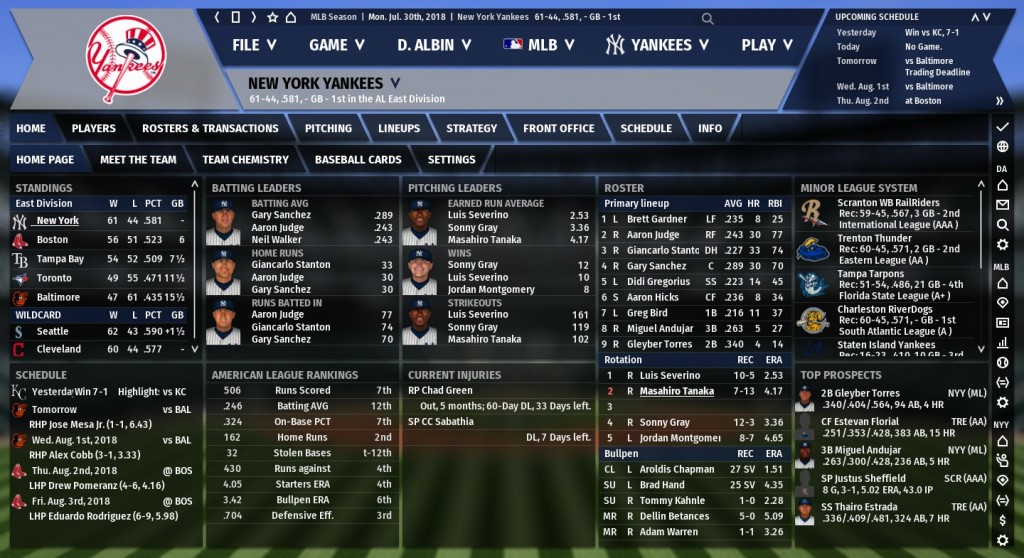 TL;DR
Before the games started this week, the Yankees made a trade, the club's first of the deadline season. To help an ailing bullpen (Chad Green and Jonathan Holder are on the shelf), the Yanks acquired Brad Hand from San Diego in exchange for Brandon Drury and Jeff Hendrix. Game action began in Tampa Bay, a house of horrors in reality which in this universe is mimicked. Though the Yankees took the opener behind a strong Sonny Gray game, they were shut out in each of the final two games at the Trop. Fortunately, they rebounded to win four of five against Kansas City to close the week. Yes, four of five, with one being a road game at Yankee Stadium to make out for a rainout earlier in the year. One of the big highlights of the series was Giancarlo Stanton's 300th career homer. Around the league, one notable trade was made: Nathan Eovaldi for Jose Martinez. There are still a couple of days left to make non-waiver swaps.