It's amazing how deep into the season we are, isn't it? With the season starting earlier and the All-Star break later, it's bizarre that nearly 100 games after passed already. The real-life Yankees stumbled to the break. After a positive previous week, how did the virtual Yanks do?
Falling to the lowly Orioles
Whether it's real life or in OOTP, the 2018 Orioles are no good. Maybe not as bad as in reality, but still, they are poor. Yet, just like reality and despite being 39-53 in this alternate universe, the O's decides to pick on the Yankees.
Game one was the beginning of the embarrassment, even though the Yankees managed to win. Chris Tillman, Baltimore's starter, entered the game with an ERA north of 6, yet blanked through five and two-thirds innings. Finally, with the bases loaded and Giancarlo Stanton at the plate, the offense came alive. Stanton hit a grand slam to put the Yankees ahead 4-2, which was more than enough to win (another run was tacked on to make it 5-2 later). Domingo German delivered six solid innings of work, allowing two solo home runs to Jonathan Schoop and Manny Machado. Tommy Kahnle, David Robertson, and Aroldis Chapman shut the door in the series opener.
Now the real shame starts. With Luis Severino on the mound for game two, you'd expect the Yankees to have no problem handling Baltimore. Well, everyone's entitled to a dud, Severino included. He couldn't complete four innings after allowing six runs on seven hits and three walks. The bullpen wasn't much help afterward, as Jonathan Holder, Gio Gallegos, and Chasen Shreve coughed up nine more runs. The only inning Baltimore didn't score in was the first. Final score: 15-3 Orioles. To add injury to insult, Giancarlo Stanton was hit by a pitch in the hand, but fortunately, it's just a bruise.
Immediately after the game, the Orioles announced a big trade: they sent Zach Britton to St. Louis for outfielder Tommy Pham. It's something of a peculiar trade for St. Louis, as Pham (2.2 WAR, 123 OPS+) was a key part of the offense and under control for the next three seasons. At 47-44, the Cardinals were five behind the first place Cubs at the time of the deal that seemingly makes them worse. Britton's a fine reliever, but not as useful as Pham especially as a half-season rental. Meanwhile, this is a complete win for Baltimore.
Pham wasn't in the lineup the next day, but the Orioles offense did just fine against Masahiro Tanaka, blasting four solo home runs. Tanaka did provide length, pitching seven innings while allowing four runs, but going deep into the game didn't make up for the Yankees' lack of offense. In fact, Kevin Gausman blanked the Yanks through eight and a third before yielding to Donnie Hart, who finished the 4-0 Baltimore win.
Recovering in Cleveland
Things didn't get better in Cleveland. CC Sabathia got rocked against his former team, allowing six runs in three innings. Dellin Betances, who hadn't worked since last week, came in relief to try to keep the game relatively close (it was 6-0 at the time). He promptly allowed seven runs, including a grand slam off Yandy Diaz's bat. With Corey Kluber on the hill, the Yankees didn't stand a chance down 13-0. The offense scratched across four runs, falling well short.
The Yankees got back on track with a 7-6 win as Giancarlo Stanton returned to the lineup in game two, but of course, even in victory, there was a bad outcome. Stanton was hit by a pitch again, this time in the knee, and had to exit. It's just a contusion, but still, his absence in the lineup is not good.
Fresh off the disabled list from shoulder tendinitis, Jordan Montgomery started game three. Gio Gallegos was optioned and Domingo German was shifted to the bullpen. Montgomery could only go four-plus innings and was relieved by Adam Warren after allowing the first two baserunners to reach in the fifth while the score was tied at one. Warren escaped that jam and pitched three solid innings of one-run ball, though he did surrender a 2-1 lead in the seventh before leaving the game. This one would go to extras with the score two all until the Yanks broke through for six runs in the eleventh, including a grand slam against Andrew Miller hit by Gary Sanchez. With Aroldis Chapman already used in the tenth, Domingo German got the final frame with a six-run cushion. He did allow a run, but the final was 8-3 Yanks.
The final score of game four looks like a laugher – 10-4 in the Yankees favor – but it was far from it. Despite a brilliant Luis Severino performance (seven innings, one run, eight strikeouts) to rebound from this week's earlier outing, Tommy Kahnle had to make it interesting. Kahnle opened the eighth inning with the Yankees up 5-1 but struggled. He allowed three runs on three hits and a Miguel Andujar error before escaping still up 5-4. With an exhausted bullpen, this was less than ideal. However, the Yankees' offense had a huge rally in the ninth, tacking on five insurance runs to make it 10-4. That was a safe enough lead for Kahnle to hold on to in a second inning of work. To win these final three games in Cleveland after dropping three of the first four this week was a solid recovery.
One other trade
We already know about the Pham for Britton trade that happened in the middle of the Baltimore series. One other trade occurred, and it was a weird one: Yoenis Cespedes for Cole Hamels. At the time of the move, the Mets were 51-41 and in second place, just a half game back of first. I'm not sure how subtracting Cespedes to get Hamels makes any sense. Meanwhile, the Rangers are 50-44, but in fourth place. They're six games out of the division lead. Cespedes seems like a pretty big upgrade over Hamels.
All-Stars
Five Yankees were selected for this universe's midsummer classic: Luis Severino, Aroldis Chapman, Aaron Judge, Gary Sanchez, and Giancarlo Stanton. All of the position players chosen are starting and so is Luis Severino. Pretty good showing for the Bombers.
—
Real Universe Yankees: 62-33 (second place, four and a half games behind Boston)
Alternate Universe Yankees: 54-40 (first place, five and a half games ahead of Boston)
And here's a snapshot of all things alternate universe Yankees: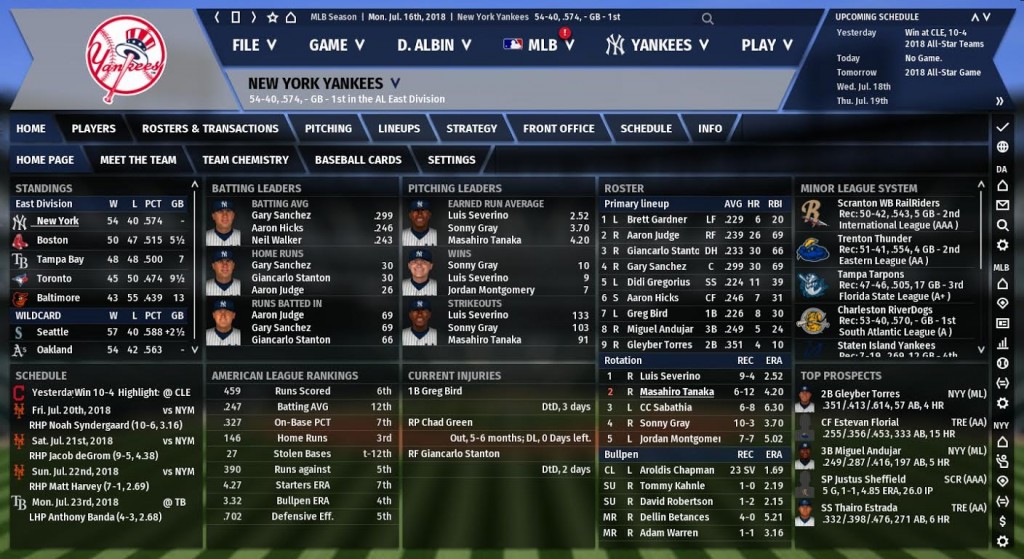 TL;DR
When it comes to the 2018 Yankees facing the 2018 Orioles, OOTP mimics real life. The virtual Bombers scurried out of Baltimore with two losses in three games, and quickly followed with a blowout loss in its series opener against Cleveland. From there, however, the Yankees redeemed themselves. They took the final three games in Cleveland, allowing them to muster a 4-3 week that had started 1-3. On the trade front, two deals were announced. The Orioles and Cardinals swapped Zach Britton and Tommy Pham while the Mets and Rangers exchanged Yoenis Cespedes and Cole Hamels. Yeah, don't ask me how that makes any sense. Finally, the Yankees are sending five all-stars to this universe's Washington, DC: Luis Severino, Aroldis Chapman, Gary Sanchez, Aaron Judge, and Giancarlo Stanton. All are starters with the exception of Chapman.
Photo credit: Ken Blaze / USA TODAY Sports