Last week was another lukewarm performance for the Yankees in the parallel OOTP world. There was some excitement with the debut of Gleyber Torres, but continued mediocre play dampened some of the enthusiasm for the team's top prospect. At least these Yankees are still in first place, though continued so-so play won't allow that to continue. This week, we finally see the club go on an upward swing.
Sweeping the Braves like it's 1999
It's not often that a team wins when its starter fails to complete one inning of work, but that's exactly what happened in the series opener against the 47-35 first place Braves. Jordan Montgomery was pulled because of shoulder discomfort after retiring Atlanta's first two hitters on only six pitches. Chad Green took over from there. Despite a long day for the bullpen, the Yankees' bats made it an easy day of work for the relief corps. The offense blasted six homers, including two by Giancarlo Stanton and Gleyber Torres's first career blast. Aaron Judge, Greg Bird, and Didi Gregorius hit the other three long balls.
After the game, Montgomery was added to the 10-day disabled list with a diagnosis of shoulder tendinitis. Gio Gallegos was promoted as bullpen depth.
Game two featured ex-Yankee Brandon McCarthy against Sonny Gray. In this world, Gray has actually been quite good, unlike his real self. In this start, however, Gray struggled. He allowed three runs in four and two thirds before Tommy Kahnle bailed him out when it was 5-3 at the time. Of those five runs, two came on Giancarlo's 26th home run. A sixth run scored on a solo shot by Miguel Andujar in the seventh, putting the Yanks up three runs. After Kahnle, David Robertson and Aroldis Chapman shut the door.
And then came the sweep! The third game was a laugher: 9-0, with all of the runs coming on homers (there were seven of those). Gary Sanchez and Gleyber Torres both went deep twice while Didi Gregorius, Greg Bird, and Miguel Andujar each hitting one apiece. Meanwhile, Luis Severino threw seven brilliant shutout innings.
A series win in Toronto, but not without a big injury
Newly acquired Tyson Ross (more on that in a moment) made his Blue Jays debut in the first of three in Toronto. Masahiro Tanaka countered. Both pitched well, but ultimately Toronto came out on top, 3-2. After Ross allowed just two runs in five frames, the Jays' bullpen was dominant for the final four innings.
The loss wasn't the worst news of the day, however. The next day, Steve Donahue informed the club that Chad Green has a torn labrum and will miss the rest of the season. He had last pitched in the first game against Atlanta, but there was no evidence of an issue thereafter. Green finished the season with a 2.76 ERA and 2.88 FIP in just over 42 innings. Domingo German was summoned to replace Green.
Game two was a big rebound for the Yanks as the offense exploded with another home run barrage. They hit six in total, three against Marco Estrada, two against Tyler Clippard, and one against Carlos Ramirez. Brett Gardner, Aaron Hicks, Giancarlo Stanton, Greg Bird (twice), and Aaron Judge were the culprits. CC Sabathia pitched decently, allowing four runs in five and two thirds (one run was inherited by Dellin Betances). David Robertson and Aroldis Chapman pitched clean innings en route to a 7-4 win.
In the final and rubber game of the set, Sonny Gray was brilliant. Why can't you be like this in real life, Sonny? He pitched seven frames and allowed just one run in a 9-1 victory. Meanwhile, the offense slouched by hitting a mere three homers on the day (Torres, Judge, and Gardner). The win closed a strong 5-1 week, though the Green injury puts a cloud over the week.
Six Trades
It's July, so that means trade season. Here are the deals that went down in this universe in the past week:
Justin Bour traded to the Rockies for minor league third baseman Ryan Vilade, left-handed pitcher Tyler Witt, and right-handed pitcher Gabriel Estrada. At 44-40, the Rockies were 2.5 games back of the Dodgers in the West at the time of the deal.
White Sox trade Joakim Soria to the Indians for three prospects: outfielders George Valera and Ronny Rodriguez and right-handed pitcher John Creel. The Indians were 47-35 when the trade was completed, but 2.5 games behind the first place Twins.
In a peculiar move, the 40-45 Blue Jays acquired Tyson Ross on Independence Day. They're eight games behind the Yankees and even further out of the Wild Card hunt. The deal cost them three pitching prospects: Santos Moreno, Zach Jackson, and Brayan Mejia.
One of the biggest trades of the week sent Jose Abreu and Carson Fulmer to the Nationals for catcher Raudy Read and lefty Yonathan Ramirez, both minor leaguers. Doesn't seem like much of a get for Chicago. For Washington, a team 42-44 at the time, the move will hope to jump-start a team struggling to perform.
On Sunday, the Mets acquired Brad Brach from the Orioles for Kevin Plawecki. The Mets are actually good in this world, at 48-39 at the time of the trade and just one and a half games behind Atlanta.
Finally, perhaps the most significant deal of the week: The Cubs dealt Javier Baez to Oakland for Blake Treinen and pitching prospect Daulton Jefferies. Baez hasn't been good (78 OPS+ and 0.3 WAR in 148 plate appearances), but it's still a surprise. The Cubs are 51-38 and in first place. Oakland is good too, at 49-40 putting them a game and a half out of a Wild Card spot. They're six games out of the division hunt.
—
Real Universe Yankees: 58-29 (second place, two games behind Boston)
Alternate Universe Yankees: 50-37 (first place)
And here's a snapshot of all things alternate universe Yankees: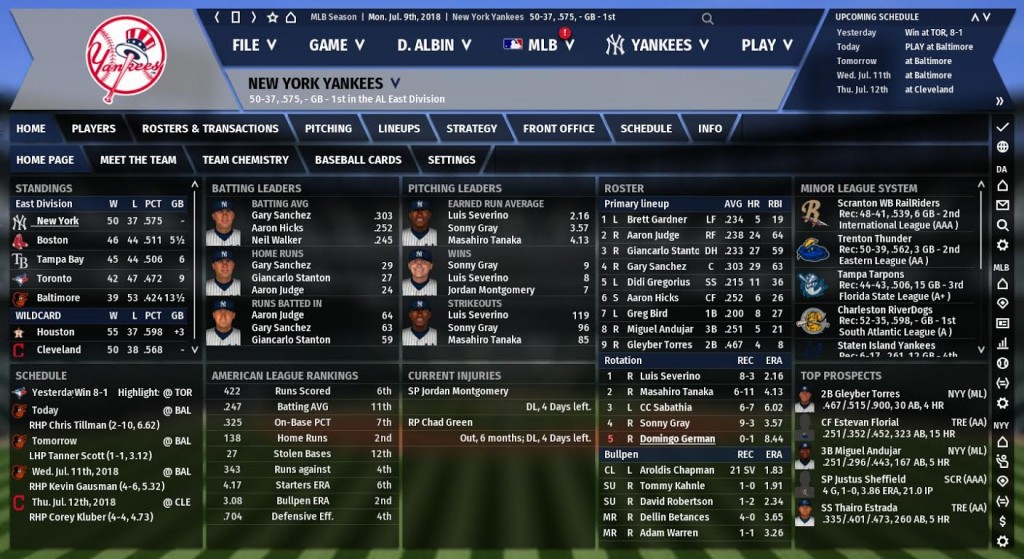 TL;DR
The Yankees hit an absurd amount of home runs this week on the way to winning five of six games against Atlanta and Toronto. Despite racking up wins, the team's performance was overshadowed by injuries and a bunch of trades that were made around the league. First, the injuries. Jordan Montgomery left his start against the Braves after retiring the first two batters he faced with shoulder tendinitis and was placed on the disabled list. It doesn't seem too serious, fortunately. Unfortunately, Chad Green suffered a season-ending injury: a torn labrum. It was discovered a couple of days after he pitched on Monday. On the trade front, there were six deals. The biggest names moved were Javier Baez (to Oakland), Jose Abreu (to Washington), Carson Fulmer (also to Washington), and Justin Bour (to Colorado). Smaller deals included Brad Brach to the Mets, Joakim Soria to the Indians, and Tyson Ross to the Blue Jays.
Photo credit: John E. Sokolowski / USA TODAY Sports