He did it! Sonny Gray lasted more than two innings and pitched a quality start on Wednesday night.
But…
It was against the Orioles and he's had some success against them—Gray is 3-0 with a 0.51 ERA in three starts at Camden Yards. So while it was nice to see Sonny Gray exit a game after six innings (instead of two) without giving up any runs, he hasn't quite turned the corner. Not yet anyway. He'll need to string together a few strong/quality starts against tougher teams and/or be successful at home for that to happen. Still, Wednesday night was a step in the right direction.
So what worked for Gray against the Orioles?
His curveball: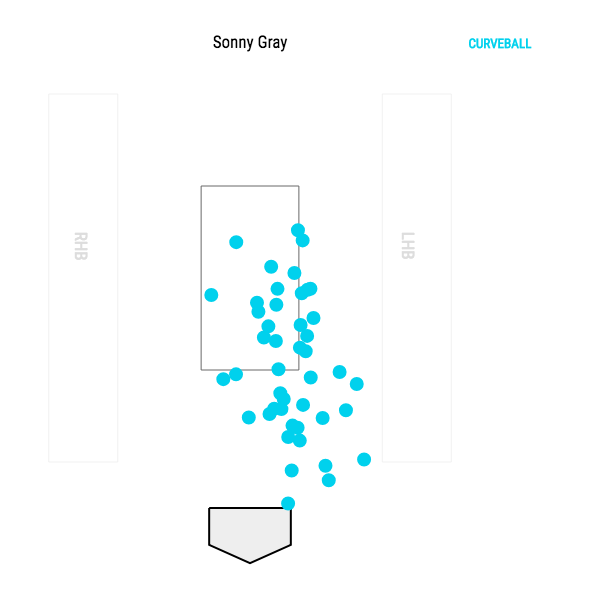 As you can see, he threw it a lot. Gray finished his outing with 90 pitches and half of them were curveballs. He also threw 39 two-seam fastballs, three four-seam fastballs, two sliders, and one changeup.
A positive for Gray was his eight strikeouts–five swinging, three called. He threw his curve for strike three five times, his two-seamer two times and he threw one four-seam fastball for strike three against Chris Davis. Gray's had three outings with eight or more strikeouts.
The other positive for Gray was that he only gave up three hits and he didn't surrender a run. There were no two-out, two-strike, run-scoring hits for Baltimore. He gave up two doubles and a single and the two times when Baltimore had runners in scoring position (the second inning and the sixth inning), Gray was able to work out of the jam and end the inning without any damage. This was only his second scoreless outing of the season. The other time he didn't give up a run was in an eight-inning, two-hit masterpiece against Toronto on June 6.
As Gray told reporters last night, "It's one start," but it's a start he can build upon, hopefully.
Gray's next start will be after the All-Star break so we'll have to wait until then to see if he's actually turned the corner.
Photo credit: Tommy Gilligan / USA TODAY Sports