After last week, the virtual Yankees fell below .500. A 20-21 record certainly is not what anyone would expect, and is especially jarring when watching how dominant their real-life counterparts have been. Even though the season is roughly a quarter of the way complete, there's still plenty of baseball for the alternate universe Yankees to round into shape. Things got better this week, even though it started poorly.
Shut Out and Rained Out in Washington
Bryce Harper and Daniel Murphy hit a pair of fourth-inning solo homers against Masahiro Tanaka, which were the only two misfires in Tanaka's five innings of work. On the other side, Gio Gonzalez threw a brilliant eight shutout innings and Sean Doolittle closed the 2-0 victory. Only Gary Sanchez, Brandon Drury, and Ronald Torreyes mustered hits (all against Gonzalez). None of the hits were for extra bases.
The second game in Washington was postponed because of rain. CC Sabathia was due to start, and given his poor performance (8.92 ERA and 5.94 FIP in 37.2 innings), his start is now being skipped until next turn.
Roster moves
Miguel Andujar hasn't been great in Triple-A (71 wRC+), but it appears he's hit into a ton of bad luck (.198 BABIP). And, given Brandon Drury's lackluster performance coinciding with a struggling Yankees team (20-22 after the Nats series), it's time to look for some improvements. Drury owned a 77 wRC+ with his .275 OBP the most frustrating aspect of his play. Sure, Andujar could be worse, but it's a risk the virtual Yankees are going to take.
Whither Gleyber Torres, you ask? I was very close to calling him up, but Tyler Wade has held his own, unlike in real life. Torres has a 60 wRC+ and .263 BABIP in Scranton, so more time for the 21-year-old seems reasonable. There's no need to be concerned about his struggles considering how young he is, but it just goes to show how amazing real-world Gleyber has been. Back to Wade: the OOTP version of the infielder owns a solid 95 wRC+, mainly because of a strong .350 OBP and eight steals in nine attempts.
In addition to Andujar up and Drury down, Brett Gardner was activated from the disabled list. Clint Frazier was sent to Scranton to make room.
An abbreviated sweep of Kansas City
It didn't take long for the Andujar promotion to pay off. In the series opener against the Royals, Andujar was on base in three of five plate appearances. He homered for the first time in his career against Jesse Hahn, Kansas City's starter, and also walked twice. Andujar wasn't alone barraging Hahn, who didn't record an out in the fourth before being pulled. Other offensive stars included Aaron Hicks, who went four for five, and Gary Sanchez, who blasted his eighteenth homer. The Yankees staked Sonny Gray with a 5-1 lead, but Gray let the Royals back in the game in the sixth inning when Cody Asche hit a home run to make it 5-4. Fortunately, the Yankees' offense tacked on two insurance runs and Dellin Betances, Chad Green, and Aroldis Chapman shut the door to get the Yankees back in the win column.
Anyone smell a win streak? Luis Severino certainly did. In the middle game of the set, Sevy delivered seven shutout innings and struck out nine Royals in the meantime. The Yankees offense got the job done once again, tallying seven runs. They didn't even need a home run to do so. In fact, they didn't need much power at all. Of the twelve team hits, only two were doubles (Tyler Wade and Brett Gardner). Speaking of Gardner, he exited early because of calf soreness but is only expected to miss a few days.
Like the series in Washington, the final game of this series was washed out. A two-game sweep ain't bad!
—
Real Universe Yankees: 30-13 (1st place)
Parallel Universe Yankees: 22-22 (3rd place, 5.5 GB of Rays)
And here's a snapshot of all things alternate universe Yankees: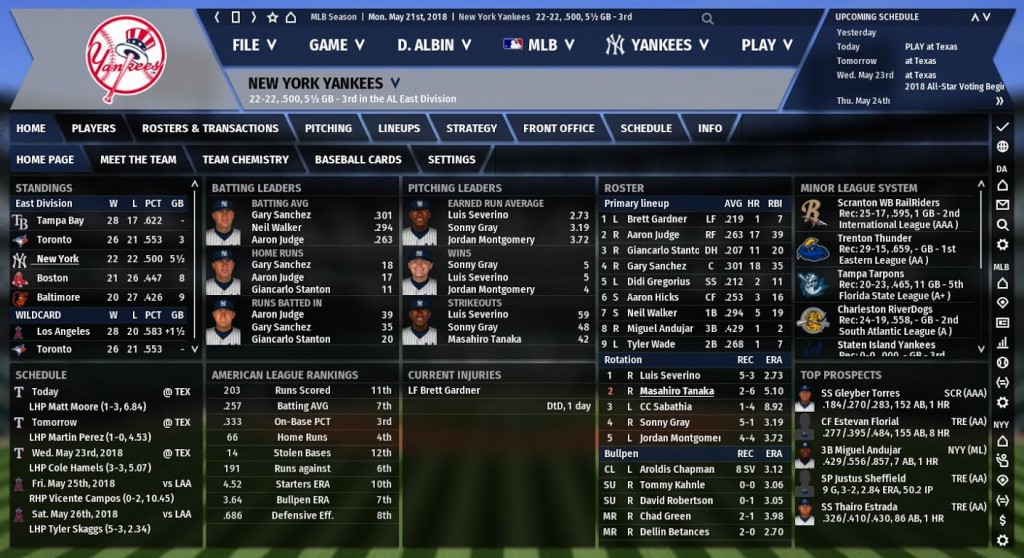 TL;DR
The Yankees and Nationals only got one game in because of rain forcing the postponement of the set's second affair. In that lone game, Gio Gonzalez shut down the offense for eight near-flawless innings. After the loss and second game rainout, two roster moves were made. One, Miguel Andujar was summoned to the majors and Brandon Drury was optioned to Triple-A. Two, Brett Gardner was activated from the disabled list and Clint Frazier was returned to Scranton. Next up was Kansas City, and the Yankees finally got the bats going against the Royals. They scored seven runs in the first two games, both resulting in victories. The final game of the series was another rainout.
Photo Credit: Noah K. Murray-USA TODAY Sports