Chance Adams should already be a major leaguer. Baseball Prospectus' #51 overall prospect posted a 3.33 DRA through 21 starts in AAA last year. In his minor league career, he's limited opponents to just 204 hits and 20 home runs in 313 innings. The reasons why he hasn't yet debuted—some combination of innings limits and 40-man roster manipulation—no longer apply in 2018.
The dude is ready. There's nothing left to prove in the minors, and he enters camp as the #6 starter behind Severino/Tanaka/Gray/Sabathia/Montgomery. So what's next? What lies ahead for a major league ready starter with no immediate path to playing time? Let's jump 9 months into the future, Wayne's World-alternate endings style: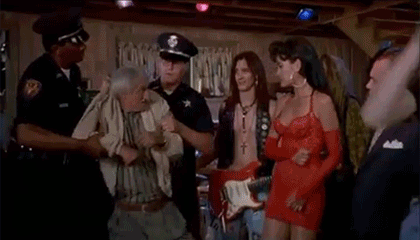 The 0-50 Innings Scenario
Something doesn't smell right. The fastball, which touched 97 last year, sits 88-90 in Spring Training. The formerly biting slider turns into a mushy slurve. His arm angle becomes inconsistent as coaches try various mechanical tweaks to identify what's wrong. He's relegated to the minor league facility in early March. When the Scranton-Wilkes Barre season begins, Adams is still off kilter. He surrenders 6 HR through April and is surpassed in the pecking order by Domingo German, Domingo Acevedo, and Luis Cessa- all of whom are already on the 40-man roster.
April and May give way to June and July. Adams can't find the strike zone, and when he does he gets habitually pounded. The team tries to move him back to relief, but there's little improvement. The scouting report is a skull-and-crossbones. No one asks for him at the trade deadline. Eventually, the Yankees simply shut him down. Officially it's called a "dead arm." It's not clear if it's elbow or shoulder, soft tissue or hard. Perhaps there's no real injury at all, and the cause of death is euthanasia.
The 50-125 Innings Scenario
Adams is a popular interview as pitchers and catchers report. There's significant buzz surrounding the team's best pitching prospect. Spring Training games begin and he holds his own- not great but OK. As expected, he's sent to AAA to start the season, where he continues to beguile the International League. There's really nothing special about how he does it. The peripherals are solid but not spectacular, and the changeup is still a little too easy to square up, but he continues to get an awful lot of outs.
In May, CC Sabathia's knee starts barking, and up comes Adams. He starts three games, allowing four runs in 14 innings, and down he goes. In June, Masahiro Tanaka rolls his ankle after throwing a pitch, and he's out until the All-Star Break. Adams is back again, and his performance is best described as "acceptable." His DRA fluctuates somewhere in the mid-to-high 4s. Aaron Boone refuses to let him pitch more than twice through the batting order.
The Yankees acquire an established starting pitcher at the trade deadline and Adams remains in the minors through August. He resurfaces when rosters expand in September, but this time as a reliever. He's scrapped the changeup altogether and experiences moderate success as a fastball/slider middle relief guy. The Yankees include him on the playoff roster, but his only postseason appearances are in the 8th and 9th innings of blowouts. Going into the offseason, it's uncertain whether his future will be in the rotation or the bullpen, as well as how much the team can rely on him to do either.
The Good 125+ Innings Scenario
Unbeknownst to the public, Adams has been working on something special this winter. Pitchers and catchers report, and Adams volunteers to take the mound before anyone else. He rears back and fires. POP! The ball explodes into Kyle Higashioka's mitt. Larry Rothschild is bewildered by the two 9s on the radar gun. "Do that again," he tells the young pitcher. Adams smiles, sets, and fires. 99 again. Then 97. 99. 98. He tries the slider. It bites wickedly, and even Luis Severino is impressed. Next comes the changeup. He throws it with a motion that mirrors the fastball, and the pitch displays good arm-side action. Now everyone is smiling.
Adams completely dominates the Grapefruit League. Fans up north clamor for him to join the Opening Day roster, but the team sends him to the minors anyway, citing a need for more seasoning. Regardless, he's called up in mid-April to join the rotation (with an extra year of service time assured). In his debut, he allows one run through 6 innings. He follows that up with a shutout through 7. By the end of April, he's become a must-watch for all Yankee fans. By the and of May, he's a must-watch for all of baseball.
Adams strikes terror into the hearts of American League batters through the remainder of the season. As October rolls around, there is debate over which veteran will pitch out of the bullpen in the playoffs because Adams is guaranteed to start. He wins the Rookie of the Year unanimously and spends the 2018-19 winter filming TV and radio ads, making terrible puns about his first name for thousands of dollars apiece.
The Bad 125+ Innings Scenario
After a decent Spring Training in which he does nothing to alter his future value, Adams returns to Scranton-Wilkes Barre to begin the season. He's moving along just fine, getting minor league batters out with relative ease, but the Bronx is burning. The ticking time bomb that is Tanaka's UCL finally explodes, and up comes Luis Cessa. At age 37, Sabathia has nothing left in the tank, and Domingo German gets the call. Jordan Montgomery regresses and Chad Green takes his place in the rotation. Sonny Gray suffers a strange shoulder discomfort, and here comes Adams.
Back in November, the Baseball Prospectus prospect team gave Adams a likely grade of 50 on the 20-80 scale, noting "Not enough command or change to be a no. 3 starter." This proves to be half true. He spends the remainder of the season in the Bronx, pitching like a back-end starter who gives up too many walks and long balls. However, he's more or less the no. 2 or 3 starter by default as the remainder of the rotation crumbles around him. The Yankees struggle to stay close to .500, and while they aren't mathematically eliminated until the mid-to-late September, the season truly ends much sooner.
***
It's easy to pretend ballplayers cease to exist in the offseason. Some we hear from but most we don't. We know in reality that they're all working out and devising new ways to get the best of each other, or at least we assume so, but when Spring Training rolls around, we still expect payers to be exactly where they left off.
Chance Adams is 23-years-old. At that age, or really any age, a person can fall in love or break up, develop or overcome an addiction, have a child or lose a relative, and have any number of other life-altering events. Maybe nothing happened to him during the winter at all, or maybe there was something that won't impact his pitching. All of these scenarios are possible, as are many others. What we know for certain is that he has tremendous potential. How much of it manifests is up to him and the Yankees.
Photo credit: Kim Klement / USA TODAY Sports