When CC Sabathia warms up on the Yankee Stadium mound, "I love it when you call me Big Poppa…" blares out of the speakers. The line is from Notorious B.I.G.'s second single "Big Poppa" which has been Sabathia's song of choice since he signed with the Yankees way back in 2008. It's also a bit of an anthem for Yankee fans who liked to refer to the former ace of the staff as the "big stoppa" when he first joined the team because it seemed every time the Yankees needed a big start from the big fella, he would step up and deliver.
Well, he's doing the same thing in 2017.
On Thursday night, the Yankees entered the game on a three-game slide and a win was needed in order to keep pace with Boston in the AL East race. And with it being August 31, it wasn't an exaggeration to say that it was a must-win game for the boys in pinstripes.
It started off a little rough for Sabathia who loaded the bases with one out in the first inning but he escaped with no damage thanks to back-to-back strike outs of Xander Bogaerts and Rafael Devers.
It took five pitches to get Boegarts but Sabathia got him looking on a slider.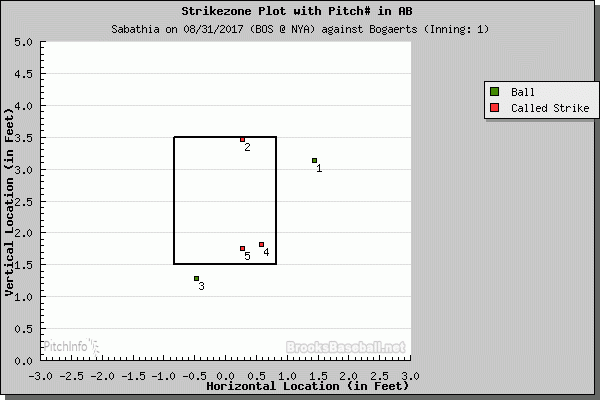 Devers was slightly more stubborn as it took six pitches to get him out but once again it was Sabathia's slider that got him. This time it was a swinging strike out.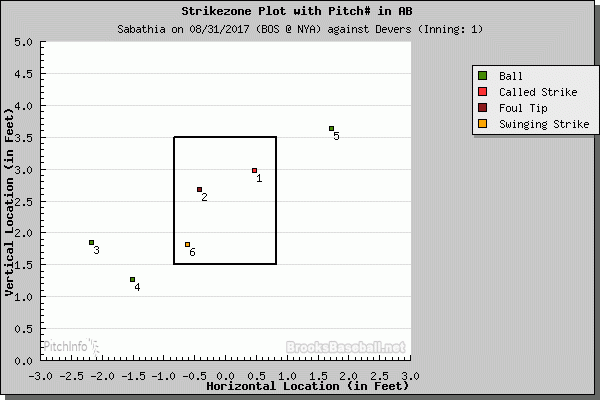 The Red Sox scored their only run against Sabathia in the third inning which was a strange one thanks in part to second base umpire Greg Gibson who didn't have a very good night. He had two calls challenged in the second inning both were overturned. In one case, the runner was out and in the other case he was safe. Eduardo Nunez, who singled to start off the inning, came around to score on a Bogaerts force out—it was one of the challenged plays. Betts was called out at second when he was clearly safe. It was overturned. Luckily for CC and the Yankees, Betts didn't come around to score that inning.
Sabathia had 1-2-3 innings in the fourth and fifth and in the sixth, he struck Bogaerts again, walked Devers, got Hanley Ramirez to hit the ball to Aaron Judge who deeked Devers and threw him out at second for the second out and then got Chris Young to end the inning.
All in all, Sabathia threw 102 pitches, lasted six innings, gave up one run on four hits with five walks and six strike outs. Obviously, the walks weren't great, but he was able to keep the Red Sox from scoring after the third inning and that's the most important thing because that team can score be relentless and score in bunches.
So thanks to his performance on Thursday night, Sabathia improved to 4-0 with a 1.04 ERA in four starts vs the Red Sox in 2017. He's held their lineup to a .167 BA and he has a 6.2 K/9. Even more important, he is now 8-0 with a 1.44 ERA in 10 starts following a Yankees loss in 2017. Sabathia has once again become the pitcher Yankee fans want to see when they need a losing streak stopped.
Photo Credit: Andy Marlin / USA TODAY Sports