It's the middle of the winter—the time of the year baseball fans yearn for the sport they love, dreaming of warm weather and the smell of fresh grass. Thankfully, spring training is not far away. Pitchers and catchers report to Tampa in a mere three weeks on Feb. 13, and among them is 25-year-old Louisville product Chad Green. He is a relatively unknown commodity, having been drafted in the 11th round in 2013, and is rarely talked about thanks to the rise of Gary Sanchez, Clint Frazier and Gleyber Torres. However, Green could play an integral role for the Yankees in 2017.
Last offseason, the Yankees acquired Chad Green along with Luis Cessa from the Detroit Tigers in return for reliever Justin Wilson. At the time, many shrugged their shoulders at the deal. With Wilson coming off a strong campaign, it seemed like a bit of a curious deal by Brian Cashman, who justified it by noting the need to add more starting pitching. The deal seemed rather boring, but Green had other plans. He dominated Triple-A, posting a 1.52 ERA, 2.12 DRA, and 9.5 K/9. Those numbers earned Green a spot start in May and then a permanent call-up at the beginning of August.
At first glance, Green's big-league numbers look unspectacular. He went 2-4 with a 4.73 ERA in 12 games – eight of them starts – in 2016 before his season prematurely ended due to an elbow injury. Thankfully, Green avoided Tommy John surgery, allowing him to take the offseason to prepare for 2017, but his role with the Yankees remained unclear.
With the season quickly approaching, Green's role has become more defined. The Yankees' two main moves this offseason were the free agent signings of Matt Holliday and Aroldis Chapman. Notice that neither is a starting pitcher. And, with Ivan Nova in Pittsburgh and Nathan Eovaldi injured, it remains to be seen who the Yankees' five Opening Day starters will be. Barring injuries, Mashario Tanaka, CC Sabathia and Michael Pineda are locks for the first three spots. On the other hand, the last two spots are more-or-less up for grabs heading into the spring. Luis Severino could theoretically fill one, but he thrived as a reliever in 2016 while struggling mightily as a starter. Chad Green and Luis Cessa appear to be next on the depth chart.
Though Green's numbers appear mediocre, at best, a further analysis of his statistics tells a different story. He has what every team wants in a pitcher: Swing-and-miss stuff. He showed off his skill-set during his first stint in the majors, posting a 10.2 K/9, which ranked in the top 50 among pitchers with a minimum of 45 innings pitched (including relievers). It does not appear as though that number is an aberration, either—Green recorded a 32.28 swing-and-miss rate, which contributed to his DRA (3.79) being nearly a full run lower than his ERA.
He has a blazing fastball that averaged 95 mph in 2016, but his slider is his go-to pitch when he needs an out. Opponents batted .203 with a .375 SLG% against his slider last season. Green made sure to utilize his slider, throwing most of his pitches down-and-away (13.9%) and down-and-in (26.3%) outside of the strike zone. Batters hit .158 and .227 in those two zones, respectively. Here are Green's complete zone charts (via Baseball Savant).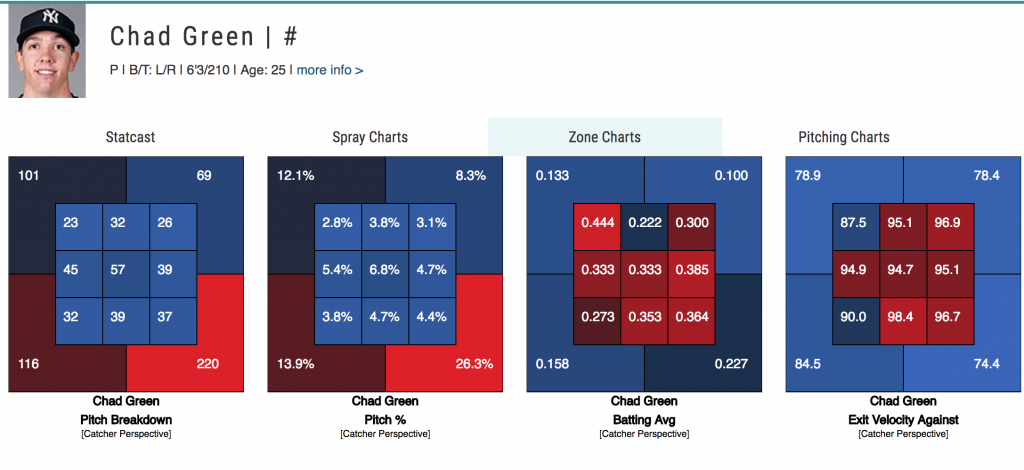 He might not be the best pitcher, but Green can shut down a lineup. Just ask the powerful Blue Jays who faced Green last August and managed just two hits over six innings while striking out 11 times:
He won't dominate like that every time out, but the Yankees don't really need him to. They just need him to be a reliable fourth starter, which is something he has the stuff to be capable of. With two open spots in the Yankees rotation heading into 2017, Green has been handed the ideal opportunity. It's now up to him to seize that opportunity and solidify himself as a legitimate starting pitcher for the Yankees.
Photo: Brad Penner / USA Today Sports