The first thing you notice about Aaron Judge is that he's massive. Unfortunately, there's no two ways around it.
You might feel more polite noticing something else about him, perhaps something more reflective of his character, but a 6-foot-7 275-pound human being has a physical presence that just draws the eyes. From an evolutionary point of view, it's important to know when apex predators are about and Judge has the look of an apex predator.
Size in and of itself is not particularly valuable in baseball, although it tends to come with strength, which can be converted into home runs. It's overly simplifying matters to say that Judge hits home runs because he's big, but it's also not wildly inaccurate. So far the 24-year-old has already jogged around the bases twice at the major-league level and being a gargantuan specimen has undoubtedly played a role.
Unfortunately for Judge, raw power is not the only thing his size affects in his profession. By virtue of his stature, he also has an awfully large strike zone to work with. If he is properly proportioned he should have the reach to cover it, but an above-average strikeout rate is probably inevitable.
In his minor-league career the Yankees rookie never struck out less than 20 percent of the time and he's done so at a 38 percent clip in his brief stint in the majors. The issue his size creates is twofold.
Pitches low in the zone are farther away from his eyeballs and hands -essential tools for hitting- than they would be for most hitters. Identifying and swinging for pitches on at the bottom of the zone may be trickier for him, as a result and he might wind up easier to freeze there than most.
He's already been victimized this way by both Wade LeBlanc of the Seattle Mariners and Mike Pelfrey of the Detroit Tigers and taken five looking strikeouts in his first 13 games.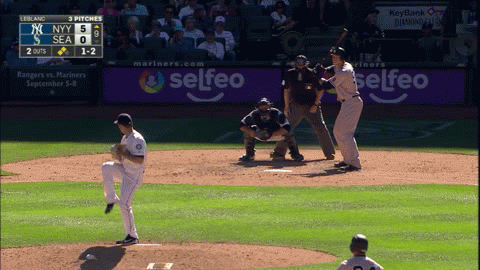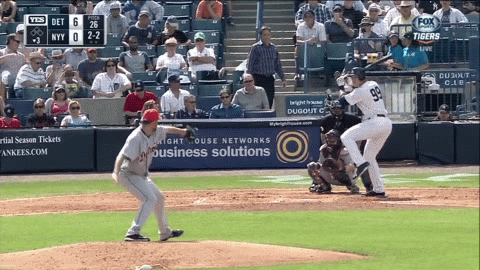 More important is what happens when Judge swings the bat. The major-league sample on the young slugger is absurdly small, but his first 50 plate appearance may contain a clue as how his unique strike zone may play at the highest level.
Because the "Aaron Judge Strike Zone" is so large, pitches outside of it are very difficult to hit. The offerings below are tough for Judge to reach, and the ones above are ludicrously high and may benefit from an effective velocity boost. The Yankees outfielder needs to stay within the zone to succeed, something his contact numbers bear out.
| Player/League | Total Contact% | Zone Contact% | O-Zone Contact% | O-Z Difference |
| --- | --- | --- | --- | --- |
| Aaron Judge | 64.4% | 86.0% | 37.5% | 51.6% |
| MLB Average | 78.6% | 86.6% | 64.2% | 22.4% |
| Judge-MLB Difference | -12.2% | -0.6% | -26.7% | +29.2% |
Once again, it's too early to assume this is what we can expect forever. Instead, this is probably an significantly exaggerated version of what it's fair to project. However, based on what we know about Judge it's likely fair to say he needs to stay within the zone, probably moreso than his peers. So far he's swinging outside the zone at approximately a league-average rate and to be the kind of weapon he has the potential to be that number needs to come down.
Aaron Judge's gifts of enormity and the ability to exert immense force come at a price. The downside out in the open for all to see is that it limits what he can do with his legs. Judge is athletic, but his 275-pound frame ensures he's never be the Maury Wills of his era on the bases and he won't play a premium defensive position.
The more subtle handicap is the massive strike zone he has to protect. With nothing but a measly wooden stick he has quite the domain to protect. That job is tough enough that he simply can't afford to go outside the his zone, no matter how much pitchers want to lead him there.
Photo: Adam Hunger / USA Today Sports