At this particular moment in time Aaron Hicks is simultaneously a Statcast legend and a player providing significantly negative value to his team.
Yes, he can throw the ball hard, maybe even harder than anyone else. When you're a pitcher that's both cool and extraordinarily useful as Aroldis Chapman has demonstrated. When you're a position player it's cool and comes in handy maybe one play every ten games.
While what Hicks does at the plate is less remarkable than the throws he uncorks, it's far more important. Right now it's not looking good as a .189/.254/.289 line is driving his -0.7 WARP.
The 26-year-old outfielder has never been an excellent hitter. He's supposed to provide value primarily in the field and on the bases, although the latter has certainly been an issue this year. However, hitting is most of a position player's job and there's a certain degree to which you must hold your own at the dish, even if that part of the game isn't your strength.
What Hicks is doing so far simply isn't good enough. So, how does a guy who was nearly a league-average hitter last season suddenly look so lost? Normally, when a player's offensive output craters there's something in their approach to point to. Interestingly Hick's plate discipline hasn't faltered in a meaningful way.
His walk and strikeout rates this season are 8.3 percent and 18.8 percent respectively. Last year they were 8.7 and 16.9. He's added a couple whiffs, but nothing serious.
So what we have is an issue of getting hits on balls in play. One could tab it as a bad BABIP karma, but not only a mark of .221 not that far beneath his career number of .263 there are is a fair amount of concrete evidence to suggest he's simply doing the hitting thing wrong.
1. Hicks is rolling over on the ball
Hicks currently sports a 62.2 percent pull rate on ground balls, significantly higher than his 54.2 career mark. Moreover, his 11 percent hard-hit rate on said grounders is a career-low.
These two pieces of information indicate that ground balls he hits (which are close to 50 percent of the balls he puts in play) can be counteracted by shifts and rarely is he ripping the ball through the hole.
2. Hicks is hitting to the deepest part of the ballpark
Hicks doesn't lack power, but there isn't much of a surplus there. In order for him to get extra-base hits the real estate down the foul lines is his friend. The middle of the field? Not so much. However, he has not taken this wisdom to heart and kept the ball in the middle where he's unlikely to be able to drive it out.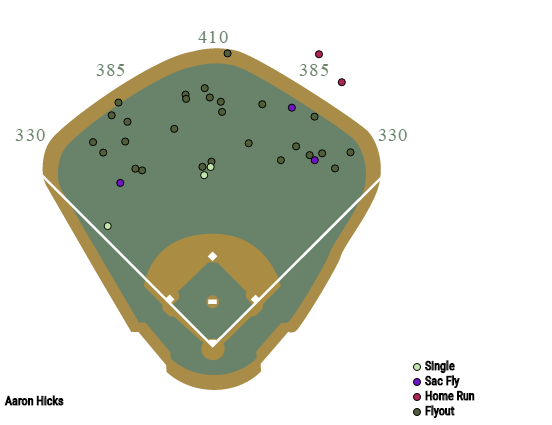 3. Hicks is not using his speed
Above-average wheels are one of the best tools the outfielder has at his disposal. The whole infield hit business can be exceedingly luck-driven, but a guy with Hicks's speed should do OK for himself. So far this season, he isn't.
The switch-hitter's 4.9 percent infield hit rate is 166th among the 263 hitters with at least 200 plate appearances, neck-and-neck with Todd Frazier.
More within his control perhaps would be to try and lay some bunts down. Hicks isn't a huge bunter, but he did have five bunt hits last season, and has only attempted to this year. Considering his struggles, it wouldn't hurt to try to get on base that way.
When players fail to convert balls in play into hits, the sabermetric instinct is to chalk it up to luck, but Aaron Hicks is doing pretty much every wrong in his quest to accumulate hits. His .221 BABIP may have some baked-in poor fortune, but it also reflects the fact he is putting on a clinic in the kind of contact that usually results in outs.
Photo: Rick Osentoski / USA Today Sports