CC Sabathia did something against the Blue Jays on Thursday that hadn't been done in over 975,000 box scores since 1913: He pitched seven innings, gave up two runs—zero earned—on two hits with one walk and seven strikeouts. He unfortunately was saddled with the loss thanks to the defense behind him and to the Yankees' offense which was stymied by J.A. Happ to the tune of only three hits and one run in seven innings, but instead of harping on the loss and complaining about it, we are going to examine just how good Sabathia was on Thursday and how good he has been in May.
May 26 vs. Toronto
Here are the pitches Sabathia used.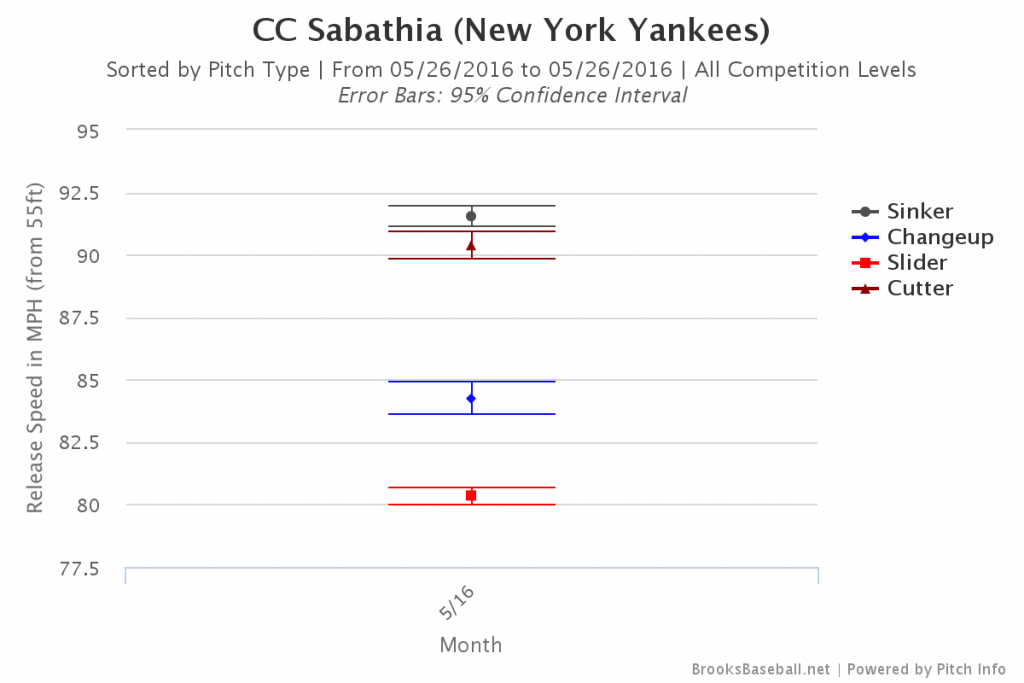 You will notice that he's completely abandoned his four-seam fastball. In fact, according to Brooks Baseball, Sabathia hasn't used his four-seamer this entire month. He's relied on his sinker, slider, cutter and changeup. During Thursday's game, he used his sinker the most (41 percent), followed by his slider (25 percent), cutter (22 percent) and change (12 percent).
And how successful were those pitches? He struck out three batters with his sinker, two on his cutter and two on his slider. No one reached base on his cutter or slider, and both base hits were off his sinker. Both strike outs off his slider were against lefty Michael Saunders who struck swinging in the second and third.
Another thing that worked in Sabathia's favor on Thursday was the way he mixed his pitches. The heat also seemed to help him. Sabathia has said in the past that he prefers warmer weather and that he helps him get loose. He hit some of his highest numbers on the radar all season on Thursday.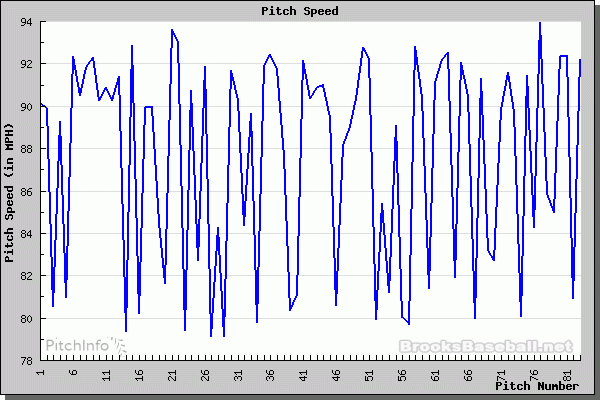 He was averaging 91.5 mph on his sinker with a high of 93.9 mph.
May 20 vs. Oakland
Sabathia had a strong performance his first start off the disabled list against Oakland. He lasted six innings, gave up one earned run on three hits, walked a batter and struck out a season high of eight. Sabathia relied on his sinker, throwing it 39 percent of the time. And on that day, his pitches were averaging between 80-89 mph, but he did a good job of mixing and matching, and using his split and cutter the same amount (22 percent).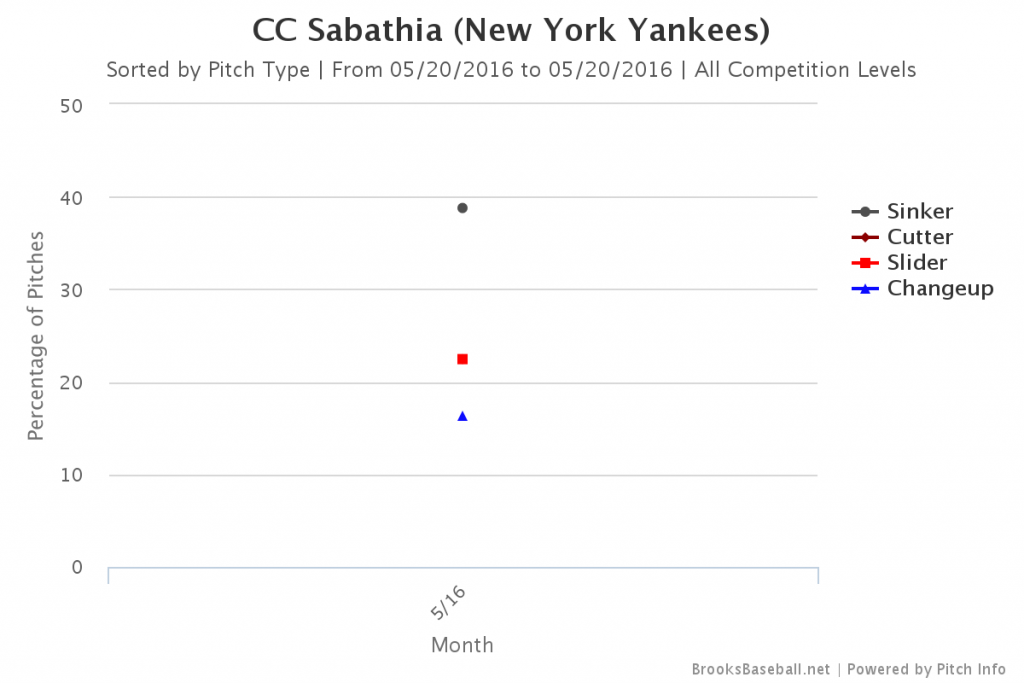 The A's whiffed against Sabathia 13 times that day: five times on the sinker, four on the change, three on the slider and one on the cutter. Some were multiple-strikeout victims on the day; Marcus Semien and Stephen Vogt went down looking and swinging while Billy Butler went down swinging both times.
Butler went down first on a slider in the third inning, and on a sinker in a sixth. Sabathia only threw sinkers in that at bat and Butler chased three out of the four.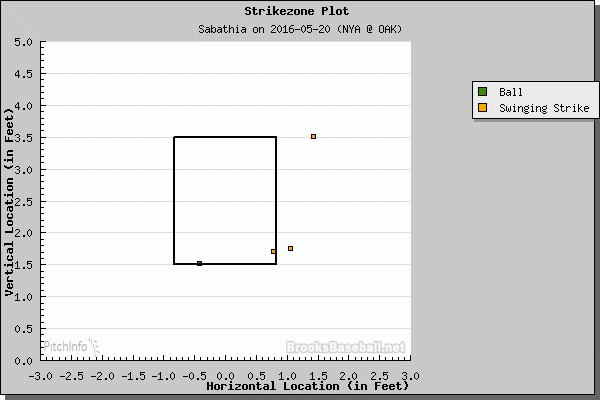 May 4 vs. Baltimore
This was the last start before Sabathia went on the disabled list and it was a good one. He pitched seven innings, gave up six hits, didn't surrender a run, walked two and struck out six.
During this start, CC spread the wealth so to speak, not relying on one pitch much more than the others. As he's done all month, he threw more sinkers (29 percent), his cutter was second at (27 percent), followed by the slider (22 percent) and the change (21 percent).
He also spread the wealth with his strikeouts. Only Caleb Joseph struck out twice, but all six strikeouts that Sabathia generated that day were of the swinging variety. Four of the six were on his change, one on the cutter and on a slider—Joseph's second strikeout of the day. Actually, Joseph only swung at one pitch that at bat: the slider.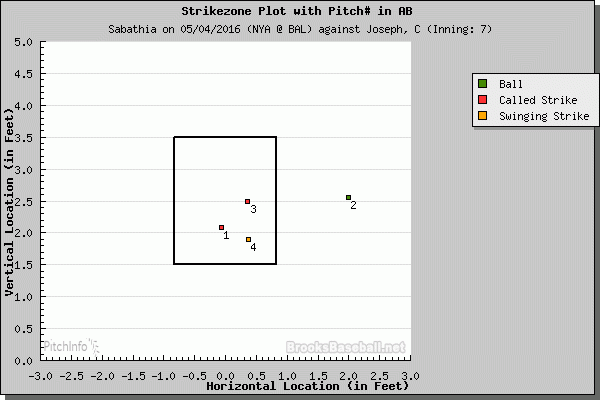 It's exciting and heartwarming to see CC Sabathia doing what he's doing right now. So many people buried him last season, and after what he went through in the offseason, the results we're seeing on the field were almost unimaginable before the season began. If he keeps this up, Sabathia could reclaim the title of ace of the Yankees' pitching staff.
Photo Credit: Adam Hunger / USA TODAY Sports