The Astros' 2015 season surprised many, while failing to hold off the Rangers down the stretch in the division. Unlike the Yankees, the Astros' youth was the driving force of their success. Which is why expectations for the 2016 Astros are sky high. PECOTA puts the Astros with 88 wins atop the AL West.
As Opening Day is a day of hope for all those in baseball, facing Dallas Keuchel in the Bronx will be a painful reminder to Yankee fans of how 2015 ended. Let's take a look at the Astros offseason and preview the opening series, where we get another look at Houston's bearded lefty fresh off of the AL Cy Young and a record-setting arbitration salary.
Offseason
The Astros offseason began with Colby Rasmus becoming the first player to accept a qualifying offer, solidifying the Houston outfield. Turning to the free agent market – the 'Stros brought back left-handed reliever Tony Sipp. The 32-year-old has posted below a 3.00 FIP each of the past two years. Additionally they added a declining Doug Fister who has seen his velocity jump back up this spring.
The focal point of the Astros' offseason was to improve their bullpen, which failed them in the playoffs. Like the Yankees, they strengthened their bullpen by acquiring a late-inning reliever. After putting up three consecutive 60 win seasons, the Astros can give up five players and still have stocked farm system after giving up a former No. 1 overall pick. The prospect cost is reflected for five years of control of flame throwing Ken Giles.
Bullpen
Shortly after Monday's opener was rained out, AJ Hinch declared Luke Gregerson the team's closer. Gregerson, who closed last year, has been dealing with an intercostal strain. In 2015 the Houston skipper used the most number of lineup combinations in the major leagues, totaling over 160 combinations, and never used the same lineup twice. This flexibility will likely permeate Hinch's bullpen usage of Giles, Gregerson and Pat Neshek, all of which have closing experience. Nonetheless, Giles is the power arm that general manager Jeff Lunhow sought out to eventually be the team's closer after failing to acquire Craig Kimbrel and Aroldis Chapman.
Offense
Much of Astros talk has been centered around their 21-year-old shortstop Carlos Correa, and rightfully so. Paired with the Astros version of peak Dustin Pedroia in Jose Altuve, Houston is built up the middle. In addition to their 21-year-old budding star, and 5'5″ second baseman, Houston boasts a well-rounded team at most of their positions, namely the outfield.
The Astros outfield is 5 deep with an emerging star in George Springer and great depth in Colby Rasmus, Jake Marisnick and Preston Tucker. Springer continues to blossom through excellent defense to his increasing double and triple totals. As his game adds season, I anticipate his strikeout rate to dip making his health as the only impediment to a 30/30 season. The University of Connecticut product is one Yankees fans should be aware of as a star in the American League. A more mainstream name, Carlos Gomez performed poorly in 2015, is primed for some positive regression in '16 unless you believe his overall ability has declined. Gomez can start with hitting the breaking ball better.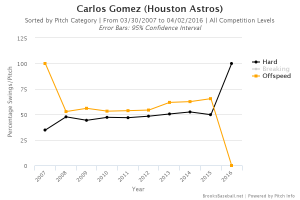 Springer and Gomez round out the Astros' core four, which rivals some of the games best groups of four with the Cubs, Royals, and Blue Jays.
Weakness: First base
A (projected) weak spot for the Astros is first base, which is generally an easy spot to fill with much of the focus being on offensive production. Their 2015 first baseman Chris Carter was non-tendered for numerous deficiencies in his game. Choosing to forgo the expensive FA market or explore the available trade options. The battle came down to three guys: former top prospect Jon Singleton, current top prospect A.J. Reed, and the little known Tyler White.
White beat out top prospect A.J. Reed this spring. Reed's demotion is much more than service time management. White, who posted more walks to strikeouts in Double-A and Triple-A, provides a contrast to Singleton's 65% contact rate. A high-walk, moderate-power player, the Astros will give the 33rd-round pick a chance to continue his minor league production in Houston. Coming off six minor league promotions in three seasons, he slashed .348/.446/.543 this spring. White could carve out a long-term role if he produces and now full time DH Evan Gattis struggles upon his return from the DL.
*****
The Yankees won't have to face Lance McCullers, who hits 94 mph with a hard hammer and produces a ton of swing and miss. The promising young righty will be the Astros' number 2 starter when he recovers from a shoulder ailment. That leaves the Yankees to face breaking ball guru Collin McHugh and Mike Fiers.
Yankees fans should pay close attention to the Astros as a model for patience and the value of having large bonus pools and draft picks. Whether it is Chapman, McCullers, Reed, or others, if either the Yanks or 'Stros meet their fan's expectations, will be many new faces to if they are to play in October again.
Lead photo: Adam Hunger / USA Today Sports