For Didi Gregorius, 2015 was a year of firsts. It was his first season in pinstripes, his first full year as a starter and his first time feeling the oppressive burden of replacing one of baseball's most iconic players.
Entering the season, all three of those examples were to be expected, but Gregorius also achieved a first that appeared far less probable heading in: he hit a home run off a left-handed pitcher.
That accomplishment in and of itself is not a monumental one. In parts of the world where it's a sensible temperature people are taking southpaws out of the park left, right and center at this very moment. However, for the New York Yankees shortstop the context is a little different.
Since entering the league Gregorius has been sheltered from left-handed pitching wherever possible. Prior to 2015 he had only faced same-handed opponents 180 times, putting up a .184/.257/.233 line with an Isolated Slugging of .049 and just seven extra-base hits.
Now, that's too small a sample to gauge true talent, but the fact he was both kept away from lefties and dreadful when he did face them gives us an idea that it's not his forte. In 2015 he hardly disproved that notion, though his .247/.311/.315 line was more respectable.
However, for one shining moment Gregorius looked like he knew exactly what he was doing against southpaws and that moment looked like this: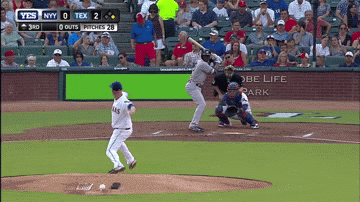 The 25-year-old even flashed a little bit of his bat-flip game at the end of the swing and the ball cleared the wall by just enough to justify it.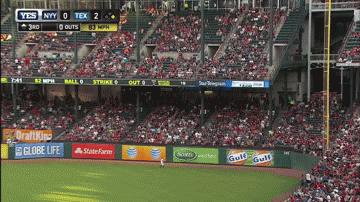 So, how exactly does a wildly unlikely event like this come to pass? In this case it took three magic ingredients.
1. A Bad Pitcher
There was a time when Matt Harrison was not a bad pitcher, but that time was 2012. Since then this is what his numbers look like:
| GS | IP | K/9 | BB/9 | HR/9 | ERA | FIP | xFIP | WARP |
| --- | --- | --- | --- | --- | --- | --- | --- | --- |
| 9 | 44.0 | 5.52 | 5.11 | 1.23 | 6.14 | 5.43 | 5.16 | -0.5 |
Health and performance-wise he's been an absolute disaster for the Texas Rangers since his extension came into effect. His stuff has also diminished to the point he was working with a 86.5 mph fastball in 2015.
If you're going to hit your first career home run off a left-hander, this is your guy.
2. A Bad Pitch
Brooks Baseball classifies the pitch that Gregorius hit out as an 83 mph sinker. That already sounds like an awful pitch without even talking about location. There are very few places an 83 mph can safely live.
As it turns out, this isn't one of them: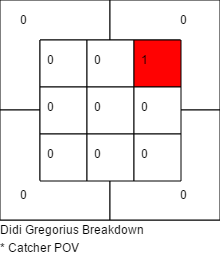 Most sinkers are supposed to reside at the bottom of the zone or below it and Texas Rangers catcher Robinson Chirinos called for this one low-and-in.
Luckily for Gregorius, not only was the pitch slower than usual, even for Harrison, it also missed its mark by a significant margin.
3. A Favorable Environment
One might expect Yankee Stadium to be the setting of this historic blast, but Gregorius got the next best thing. Globe Life Park in Arlington has been very kind to left-handed hitters over the years, with Josh Hamilton being its most famous beneficiary.
Not only is this a good park for home runs from lefties, the game was also played in the middle of the summer at a balmy 97 degrees. Balls are known to fly in the Texas heat and Gregorius probably got a little assist from the elements.
With a little help, the Yankees shortstop was able to make the seemingly impossible a reality. Although it took an impressive confluence of factors for him to perpetrate his first act of lefty-on-lefty crime, no one can take the moment away from him.
Of all of the firsts Gregorius experienced in 2015 it is exceedingly unlikely this is the one he'll remember, but its improbability certainly makes it worthy of remembrance.