At this particular juncture baseball is absolutely overflowing with young talent. Mike Trout and Bryce Harper are outrageously good and guys like Manny Machado, Kris Bryant and Jason Heyward are somehow underrated by the shadow those two cast.  Frankly, there are too many quality young arms to mention and the entire New York Mets rotation is a testament the kind of up-and-coming pitching on display in the league.
However, despite the massive infusion of fresh blood Major League Baseball has done a very poor job of marketing its new stars. Moreover, baseball fandom is more predicated on nostalgia than any other sport. As a result, the two most recognizable names in the major leagues right now are likely Alex Rodriguez and David Ortiz.
Both Rodriguez and Ortiz have had tremendous careers and deserve the attention they get, but it seems bizarre that the most pop-culture relevant players in the game are in their forties. During a golden age of emerging stars the public remains fixated on aged one-dimensional sluggers. It is remarkable that the pair has remained productive at the plate long into their supposed decline years, but they are just a couple of full-time designated hitters clinging to their one remaining skill, shoehorned into the only position in the major leagues they are capable of filing.
However, once in a very long while necessity forces them out of the DH role and into the field like mere mortals. It is this rare development I want to discuss today. Last season, the New York Yankees tried A-Rod at first base for the first time in an effort to create some additional flexibility for the slugger. He played all of 9.2 innings at the position, but it got me thinking, is he already a better bet defensively at first base than the ancient full-time DH in Boston?
Ortiz has a clear advantage when it comes to experience, but not by as much as one might think. Since breaking into the league in 1997 he's only played 277 games at the position, and he hasn't played more than 10 in any season since 2004. While he has also logged reps at the minor-league level, Ortiz was specifically selected out of playing first base at an early age. He's more familiar with a first baseman's glove, but he was also identified as being a poor defender back in his mid-twenties when he was presumably more athletic.
The video on Ortiz's glovework is illuminating in its scarcity. Papi played only 60 innings in the field in 2015, but the best highlight is probably this catch off the bat of Ben Revere.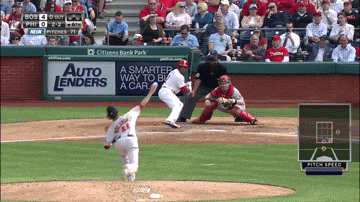 Many human beings who are not professional baseball players are capable of catching objects flying in their direction, but this is what Ortiz specializes in. Almost all video of him playing first base entails him catching a ball thrown to him. That's OK because by and large that's what first basemen do.
He did have one error this year, but it was his first since 2010 in spot duty, so it's fair to describe him as reliable enough. Statistically speaking DRS has him at -7 for his career and UZR has him at -4.4 per 1500 innings. Not that bad, although he did play in the field more when he was younger so his true talent at this point is probably quite a bit lower. Even so, in this matchup he's the high-floor option.
Rodriguez, on the other hand is a little more interesting. Even though he's been slowed by age fundamentally he's a good athlete and he used to be a defensive asset at much more difficult positions. That gives him upside.
The downside is his lack of experience. A-Rod played 9.2 innings of first base during the regular season and nine during spring training and that's probably it for his entire life. When he was younger putting him at first would have been a ridiculous notion. When he was given the chance there were a few hiccups, such as a dropped ball in a Grapefruit League game against the Pittsburgh Pirates.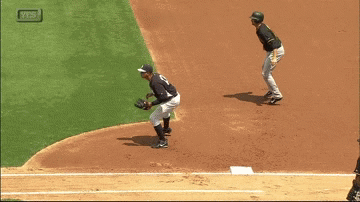 He also failed to hold onto a ball from Didi Gregorius recording his first error at the position in his only major-league start there.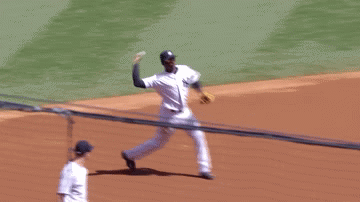 In that game he also took his toe off the bag leading to an error for Chase Headley in a call that was challenged and overturned.
These are some nasty rookie mistakes, but there is room for growth as not only does he move and throw the ball well for a first baseman, he's demonstrated solid scooping form.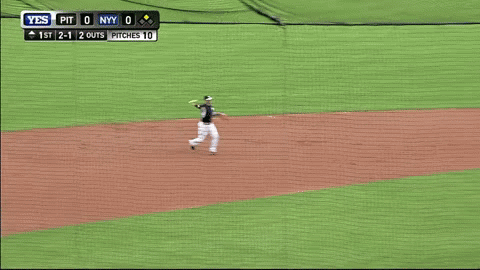 Defensive metrics mean almost literally nothing in a 9.2 inning sample but for the heck of it DRS had A-Rod at -1 and UZR had had him at a clean 0 with his range score cancelling out the error he made.
So, what's the verdict? I hope you're prepared for a cop out.
If you were playing Game 7 of the World Series tomorrow you'd want Ortiz at first. It's a position he knows well and he'll respond to plays instinctively,  catch the ball and probably won't kill you with some kind of mental mistake. It's an ugly play, but it's the safe play.
If you were going to prep one in the offseason to be your first baseman all year Rodriguez is the clear choice. He's far more athletic and he could cut down on his mistakes with more practice.
Choose Papi for today and take A-Rod for the future. That's not a statement that comes up a lot when comparing two 40-year-olds.
(Photo: Adam Hunger-USA Today Sports)