Dellin Betances isn't just extraordinary, he's unique. The 27-year-old has unparalleled size, a breaking ball that defies categorization, and he's thrown 16 2/3 more innings than any other reliever in the majors over the last two years.
On the surface his success is easy to understand. He throws hard, he misses bats and he's durable. Right now he's the closest thing to the 100 IP fireman reliever that we have in the game today.
This season, in most ways, he's performed as expected. He came out of the gate with a slightly less intimidating fastball than he showed in 2014, but he quickly gained his velocity back and has been dominating pretty much ever since. Here's his ERA by month:
| Month | ERA |
| --- | --- |
| April | 0.00 |
| May | 0.00 |
| June | 4.09 |
| July | 1.65 |
| August | 1.42 |
| September | 1.35 |
Sure, he hit a snag in June, but it's been smooth sailing since. That's what those numbers tell you. The thing is those numbers are idiots. At least in this case. ERA is a statistic with major flaws, especially when looking at relievers, and while Betances looks like he's been cruising his recent performances are somewhat disconcerting.
Since the All-Star Break, the right-hander has been worse in pretty much every measurable way.
| Half | K% | BB% | HR/9 | Opp-AVG | Opp-OBP | Opp-SLG | FIP |
| --- | --- | --- | --- | --- | --- | --- | --- |
| First Half | 42.5% | 10.5% | 0.38 | .125 | .227 | .189 | 1.76 |
| Second Half | 35.0% | 14.6% | 0.80 | .190 | .316 | .296 | 3.32 |
Betances hasn't gone from superhero to compost heap, but he's been significantly worse. It's more like he's gone from Superman to Aquaman. He can still talk to fish, and that ability is probably a little underrated, but he's not the guy he was.
The problem is that ERA says he is. His first-half ERA (1.57) is actually higher than his second-half number (1.07). This is a function of timing. Earlier in the season Betances stranded a relatively normal 82.5 percent of runners on base, since the All-Star game he's running a cool 100 percent.
To be fair to all parties involved likely realize this. Betances has had some strange outings and he knows he can be better; and regardless of how statistically-inclined fans are they are likely to notice he hasn't quite been the same in recent outings. September has been especially problematic as he's walked 11 batters in 13.1 innings and posted a 4.94 FIP.
Diagnosing the cause of the problem is a little trickier. Whenever an especially tall pitcher has trouble with the strike zone we are likely to hear mechanical issues are at fault, and that's what Betances seems to believe. That being said, this is always a convenient explanation for players and fans alike to gravitate to as it implies there a switch waiting to be flipped around the next corner that will make everything better.
An uglier reason that Betances could be scuffling is old-fashioned overuse. This would be a strong accusation to throw at Joe Girardi, and understandably he has not taken kindly to the notion. Again, it's very hard to prove or disprove this idea, but while the innings have piled up Betances is still throwing as hard as ever and his workload was heavier last year.
One interesting trend for the big right-hander has been the fact his fastball, while retaining it's velocity, has been generating fewer and fewer whiffs as the season has gone on, both in general…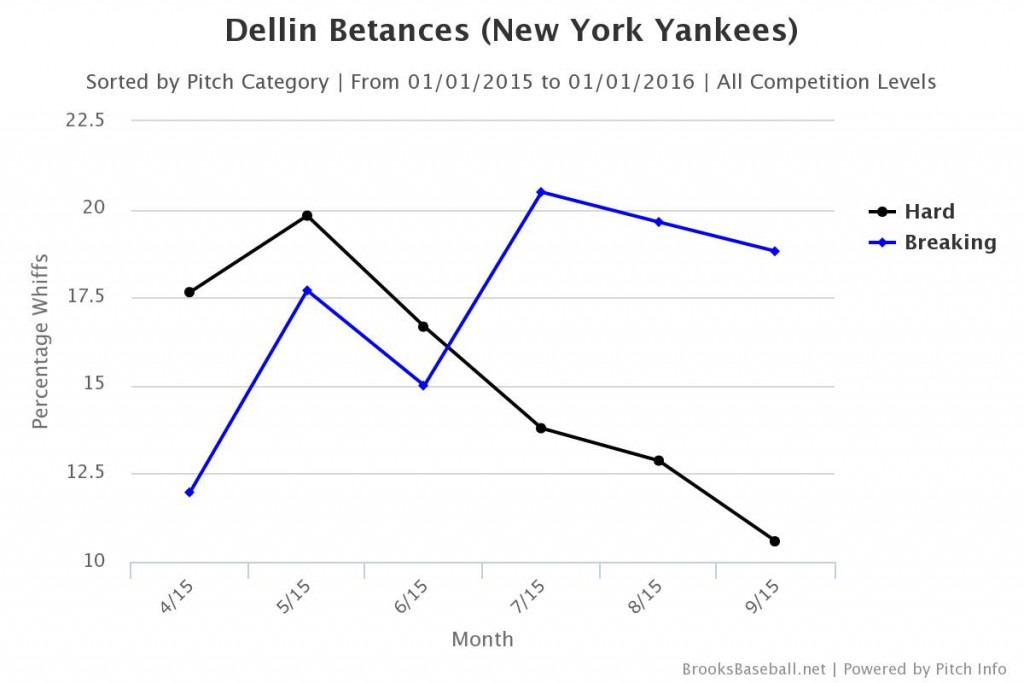 … and on a per-swing basis.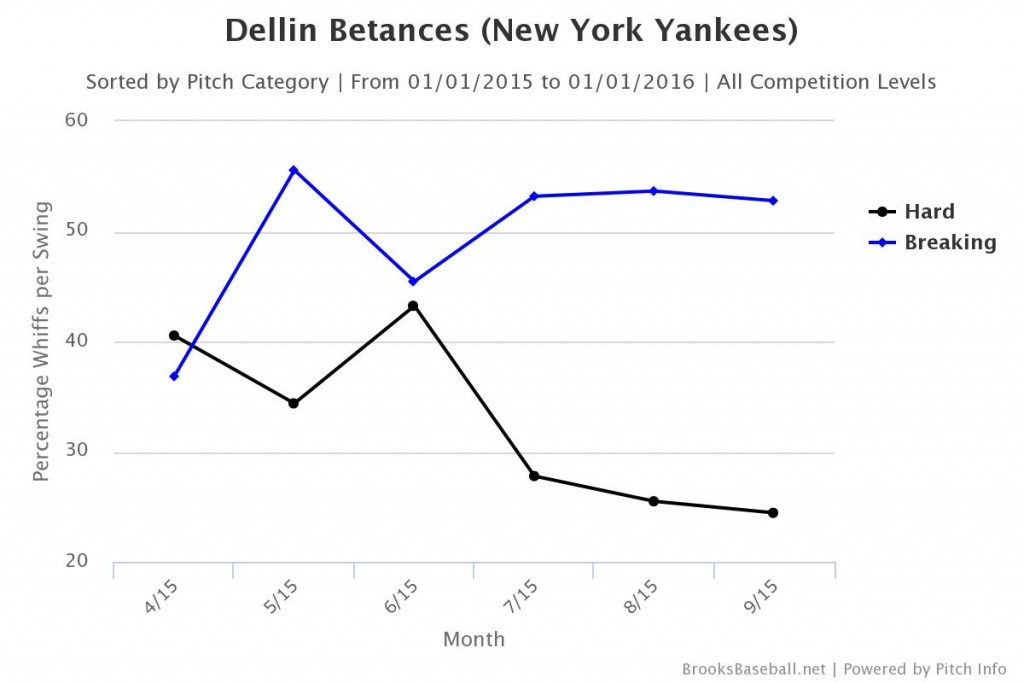 Given that the velocity, and both horizontal and vertical movement, is relatively stable, location is the most likely culprit here. He did elevate his fastball a little more consistently in the first half, but the difference isn't massive.
It's not entirely clear what's going on, but Betances is scuffling. At least so far as his standards are concerned. Plenty of pitchers would be happy to be second-half Betances, most even.
On the other hand most people would be happy to be Aquaman, for all his flaws. But when the New York Yankees almost certainly play one game that determines the fate of the season they're not going to need Aquaman, they're going to need Superman.
(Photo: Peter Llewellyn-USA Today Sports)