Barring a drastic collapse, the Yankees are going to make the playoffs.
That doesn't mean things aren't stressful this time of year.
"I don't know what happened over there in Boston," Brendan Ryan said after a 2-1 loss to Baltimore on Tuesday.
He was quickly informed that the Blue Jays were wrapping up a 5-1 win over the Red Sox, increasing their lead in the AL East to 1 1/2 games.
"Toronto's winning?" he said. "Ok. Alright. Well, that sucks."
According to Baseball Prospectus's playoff odds report, there's just a 0.7 percent chance the Yankees miss out on the fun this October. It can be difficult to remember in the midst of a late-season push from the Jays.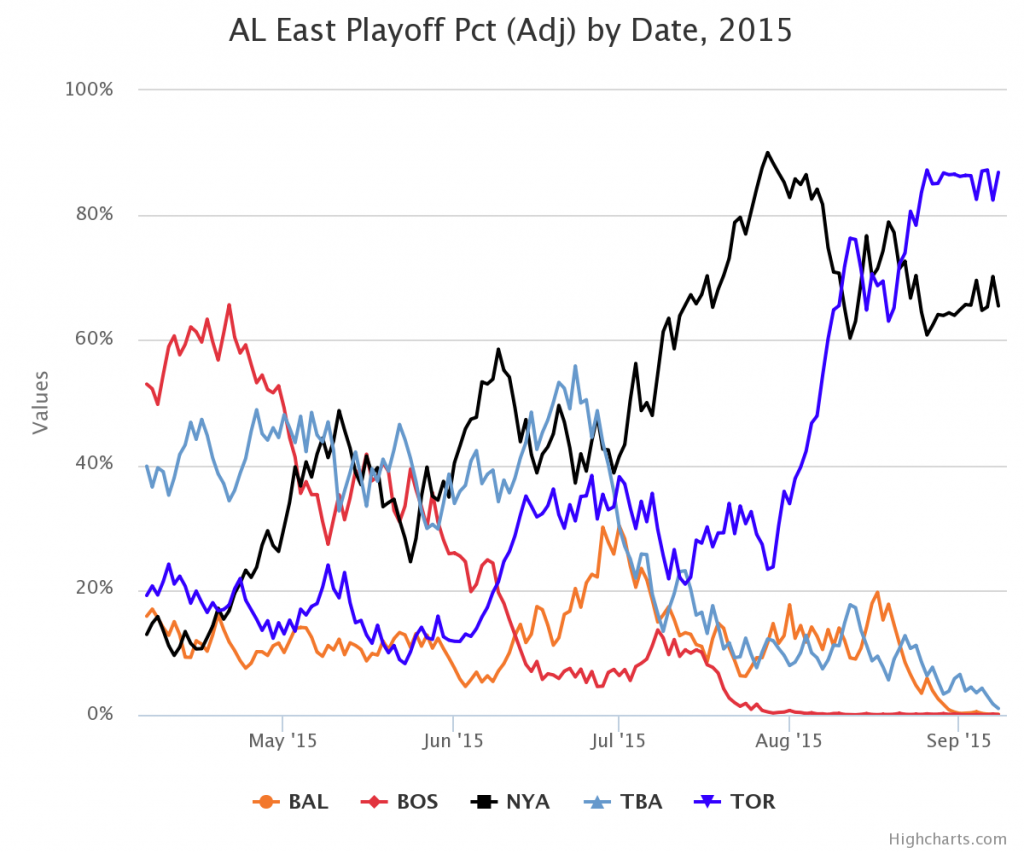 Toronto has pushed their odds of winning the AL East to 71 percent, and their chances of taking the World Series to 17 percent, good for second in all of baseball.
Injuries to key players like Mark Teixeira, Brett Gardner, and Nathan Eovaldi have left the team's loyal supporters disheartened. The team doesn't feel the same way.
In the past few years, late-season call-ups meant very little to the Yankees. The Yankees lacked a big bat off the bench last season, even when they were given extra room on their roster in September. They were able to insert Antoan Richardson as a pinch-runner, but outside of that, there was little value.
This time around, the Yankees have exceptional depth.
Tucked away on the farm were two weapons – Greg Bird and Luis Severino. Tucked away in the bullpen, you'll find Adam Warren. With Warren stretching out to become a starter, all three will play a large role in helping the team overcome their injuries.
"Look, nobody's going to feel sorry for us. Everyone has injuries," Alex Rodriguez said. "One of the great things Cashman's done is he's built a very good roster 1-40 here. You look at the job that [Bird]'s done for us it's been incredible, and obviously [Severino] pitching.
"The other thing is when you have a guy like Adam Warren, I don't care if we have Adam pitching Game 1, 3, or 7 in the playoffs. I think we're gonna win that game, that's how good he is."
Warren has been a silent assassin for the Yankees this season. In 14 starts, he posted a 3.59 ERA and .665 OPS against. As a reliever, he's been even more effective, with a 2.43 ERA and 4.71 K/BB.
A-Rod may be on to something about throwing Adam Warren out in a pressure spot come October, too. On the year, hitters are just .210 off of him in 72 high leverage plate appearances.
With Warren and Severino, the Yankees have two exciting options should Eovaldi miss more time than expected. Severino's 5.0 VORP in just 35 innings is impressive, and his seven hits allowed per nine innings ranks second among rookie starters with at least six starts.
"He's pretty much lived up to the hype," said Ryan. "It just looks like he's having fun, really. He just looks like a kid playing a game. And I love to see that. It's infectious."
Though those two arms will be vital to the Yankees' fall success, Greg Bird may be the most important piece the Yankees have. With Teixeira's injury lingering, Bird has filled Teixeira's shoes at first base admirably for a 22-year-old.
His TAv (True Average) of .292 ranks 15th among all rookies with as many PAs (91), and his .805 is certainly nothing to shake a fist at.
The Yankees have depth. They have one of the league's best bullpens, they have two additions to the rotation that they can trust, and they even have Rob Refsnyder on the bench that they can use in case of emergency.
It's comforting, and vital, to have depth in the heart of a pennant race. But when your opponent is the Toronto Blue Jays, you take notice.
"It's definitely that part of year when we're scoreboard watching," said Ryan. "But we like this team, and we like each other. It's an easy clubhouse to come to every day. Positive thinking."
(Photo: Charles LeClaire-USA Today Sports)