Imagine you are at a bar with a friend.
Good. Now make sure you don't get too drunk in this daydream. Alcohol has a nasty way of decreasing one's interest in complex things like the statistical analysis of baseball.
You are sitting with a friend who is not a big fan of the New York Yankees but has some rooting interest and you've been watching the game at the bar. In this hypothetical, Jacoby Ellsbury has a really good game. He goes two-for-five with a double and a stolen base like he did on Tuesday.
It's possible your friend might remark on a lot of different things, but let's keep it focused and say he takes note of Ellsbury's performance.  "I like that Ellsbury guy, seems like he can do a little of everything," he says, perhaps in a slightly stilted intoxicated way, but undoubtedly coherent. "Does he have power?"
This is the type of question casual baseball fans ask hardcore baseball fans all the time. "Does X player have Y characteristic?" Normally it's not a very interesting interaction. The hardcore baseball fan produces a simple answer and the casual fans uses that information to file the player in question into a pre-existing archetype like "slugger", "speedster" or "power pitcher".
In Ellsbury's case it's a little different.
If your conversation happened in 2010 you may have said the center fielder has no power with some confidence. After all, he'd hit only 20 home runs in over 1,500 career plate appearances and his career-high ISO in a full season was .114.
One year later it seemed absolutely foolish to ask any questions about the power of a guy in the midst of an MVP-caliber season.
Nowadays, things aren't so clear. After all, what are you supposed to make of a player whose ISO has fluctuated this wildly?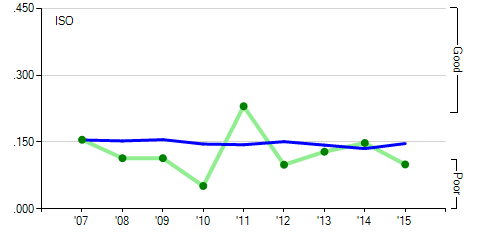 Far more often that not Ellsbury has been below-average when it comes to power production. Not only that, but his speed has given him the opportunity to stretch singles into doubles and doubles in to triples meaning that a stat like ISO or Slugging Percentage oversells his ability to hit the baseball a long way.
As recently as last year he hit 16 home runs, albeit in a favorable home ballpark. That falls under most people's definition of "having power". This year 66 of his 82 hits have been singles. Even with the three home runs he's hit in August, he has been hardly more than a slap hitter this season.
So, Ellsbury has been a singles hitter all-season and he's approaching his 32nd birthday, but he has driven the ball with authority in the no-so-distant past. What do you tell your friend?
It really depends on how much pop a player has to have in their bat for you to say that they 'have power'. It is an incredibly vague term completely left up to your interpretation.
When you say a player 'has power' what you are really talking about is their potential to get an extra-base hit. Even the most dynamic sluggers get extra-base knocks just over 10 percent of the time so it's not like you expect it every time you seen them step to the plate. But the potential is there.
Similarly the potential is there with Ellsbury. He's not a Ben Revere or Dee Gordon type who is almost physically incapable of putting the ball over the fence. However, there are 214 players with at least 300 plate appearances and he ranks 177th among them in ISO.
You can use this information to create two equally valid answers. One of them goes like this.
"Yeah he's got some pop. Hit 16 homers last year, once he hit 30 but that's was a while ago. Got off to a slow start but has hit a couple recently."
The other goes like this:
"Not really. Had one fluky year where he knocked out 30 but that's not happening again. Got up to 16 last year, but this year is looking like single digits and he's getting older. More of an on-base guy."
That there is the beauty of being the "expert". There are tons of reasonable conclusions floating out there in the ether and its your job to grab the one you like best.
When it comes to the concept of "having power" much is left to your discretion, especially in the case of Ellsbury. It is one of the few times where there really is no wrong answer.
(Photo: Anthony Gruppuso-USA Today Sports)