Top Play (WPA): This game had all the makings of a walkoff win for the Yankees. One of the team's two all-stars, Dellin Betances, was set to face the bottom of Oakland's lineup in the tenth. Brett Lawrie, his first opponent, fell down in the count 0-2, a count in which batters hit .024 with 30 strikeouts in 43 at-bats. However, Betances hung a breaking ball that Lawrie got ahold of to give the A's a 4-3 lead, increasing Oakland's chances of winning by 35.3 percent.
The 0-2 pitch was well within the strike zone: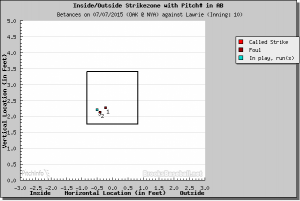 Bottom Play (WPA): Tyler Clippard entered the game for Oakland in the tenth with the A's up 4-3. After two outs and a walk, he faced Alex Rodriguez. He walked A-Rod to face Mark Teixeira. The second of the team's two all-stars, Teixeira, struck out in a six pitch at-bat to end the game. With a runner in scoring position, this dropped the Yankees' chances of winning from 15.8 percent to zero.
Key Moment: Following the departed Sonny Gray, Fernando Rodriguez took to the mound in the eighth to face A-Rod. The at-bat resulted in a strikeout, but Rodriguez reached first on a wild third strike in the dirt. Tied 3-3, this proved to be a key opportunity for the Yankees. Drew Pomeranz took over for the Athletics to face Teixeira, who grounded into a double play, essentially ending any possible threat and decreasing New York's chances of winning by 14 percent.
Trend to Watch: Today's game marked the Yankees' first since the announcements of all-stars on Monday. That being said, the two Yankee representatives played very poorly in the first game of the three-game series. Starting with Teixeira, an 0-5 night did anything but validate his role as an all-star. With three strikeouts and five runners left on, his batting average dropped below .240 for the first time since June 9th.
However, it's the bullpen I'd like to focus on. The Yankees' two most reliable relievers, Chasen Shreve and Dellin Betances, have both struggled in their last two outings. Shreve walked two batters, gave up two hits, and allowed a run in his outing on July 3rd against Tampa. The following day, Betances allowed two hits and two runs on a homer. Tonight, Shreve earned a blown save while Betances picked up the loss, combining for two runs in 2.1 innings.
While this seems to be just a bump in the road, the next appearance is big for both relievers.
Coming Next: Tomorrow's matchup will be C.C. Sabathia (3-8, 5.59 ERA) against potential trade candidate Scott Kazmir (5-5, 2.56 ERA). Kazmir's next Yankee Stadium outing may be in pinstripes, so tomorrow is a good chance to get a look at a possible future Yankee.
Also…
Andrew Miller & Jacoby Ellsbury set to return to the #Yankees tomorrow: http://t.co/S4aIVRlrUWpic.twitter.com/8eaulpB0U8

— YES Network (@YESNetwork) July 7, 2015
(Photo: Brad Penner-USA Today Sports)