Four years ago we were fairly certain we knew exactly who Brett Gardner was as a baseball player. Between 2009 and 2011 he ranked 23rd in WAR among position players, second in UZR and second in Base Running Runs. During the same period, Gardner posted a pedestrian 102 wRC+ and below-average .107 Isolated Slugging.
The picture those numbers painted was as simplistic as it was accurate. Gardner was a hitter with no power who got on base enough to be average with the bat while absolutely dominating in the field and on the bases. Because power is the top headline-creating tool in baseball, Gardner managed the feat of being an underrated New York Yankee. Rather quietly, he was a star.
Some of these descriptions still apply to Gardner. He is still probably under-appreciated by the average baseball fan and he's still one of the better outfielders in the sport. However, he's become a very different player than he used to be four or five years ago.
This isn't altogether unexpected. Gardner is now entering his thirties and his athletic gifts are diminishing to some degree. As he approaches his 32nd birthday it's not reasonable to think that he can defend the same way he used to or swipe close to 50 bags a season.
What's interesting about Gardner's transformation is the type of change he's undergone. In a relatively short period of time the Yankees outfielder has not made adjustments to his game, he's changed the shape of it entirely.
In 2015 he ranks 38th among position players with a WAR total of 2.3 and his BsR of 3.2 ranks 14th in baseball. These numbers sound like the old Gardner. However, his UZR of -2.3 ranks 116th among position players showing the extent of his decline in that area.
Over his last two full seasons he's posted UZR's of 1.6 and 1.8 respectively, going from all-world outfielder to garden-variety glovesman. There will always be debates over the merit of defensive metrics–and the eye test still quite likes Gardner–but over two-and-a-half full seasons he's posted ordinary defensive numbers.
So, how does a guy who loses–or at least partially loses–his greatest skill compensate and remain a great player? By finding a new skill.
Earlier in the decade when Gardner was delivering all-star caliber performances his lack of power was his greatest weakness, now it's one of his most important strengths. Over his past four full seasons his Isolated Slugging has gone from .110 to .143 to .166 to .182 this year. In 2014 he set a career high with 17 home runs and he already has nine in 2015.
Visually his growing power looks like this: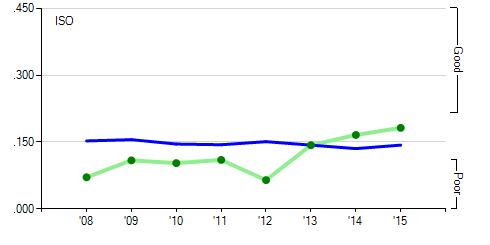 Whenever a player has a spike in power and home runs it's tempting to assume he is putting the ball in the air more. While his fly ball rate climbed a little bit in 2013 and 2014, the difference isn't huge and it's back down to his career norms this year.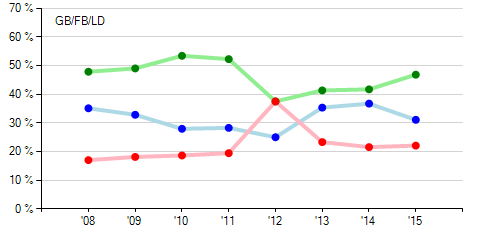 Gardner isn't hitting more fly balls, he's hitting better fly balls. Part of this change is a tendency to pull the ball more that Jeff Sullivan noted last season, but there is another factor in play: cutting down on the pop ups.
For a hitter without a lot of power, Gardner has always hit more than his fair share of infield fly balls, which is part of the reason his BABIP was never extraordinarily good even if his wheels were. Over the last couple of seasons he hasn't gone full Joey Votto, but he's eliminated most of his infield flies-which has helped foster growth in his HR/FB rate.
| Year | IFFB% | HR/FB |
| --- | --- | --- |
| 2013 | 14.9% | 5.7% |
| 2014 | 10.3% | 11.0% |
| 2015 | 4.3% | 13.0% |
This reduction of infield flies comes from an excellent effort by Gardiner to close a hole in his swing. Like many hitters he was susceptible to popping up on pitches up-and-in. The following chart shows the pitch location of all of his career infield flies: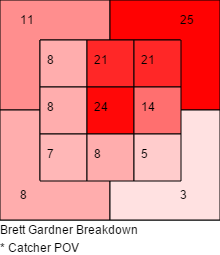 This year he's handling those pitches. The spray chart below shows where he's hit offerings up-and-in this year: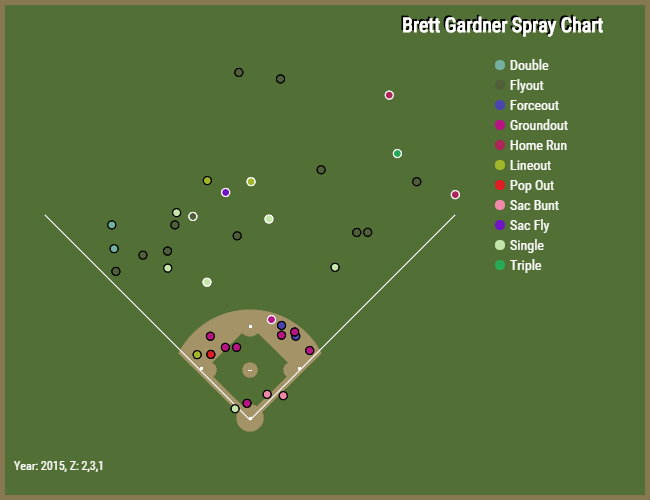 There is only one pop out here. Not only that, but he's driven the ball in this location with some authority hitting two home runs.
Gardner has cut down on pop ups by handling pitches up and in much better than he has in the past. By eliminating infield flies–which are effectively the same as strikeouts–he's made each fly ball worth more.
He may not be hitting more fly balls than before, but he's hitting better ones than ever and as a result his power numbers are shooting up. Over the last two years he's evolved as a hitter enough to soften the blow of his declining defensive numbers.
As strange as it sounds, Brett Gardner is now a power hitter. If he can keep making the most of his fly balls that's the way it's going to stay, giving him a second act as an underrated Yankee.
Almost no one gets one of those, he might be the first to get two.
(Photo: Richard Mackson-USA Today Sports)