Top Play (WPA): The Yankees came into the 4th inning up 3-1. After a two-run shot by Cameron Rupp, his first major league home run, the Phillies put two guys on for Maikel Franco. Franco, who has absolutely pulverized Yankee pitching this series (Yes in only two games), knocked his 10th homer to give Philly a 6-3 lead. This increased their chances of winning by 32.4 percent.
Check out the pitches in this at-bat, where C.C. pitched him as inside as possible. Didn't matter. Franco's something special.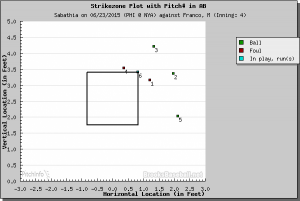 Bottom Play (WPA): Bottom of the sixth, one out, game tied at six. With Gardner and Headley in scoring position, A-Rod knocked a grounder to Freddy Galvis. Charging the ball, Galvis grabbed it and fired it home to nab Gardner, who was breaking on the pitch. This play ended New York's potential rally, decreasing their chances of winning by 13.1 percent. The Yankees wouldn't score the rest of the game.
Key Moment: Betances was rattled. After giving up a leadoff double to Ben Revere and hitting Cesar Hernandez, who was trying to bunt, he was forced to face Maikel Franco. Franco drilled a grounder past the glove of Chase Headley driving in two runs and giving Philly their first lead since when?
Since Franco's homer. Yep, 5 RBI for the rookie. Here's just how good he's been in the two games against the Yankees, courtesy of YES Network:

The Phillies went on to score three more in the 9th and finish off the Yanks for their second victory in a row.
Trend to Watch: You've probably heard enough of Maikel Franco, so I'll look on the Yankees side. Middle relief pitched well after a rough outing yesterday. Especially Chasen Shreve, who has been lights out this month. Here are Shreve's numbers since May 22nd: 3-0, 12 IP, 0 R, 11 SO.
How has he changed?
By NOT throwing strikes. His stuff is good enough where he can fool hitters pitching outside of the strike zone. Look for Shreve to throw a strong majority of his pitches away from the zone.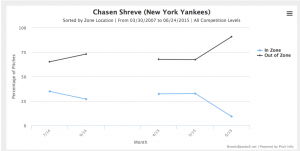 Coming Next: An intriguing pitching matchup for both sides. Starting with the Yankees, Ivan Nova makes his first appearance since last April. Because of his 14-month layoff, Yankee fans don't know what to expect out of Nova. On the bright side, he's facing one of the worst teams in the league. To counter that, the Phillies have scored 19 runs in the first two games of this series. For Philadelphia, Cole Hamels is pitching for possibly his last time in a Phillies uniform. He missed his last start with a strained right hamstring. Start time is at 1:05 PM ET.
(Photo: Brad Penner-USA Today Sports)