When the Angels popped two solo home runs in the first inning, it looked like it might be a long afternoon for CC Sabathia and the Yankees. It didn't turn out to be at all as Sabathia provided a quality start and the Bombers hit three home runs extending the winning streak to six games less than three hours after Mike Trout and Albert Pujols each went deep.
Of course, it wasn't a long afternoon for Sabathia for another reason as he and manager Joe Girardi were ejected after the top of the six inning when Sabathia expressed his displeasure in not receiving a low strike call on a pitch to Kole Calhoun. Girardi hopped over the dugout fence to come to his starter's defense, but it would take multiple players to get Sabathia out of the umpire's face. The Yankees bench seemed especially upset about not getting the low strike called, possibly stemming from a low called third strike on Mark Teixeira from earlier in the game.
The Yankees manufactured their first run of the game in the fourth inning after a leadoff double by rookie Jose Pirela, who even added a solo shot off Angels left-hander C.J. Wilson in the seventh. Two productive outs followed, including an RBI ground out by Didi Gregorius. The Yankees did their real damage in the fifth inning as Chris Young broke out of his funk to blast a game-tying solo home run to leadoff the inning. After back-to-back one out singles by John Ryan Murphy and Gregorius, Brett Gardner stepped to the plate, bring us to the top WPA play of the game.
Top WPA Play: Gardner lined a 2-0 inside pitch from Wilson down the right field line for a three-run home run (+.280).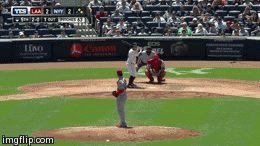 Key Moment: There wasn't really a key moment in this one after the home run as the Yankees extended the lead to 6-2 on the Pirela home run and put the game away with their lights out bullpen. Justin Wilson walked one in the seventh, but both Dellin Betances and Andrew Miller tossed perfect innings (I know, right? Big surprise). Let's all just watch Joe Girardi fly out of the dugout on a loop, courtesy of BP Bronx' own Kenny Ducey.
Up Next: The Yankees have an off day Monday, but have a home series with the Nationals coming up. You won't want to miss the game Tuesday as the probable starters are Max Scherzer (6-4, 1.85 ERA) for Washington and Masahiro Tanaka (3-1, 2.76 ERA) for New York.
(Photo: Andy Marlin-USA Today Sports)