A season ago, the Yankees cycled through a hefty bunch of relief pitchers to use in the seventh inning or later. Adam Warren, David Huff, Preston Claiborne, Shawn Kelley, Esmil Rogers, Matt Thornton, Jose Ramirez, and others all got chances late in games. Obviously the situations varied in leverage, but outside of Warren, Dellin Betances, David Robertson, and also Shawn Kelley, no one was ever really given too much trust in high leverage situations. Looking back, Adam Warren was the closest thing the team had to a "seventh inning guy".
Since Warren is no longer in the bullpen, and the pitchers for the 8th and 9th innings are already determined, who should the Yankees count on to come through in a big spot in the 7th inning?
Via Brooks Baseball & Baseball Prospectus, here is how the Yankees have handled their bullpen so far this season. The higher the leverage index, the tighter the spot. An index of 1 is considered an average, neutral situation.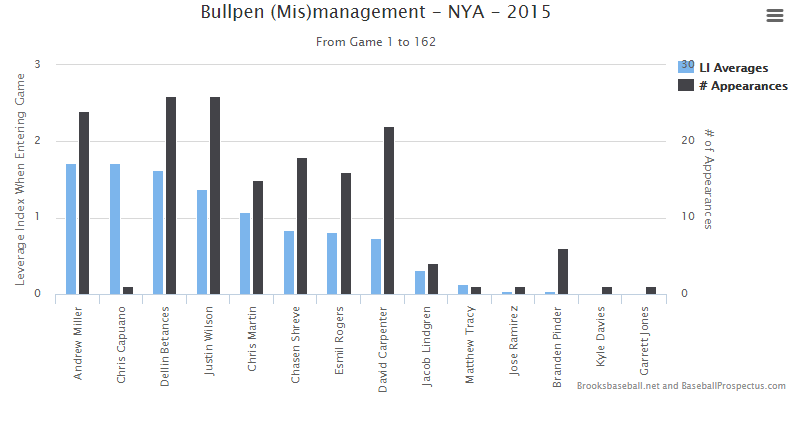 As evidenced by this chart, Justin Wilson has a slight lead on Chris Martin and Chasen Shreve when it comes to trust in big spots. Wilson's also been used in as many games as Dellin Betances has this season, though he's sixth in innings pitched among relievers. He's also pitched in 11 high-leverage situations, to Betances' 13 and Andrew Miller's 12.
Is he the right guy to be leaning on, though? Let's examine.
Chris Martin has been pretty solid this season with a 3.55 ERA, but he's coming off an injury and was sent to Triple-A after his rehab assignment expired. That's given Chasen Shreve the opportunity to showcase his ability to pitch late in games, and he's been pretty reliable.
Shreve's 2.38 ERA and 22.2 IP rank 3rd & 4th in the Yankee bullpen. His Win Probability Added is 1.5, with Wilson's 1.6. Shreve, a 24 year-old acquired along with David Carpenter for Manny Banuelos, has induced 51 percent whiffs per swing this year on his splitter, up from 33 percent in limited time last year. His slider, with nice 12-6 movement, has also produced more whiffs per swing than an average for a left-hander, according to Brooks Baseball. He's been a pretty solid strikeout pitcher, with 28 percent strikeout rate, but he ranks last among Yankee relievers in GB:FB ratio.
Wilson, on the other hand, has been a superb groundball pitcher. His 1.04 GB:FB ratio is tied with Dellin Betances for second among team relievers, behind Andrew Miller (1.05). His cutter has been particularly effective for him. He pitches to contact, while Shreve limits the amount of hard hit balls against him by throwing junk. The drawback on Wilson is his walk rate, which is the highest on the team at 11.3%.
Which type of pitcher do you want, then?
I don't think you can go wrong if you say you want the pitcher that most closely resembles Dellin Betances. While Shreve doesn't bring the heat quite like Betances does, he pitches to whiffs. He's also been fantastic in limiting the amount of walks he's given up (6.9 percent walk rate). As long as Chris Martin is out of consideration, the 24-year-old Shreve would be my choice in the 7th inning. Who do you go with?
(Photo: Joe Nicholson-USA Today Sports)