Alex Rodriguez is the current face of the New York Yankees.
Last season, the 39 year-old Rodriguez was working out in Miami, doing two-a-days in an effort to maintain game shape. In the time he took grounders and hit the gym, a myriad of baseball writers and TV analysts cast a cloud of doubt over the rest of his career. Some questioned whether or not he would ever play for the Yankees – or any other big league club – again. If he did lace up the spikes for a 21st season, the general consensus was that Rodriguez would struggle.
Not only has he held his own, he's been one of the team's most important bats.
He was 10-for-22 (.455) during the Yankees' recent six-game homestand, sits first among qualified Yankees in OPS, and trails Mark Teixeira by three for the team lead in Home Runs with 11. Thursday night, his 27th RBI on the season and 1,996th for his career tied Barry Bonds for second on the all-time RBI list. The list of his feats during the 2015 season goes on.
One of the concerns about Rodriguez entering the year was how quickly he would get his bat through the zone, and if he'd be able to catch up to fastballs. I looked into some pitch data to figure out if pitchers were trying to blow him away with speed.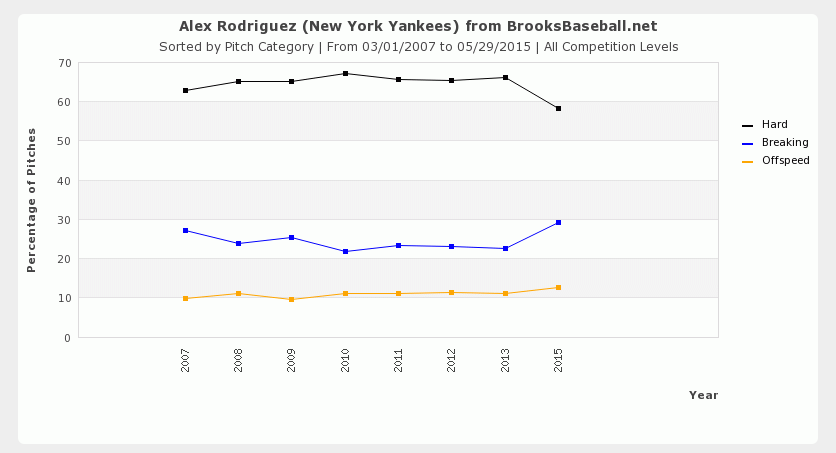 | Time Period | Breaking% | Offspeed% | Hard% |
| --- | --- | --- | --- |
| 2012 | 23.11% | 11.39% | 65.45% |
| 2013 | 22.64% | 11.19% | 66.17% |
| 2015 | 29.16% | 12.67% | 58.17% |
| High (Since '07) | 29.16% (2015) | 12.67% (2015) | 67.11% (2010) |
As noted in the table above, the rates at which A-Rod is facing breaking and offspeed pitches are his highest since 2007, when PITCHf/x data begins. In turn, he's seen the lowest percentage of hard pitches. When he does see hard pitches, he's whiffed around 26% of the time per swing, which would be his highest since 2007, but nothing too crazy – he's been around 24% each of his last two seasons. Simply put, there is nothing drastically concerning in that area, considering Rodriguez isn't going to post the 17.78% rate he did in 2009, when he turned 33 and led the Yankees to a World Series. He's on the decline, but he's not super-susceptible to missing fastballs.
What may catch your attention, though, is his approach towards breaking pitches. He's been aggressive this season, and he's managed to hit breaking balls for line drives at a 24.14% clip.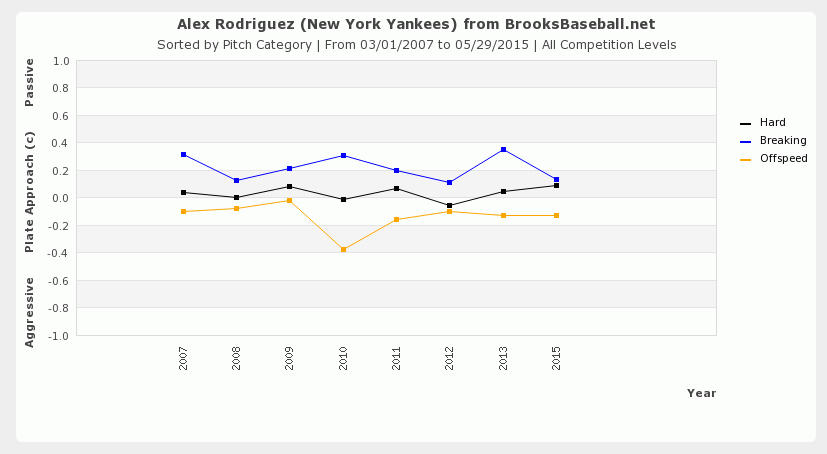 Rodriguez has actually not been given the heavy dose of fastballs we expected, rather it's been a surge of breaking ball headed his way. Given the way he's hit hard pitches, I don't see any reason why he can't keep this up. His 5.64 spray angle means he's pulled them well, and the traditional numbers don't look too shabby. He has a .276 AVG with eight home runs against fastballs.
That should dispel the hypothesis for now that Rodriguez will be no match for hard pitches, though there are still a lot of games to play.
A-Rod hasn't just helped himself with his bat. It's also been his eye that has helped him hit this well.
Against all fastballs, he's swung at 70% of pitches in the zone vs. 24% which were out of the zone. Against breaking balls, his zone swing rate is at 65%, and he's swung at just 26% of them that missed. Those are very good rates.
Here's where that gets interesting. Starting 1-0 in counts, A-Rod is hitting a blistering .351 this season. Ahead in counts, he's seen an uptick in fastballs, and fewer breaking pitches: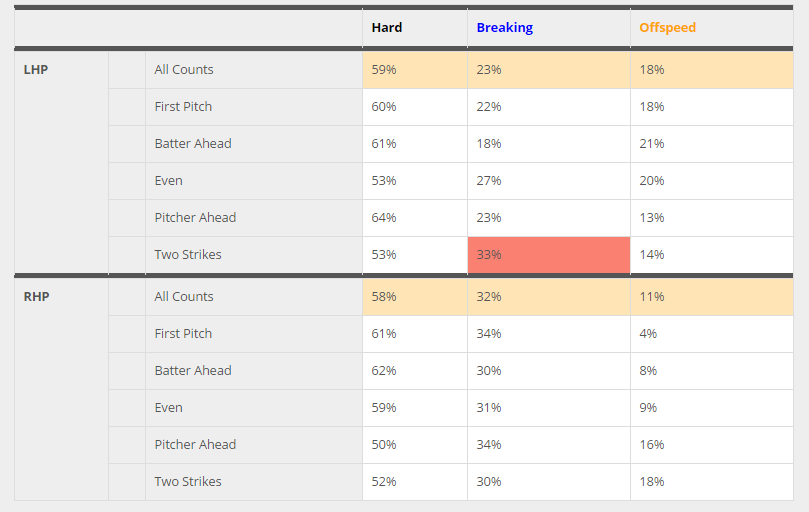 In summation of all this, here's what we can say – his approach has been stellar. Because he's seen the ball so well and gotten ahead in counts, he's been thrown a lot of fastballs for strikes. He's hit them well. Pitchers have tried to attack A-Rod with breaking and offspeed pitches, but he's hit a lot of line drives on balls in the zone. It seems he knows what's coming at him at all times. While he's certainly not near his prime when it comes to whiffing on fastballs, the decline in that area hasn't been overly steep. It doesn't appear he will be slowing down anytime soon.
(Photo: Noah K. Murray-USA Today Sports)