It was all Blue Jays in this one as the Yankees fell in Toronto by a score of 5-1. Despite taking an early 1-0 lead on a first inning ground out by Mark Teixeira, the Blue Jays took the lead in the second inning with a two-run single by Ezequiel Carrera and never looked back. Veteran lefty Mark Buehrle gave the Jays five solid innings and picked up his fourth win of the season, though it was his first win over New York since 2004 breaking a streak of 12 consecutive losing decisions against the Yankees. The only run Buehrle allowed was set up by an Alex Rodriguez double in the first inning and he escaped a bases-loaded jam with two outs in the fifth inning.
Top WPA Play: Carrera's two-run single in the second inning alone was enough to outscore the Yankees Wednesday (+.122).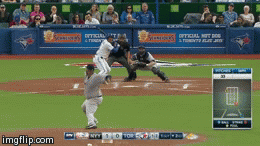 As you can see, he really got all of that one.
Key moment: Carrera's single was the top WPA play of the game, but he was set up for that opportunity after a double by Chris Colabello, who had four hits on the night. Unfortunately, there isn't a highlight of Colabello's double on MLB.com, so here's a GIF of Ryan Goins' RBI triple in the eighth inning. #yearofthetriple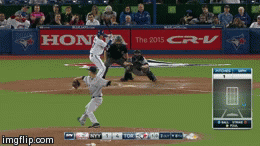 This wasn't the most exciting or inspiring game that the Yankees will play this season. Here's a GIF of old friend Russell Martin's solo home run in the sixth inning.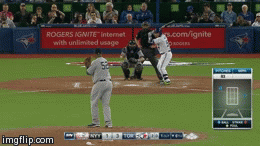 CC Sabathia has pitched a few good games this year, but this wasn't one of them. In all, he went six and 1/3 innings while allowing nine hits, two walks, and four earned runs. The loss dropped Sabathia to 0-5 on the season.
Up Next: The Yankees will return to the Bronx for a game with the Baltimore Orioles (12-13) Thursday night. The scheduled starters for the contest are Nathan Eovaldi (2-0, 3.81 ERA, 4.57 DRA) and Chris Tillman (2-3, 6.23 ERA, 5.20 DRA). Despite the loss to the Blue Jays, the Yankees still have a two game lead in the American League East over Tampa Bay and enter the series against Baltimore with a three and a half game lead over the Orioles.
Photo credit: Bob Hamilton-USA Today Sports