A few days ago BP Bronx readers were asked to rank Gary Sanchez among all current catchers in baseball. Voters had six options to choose from:
He's #1! Move over, Posey!
Second best. Everyone who voted for #1 is stupid.
#3-5. He's a great young player and he's only getting started.
#6-10. We haven't seen him play enough.
#10-20. He's still a baby! He needs to finish a few full seasons.
#21 or lower. I hate the Yankees too much to be objective.
Without further ado, here are the poll results: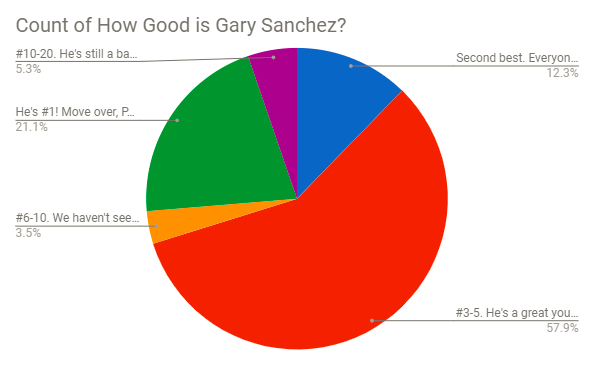 Overwhelmingly, most of us think he slots into the #3-5 range. Interestingly, more people voted for "He's #1!" than "Second best." Undoubtedly there's a case to be made for Sanchez as the top catcher in the world. Most likely, there appear to be a few Yankee diehards who can't bring themselves to put him lower than the top spot. Thankfully, no one selected "#21 or lower." That would be pretty indefensible. So where does Sanchez actually rank?
The WAR Story
In 2018, he's the fourth best catcher by fWAR. Former Yankee Francisco Cervelli is having an amazing season so far, and he leads the way with 1.8. Yasmani Grandal is second with 1.4. Willson Contreras has 1.1, with Sanchez a few hundredths of a win behind.
However, since the beginning of 2017, Sanchez is actually #1. He leads the way with 5.5 fWAR, with Buster Posey right behind him at 5.2. No one else is north of J. T. Realumto's 4.6.
Sanchez burst onto the scene as a starter in August 2016. Despite missing the first four months of the season (as well as the first month of 2017), he's been the second most valuable catcher since the start of the 2016 season. His 8.7 fWAR is only 0.4 behind Posey despite having played 108 fewer games. Realmuto sits half a win behind Sanchez with 89 more games played. No one else is even within two wins of Sanchez.
Normalized for 150 games played, here are the fWAR leaders since 2016:
| | |
| --- | --- |
| Player | fWAR/150 |
| | |
| Sanchez | 6.2 |
| Contreras | 4.4 |
| Posey | 4.3 |
| Realmuto | 4.1 |
| Zunino | 4.0 |
Sure, WAR has its flaws. But on a rate basis, no one comes anywhere near Sanchez over the last three seasons. Sure, you could bump him down behind Posey if you value playing time. Perhaps you could even put him third behind Realmuto, but that's really a stretch.
The bottom line is Sanchez is the absolute best catcher in baseball when he's in the lineup. What's even better for the Yankees is he's just 25 and won't become a free agent until 2023. The majority of people voted him #3-5, so perception hasn't quite caught up to his outstanding performance. But they are right about one thing: he's a great young player and he's only getting started.
Photo Credit: Joe Nicholson / USA TODAY Sports