Masahiro Tanaka has a home run problem.
On Thursday, the right-hander was cruising through his start against the Orioles until the seventh inning when he gave up a single to Jonathan Schoop and then threw a slider to Adam Jones that didn't slide enough and got too much of the plate; Jones hit it over the fence and put the Orioles ahead, 2-1.
The light blue dot is the home run pitch. According to Brooks Baseball, it was an 84.5 mph slider and it was served up on a platter, as they say.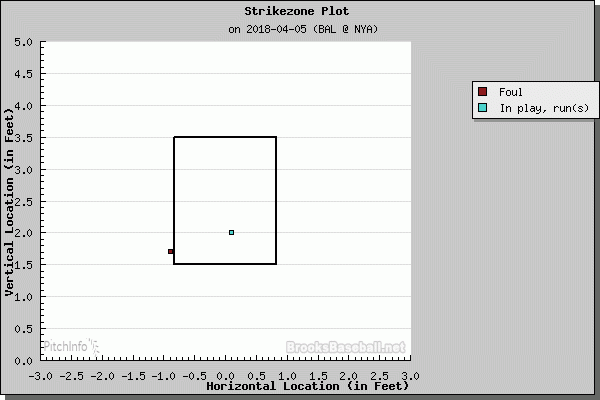 Tanaka's home run problem has always existed but it has gotten worse as his career has progressed. He gave up a career-high 35 in 2017. So far this season, he's given up two, one in each start. He had the same number last year at this point but he surrendered two in his first start of the year and didn't give up any in his second start. His worst start of 2017 was against Houston in mid-May was one of the shortest outings of his career. Tanaka only lasted 1 2/3 innings, gave up seven runs on eight hits and four of those hits were home runs.
With Tanaka's pitching arsenal, there's always a chance that he'll give up home runs because he favors his slider, splitter, and sinker over his fastball and if one of those pitches hangs, like his slider to Jones, it will most likely be hit for a home run.
Here's a diagram of Tanaka's pitches from yesterday's game:
Notice how few fastballs were thrown. And he was doing really well with his slider and splitter. They were working for most of his outing. He struck out seven batters, four were swinging and all of those were on his splitter. Again, when they're working, no one can touch them but one slip up can mean the difference between a win and a loss.
So is there a solution to Masahiro Tanaka's home run problem or is it something that Yankee fans have to live with? I'm afraid it may be the latter.
Photo credit: Robert Deutsch / USA TODAY Sports