It's great to win a game, but it's better to win a trade. In December 2015, the Yankees sent Justin Wilson to Detroit for Luis Cessa and Chad Green. At the time, not many people thought they got the better end of the deal. In the two seasons since, Wilson has moved on to the Cubs where the strike zone abandoned him entirely. Cessa has been just as "meh" as expected. Green is another matter, and his career is charted below: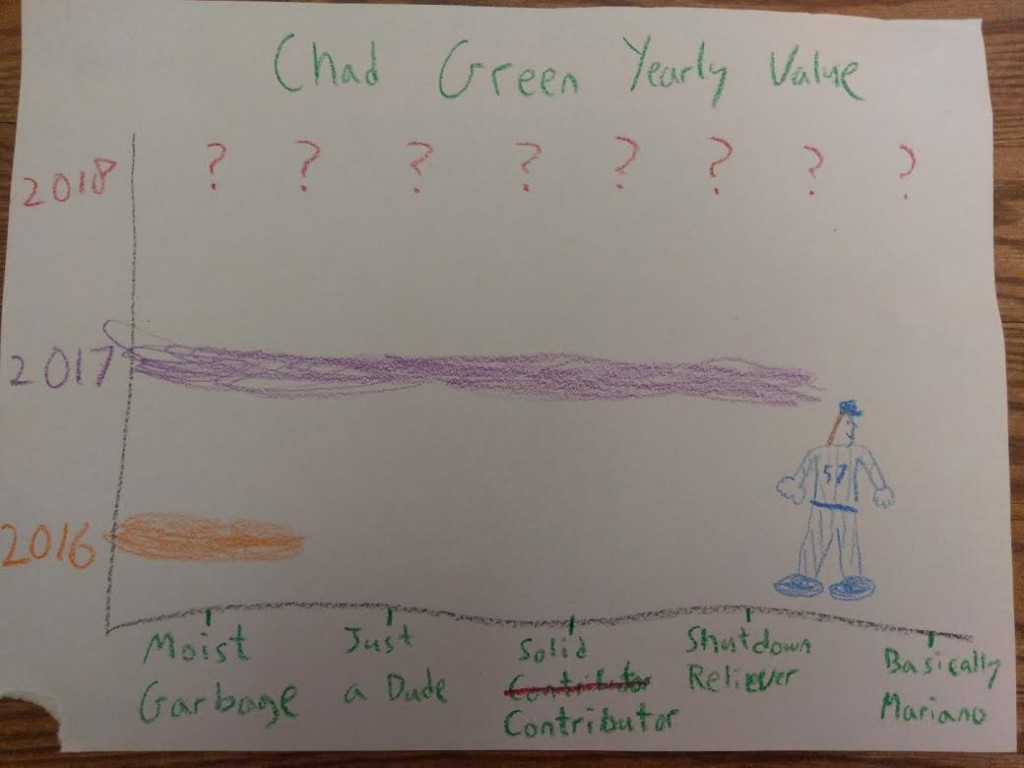 Green's 2017 season was as phenomenal as it was unexpected. After failing as a starter, he became a superb reliever. That is a path well worn by nearly all of the best relievers in the game, such as Dellin Betances and Andrew Miller. But the way he did so signifies the future of pitcher usage.
OTTOs
Earlier this month, Russell Carleton wrote about OTTOs- a Doug Thorburn term that describes a "One Time Through the Order" pitcher.
"OTTO" – One Time Through Order

— Doug Thorburn (@doug_thorburn) January 3, 2018
OTTO is a bold step forward in the great tradition of baseball writers making up weird acronyms, such as LOOGY and TOOTBLAN. As a baseball community, we all owe it to ourselves and future generations to help OTTO catch on. Start using it in conversations with other baseball fans immediately. They'll only pretend to know what it means at first. Eventually, they'll get the gist and continue to spread the word, literally.
In his piece, Carleton wrote, "What if we stopped trying to force everyone into the same bucket and instead simply accepted that there are OTTOs, TUTOs, and ThreeTOs and began building a pitching staff from that point?" Teams have already taken the first step towards implementing this philosophy by pulling starters earlier and earlier. The "third time through the order" penalty is real, and teams have adjusted accordingly. The number of starters qualifying for rate stats (162 IP) has dropped steadily over the last few seasons.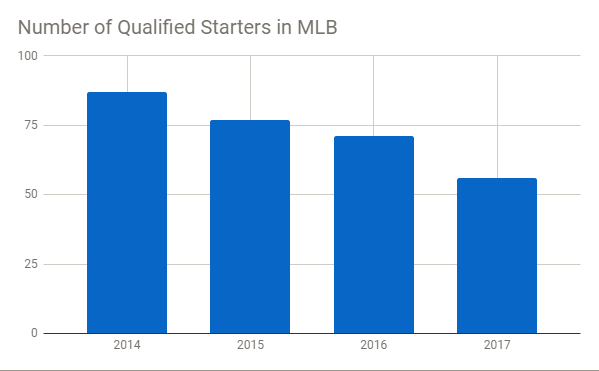 The deeper this trend goes, the more important relief pitching becomes. Not only that, but multi-inning relievers, in particular, will be in high demand. With rosters limited to 25 players, managers will require length and durability from relievers to avoid burning out the bullpen nightly.
Green the Great
The ideal reliever of the future needs to be 1) really good, and 2) able to throw a lot of pitches in each game. This is where Chad Green comes in. In 2017, he threw 69 innings in 39 relief appearances and one start (which only lasted two innings). He posted a 2.66 DRA, .161 TAv against, and 40.7 K%. Clearly, he fulfills both requirements.
But how good was he relative to the rest of baseball? His 1.94 WARP was 13th best among relievers. However, he led the league in one increasingly important category: Pitches/game.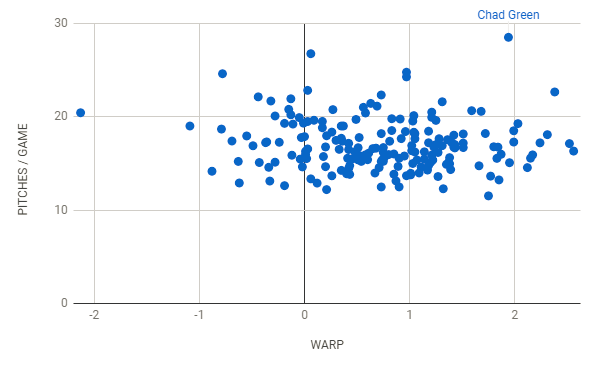 Green averaged 28.5 pitches/game in 2017, placing him in the top right corner of the graph. Only four other relievers averaged at least 23 pitches/game (minimum 40 IP): Miguel Castro, Adam Morgan, Warwick Saupold, and Ross Stripling. This quartet averaged 0.3 WARP. The only pitcher close to matching Green in both quantity and quality was Yusmeiro Petit, a career swingman who accumulated 2.38 WARP while averaging 22.7 pitches/game.
Green proved on several occasions that he can make it all the way through a batting order. He faced at least 9 batters in 7 of his 40 appearances in 2017, averaging 42.6 pitches in those outings (one of them was his lone start). Another 7 times he made it through 8 batters, meaning he faced at least that many opponents in 35% of his regular season appearances.
Of course, his most important OTTO appearance wasn't in the regular season at all. When the Twins blasted Luis Severino out of the AL Wild Card game in the first inning, Joe Girardi gave Chad Green the ball. He faced each of the Minnesota 9 exactly once, striking out four while allowing a hit, two walks, and a run. It wasn't his best performance, but it calmed the rally, and the Yankees won 8-4 to advance to the ALDS.
In 2017, the average MLB reliever threw 17 pitches/game and was worth 0.73 WARP (minimum 40 IP). Justin Wilson averaged 17.5 pitches/game and had 0.3 WARP. The Yankees are clearly better off with Green, and if baseball keeps evolving towards OTTOs the trade will keep looking better.
Photo credit: Adam Hunger / USA TODAY Sports