When the Yankees signed Aroldis Chapman to a 5-year, $86 million contract, they expected to have an elite relief pitcher for most of that term. They did not expect the first year to feature a very shaky 3.22 ERA/2.53 FIP/3.34 DRA, lots of blown saves, and for Chapman to lose his closing job briefly over the summer.
What happened to Chapman this season? Relief pitcher performance has more variance than other positions due to very small sample sizes. In other words, sometimes relief pitchers just get unlucky. However, that was not the case with Chapman in 2017. In the graphs below, I've aggregated Chapman's performance by month, combining the injury-shortened May and June: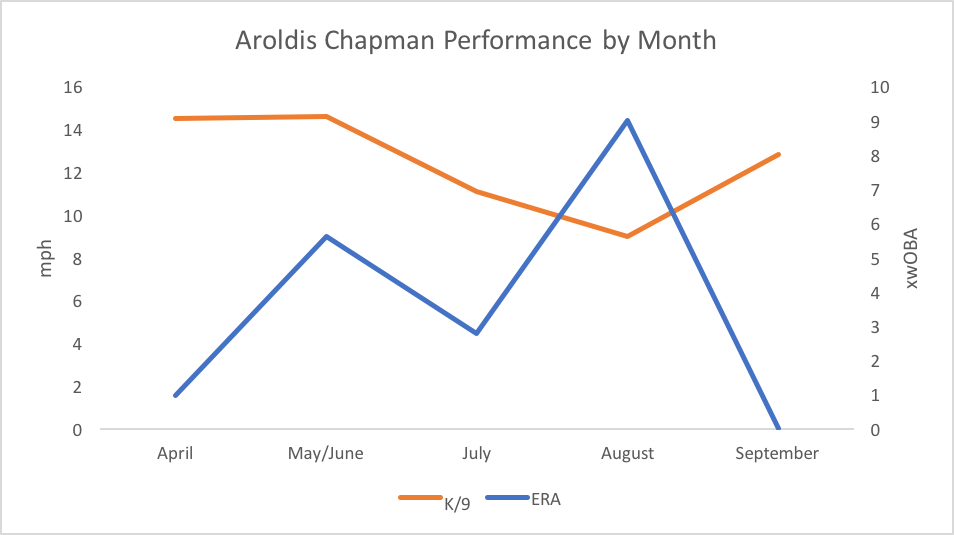 Chapman had two very bad months – the May/June period and August. During the May/June period, his strikeout rate remained excellent. However, it dipped significantly after coming back from injury in July, and really took a dive in August. After Joe Girardi benched him in August, Chapman recovered both in strikeout rate and ERA; he didn't allow a single earned run in September.
But what role did batted ball luck play in all of this? And what about Chapman's fastball velocity? For these questions, we turn to Statcast's xwOBA and velocity leaderboards: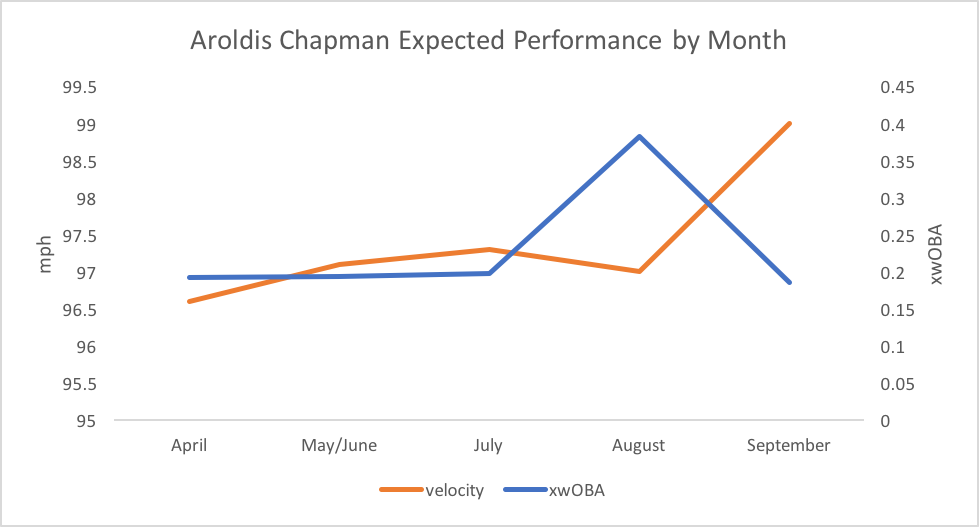 Well that's cool: Aroldis Chapman was remarkably consistent in terms of xwOBA throughout the year, other than August. His batted ball luck was very unlucky in May and June, and mildly unlucky in July. His fastball velocity was stable before shooting up in September. Chapman was only legitimately bad in August, but he recovered in September to have his best month of the season.
The data tell us a clear story: we can all exhale. Aroldis Chapman is probably going to be an elite closer next season. The Yankees didn't buy damaged goods; the good just got temporarily bruised in August. Aroldis Chapman is still a top-5 closer in baseball, 3.22 ERA or not.