Halloween is less than a week away, and if you're a Yankees fan still on the hunt for the perfect costume, look no further. Whether you need something for your kids or dressing yourself, the 2017 Yankees provided plenty of material to work with. Here are eight options that will unquestionably steal the show:
Randy Levine: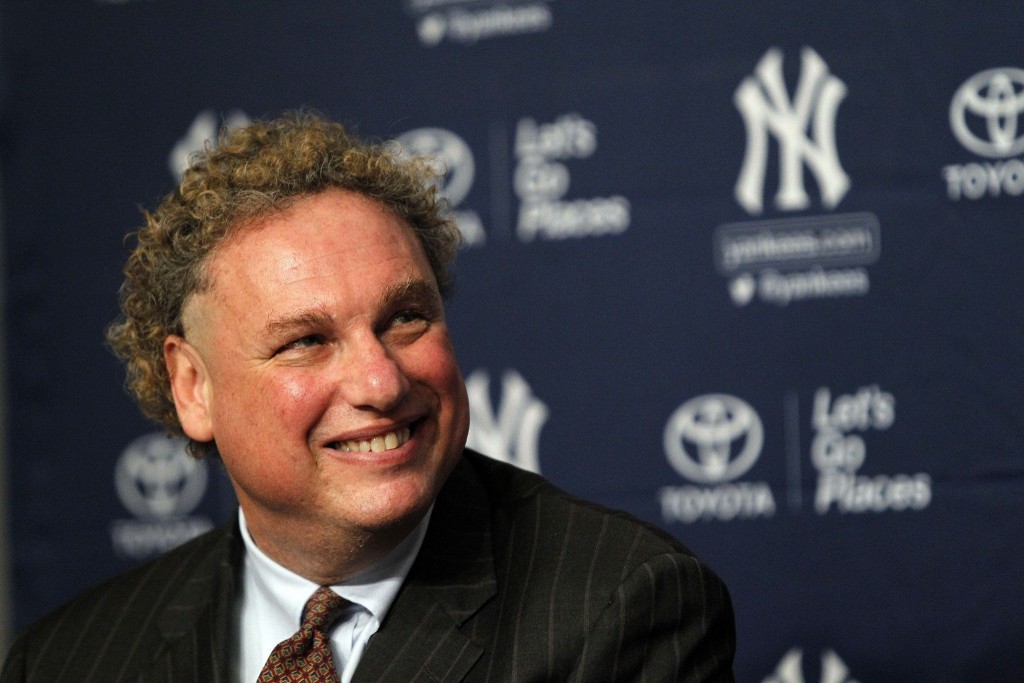 Who wouldn't want to be the lovable team president?
What you'll need: Completely shave off your sideburns and find a short-haired curly wig (This or this could work with a little trimming on your own). Wear any sort of business attire you have. Wherever you go, be sure to forget people's first names or mispronounce them.
Pros: If you already have a suit, this is a pretty cheap option. Plus, you get to make a mockery of Levine's faux pas.
Cons: You won't have sideburns for a few weeks. No biggie.
Thumbs Down Guy
#StartSpreadingTheNews yankees win great start by Tanaka7strong…. Homers… What a game!! pic.twitter.com/bdVbQgtr5L

— Sir Didi Gregorius (@DidiG18) September 15, 2017
Did the rallying cry of the Yankees' second half inspire you? If so, why not embody it?
What you'll need: A teal dress shirt, suspenders, slacks, and large glasses. A full grey beard would be a nice touch. Most importantly, you must have the will to maintain the thumbs down gesture at all times.
The Pros: It's hilarious.
The Cons: Dedication to the thumbs down gesture means that you'll probably get Carpal Tunnel Syndrome.
Shark Tank A-Rod / CEO of A-Rod Corp:
Why am I at my desk and not on the beach somewhere?? #nerd pic.twitter.com/24TdKRFbnO

— Alex Rodriguez (@AROD) August 18, 2017
What you'll need: A custom made suit or A-Rod Corp polo. Holding a legal pad, pen, and a coffee bring would bring the costume together, but aren't completely necessary.
The pros: You'll look sharp and important.
The cons: People might think that you're coming from work and not actually in costume.
The Toe-Night Show Crew:
Ah excellent, we have Hicks on the boom mic now! pic.twitter.com/gO3OkGCg3l

— Andrew Mearns (@MearnsPSA) September 28, 2017
Looking for an easy do-it-yourself group costume? Look no further!
What you'll need: A black shoebox, water bottle(s), and a baseball bat. For authenticity, everyone should don a Yankees uniform.
The pros: Most of these items should be lying around your place.
The cons: You and/or your friends will have to carry around props all day and/or night. That's kind of annoying.
One of Didi's Victory Emojis
#StartSpreadingTheNews yankees win WALK OFF HOMERRRRR!!!!!!!!

— Sir Didi Gregorius (@DidiG18) July 28, 2017
We all know and love Didi's postgame victory tweets. The emojis the shortstop assigns to each teammate is a work of art. Whether it's Brett Gardner as a clown or Aaron Hicks as an old man, many of the emojis work as costumes.
What you'll need: A stick, piece of cardboard, scissors, and colored markers. Use this as a basic guide.
Pros: Brett Gardner's emoji, the clown, is particularly relevant for Halloween.
Cons: Most people will think you're just an emoji.
The "Sexy" Costume:
Matt Holliday's three-run homer gives #Yankees win over Orioles in 10 innings | @AlbaneseLaura https://t.co/IcJ8791UYe pic.twitter.com/r5gibHus1q

— Newsday Sports (@NewsdaySports) April 29, 2017
Are you looking for a more risqué option? I have you covered…in gatorade. Dressing as Matt Holliday after his walk-off home run against the Orioles fits this costume category.
What you'll need: A snug-fitting Yankees' jersey with most of the buttons undone, large muscles (or pretend muscles), and a gatorade bath (your call).
The Pros: People's draws will drop.
The Cons: You'll be soaking wet.
Fan in the Judge's Chambers:
All Rise: 'The Judge's Chambers' fan section debuts at Yankee Stadium in Aaron Judge's honor https://t.co/3IswTECeHl pic.twitter.com/JWqi5Yogzk — Newsday Sports (@NewsdaySports) May 22, 2017
What you'll need: A black judge's robe and a styrofoam gavel. It doesn't look like any of the robes used at the stadium can be found anywhere, so a plain black one will have to do. Some of the styrofoam gavels from the Stadium are being sold on Ebay.
The pros: It's a simple outfit for the holiday.
The cons: This is not an overly creative or clever costume.
Obnoxious Beat Writer:
Love hot takes? This is the costume for you.
What you'll need: Small notepad, audio recorder, and a pen or pencil. You'll need to constantly tell others what would happen "If George was still alive". Additionally, make sure that everyone knows how awful you think Gary Sanchez is at blocking pitches, and profess your love for Austin Romine's defense. Remind everyone that Tanaka "shoulda had the surgery". Constant updates regarding Joe Girardi's offseason whereabouts is a plus.
Pros: This is a costume on a budget.
Cons: People might think you're a weirdo for saying these things over and over again.
Photo Credit: Noah K. Murray / USA Today Sports